A new chapter in the history of Seneca College's King Campus got underway in early September with the opening of the three-storey, 18,500-square-metre (200,000-square-foot) Magna Hall.
Designed, built, and financed by a consortium led by EllisDon as a public-private partnership project and set in an almost postcard perfect location on the rolling Oak Ridges Moraine, the hall features expansive spaces with large windows overlooking that setting.
The hall is also noteworthy for the use of a building material which has only been used in a limited list of projects in Ontario. As part of its steel supply package, Brampton-based Steelcon Fabrication Inc. fabricated about 1,500 tons of SIN beams for the floors and ceilings.
"SIN beams are welded wide flange beams with corrugated webs," explains company president Danny Bianco.
"They are approximately 20 to 30 per cent lighter than conventional steel beams" says Bianco, whose firm secured the North American exclusive fabrication rights from Austrian manufacturer Zeman Group in 2015.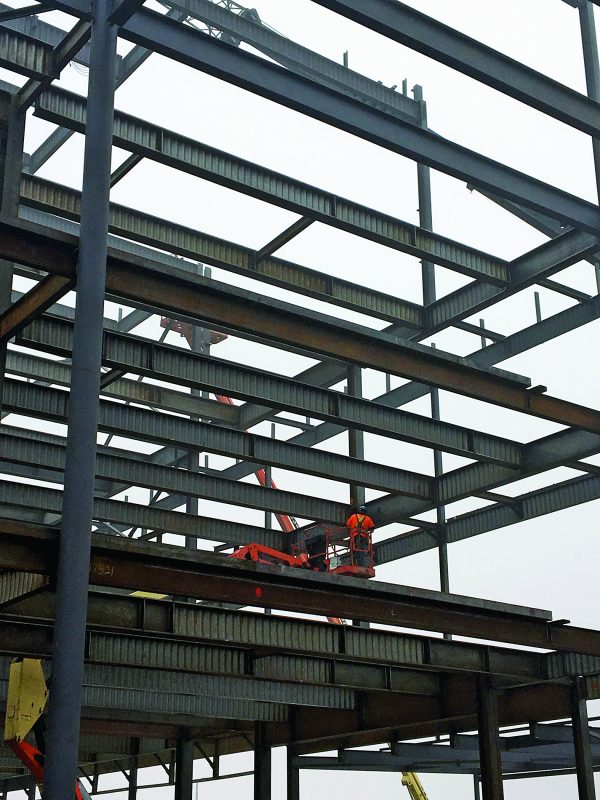 Since then Steelcon has fabricated about three million square feet of the SIN for about 50 different buildings, he says.
On the Magna Hall project the company served in a design assist role to structural engineer Entuitive Engineering. Ranging in depth from 330mm to 900 mm the beams were erected between December 2016 and March 2017, he says.
As the beams are lighter than conventional steel they're also less expensive which is why EllisDon advocated for their incorporation, says project manager Enrico Scirocco.
Extensive detailed design was undertaken during the submission planning stage and that design was accelerated once the EllisDon consortium won the competition in June 2016, with a particular emphasis on the use of SIN beams, says Marc Downing, senior associate with MJMA which is the consortium's joint venture architectural team in partnership with Montgomery Sisam Architects.
Considerable research on the material had been conducted by EllisDon and Entuitive Engineering. For MJMA, however, the project was a first because it had never designed a building with SIN beams and there were a lot issues which had to be addressed such as clearances and fireproofing, he says.
"This (the project) was quite significant for us."
As part of his own research, Downing accepted an invitation by Steelcon to visit its plant to learn more about the SIN beam fabrication process. "That's not something I would normally do."
Noting that Magna Hall is "a giant leap forward for the college and the cornerstone of the campus' evolution," Downing says the design team's overall vision was to respect the environment.
That objective was attained through the hall's orientation, capitalizing on the views of the surrounding hills and forests, the use of natural materials, and measures such as the creation of a multi-pond which will provide water for sprinklers in the event of a fire. This avoided the need for a water tower or extending municipal services on to the campus, he says.
Some of the hall's features include a double gymnasium on the main floor, plus fitness facilities on the second floor, a main floor open-concept large event space, and 25 classrooms with partitions which can hold 88 students or function with two separate rooms with 44 students each, says Downing.
Several partners helped make the expansion a reality, including the provincial government, Magna International, the Seneca Student Federation and the Seneca Student Athletic Association says Seneca's capital projects and facilities director Angelo Miranda.
One of the provincial government's funding conditions, when the project was approved in 2011, was that the college use Infrastructure Ontario's Alternate Financing and Procurement (AFP) construction delivery methodology, he says.
Magna Hall was needed because facilities at the King Campus, which is home to postsecondary program that address societal needs such as nursing, policing, and emergency response, were stretched and over capacity.
Highlighting the importance and need for those programs, Miranda notes that over the next 40 years York Region's population is expected to increase to 1.8 million — 60 per cent of whom be newcomers to Canada and 23 per cent over 65. "Ensuring the social infrastructure for a growing region and a growing province requires a strong pipeline of professional community builders."
Construction of the hall started in October 2016 and reached substantial completion on schedule on May 10. That achievement was reached despite the very cold 2016/2017 winter and the incredible rainy summer of 2017, says Scirocco.
Commenting on that milestone and the overall beauty of the hall, he says that: "this project has been the highlight of my career."