Construction is underway in downtown Toronto on a multi-storey mixed-use project that incorporates an innovative combination of glulam and cross-laminated timber (CLT).
The timber installation, scheduled for completion in mid-September, encompasses a combined floor and roof area of 3,800 square metres.
The development, located at the southwest corner of Charles and Yonge streets, is thought to be the first significant contemporary "mass timber" project to proceed in the city's downtown core.
By definition, mass timber construction uses large, prefabricated wood members for wall, floor and roof construction. These products include glue-laminated timber and CLT.
"Timber construction is definitely staking a new claim, so many years after now century-old wood buildings were being constructed in the city," said Gary Williams, president of Timber Systems Ltd.
The Markham, Ont.-based company was awarded a contract in November 2015 to both supply and install the timber for the four-storey project which incorporates an existing heritage-designated building.
The project is being carried out for Shoppers Drug Mart, now owned by Loblaw Companies, by a team that includes Toronto-based architects Brook McIlroy and structural engineers Blackwell.
The two firms have collaborated on wood construction projects in the past.
"One of the reasons we looked at mass timber was that this was seen as a way of incrementally supporting the (heritage) facade from the interior while some of the existing structure remained," said Jessica Hawes, who served as Brook McIlroy's project manager during the design and approvals process.
But other important considerations came into play as well, said principal Calvin Brook, who has architecture degrees from Harvard University as well as the University of Toronto.
"It (mass timber) was additionally chosen as a commitment to sustainability, as mass timber sequesters carbon and is a sustainable construction material," he said.
"Just as importantly, it will be beautiful — the design leaves wood exposed. The use of wood is thus good on all counts."
Once completed, the new facility will house retail and office space.
The first phase of the project involved rehabilitation of the brick facade of the 1880s-era building, followed by extensive foundation work.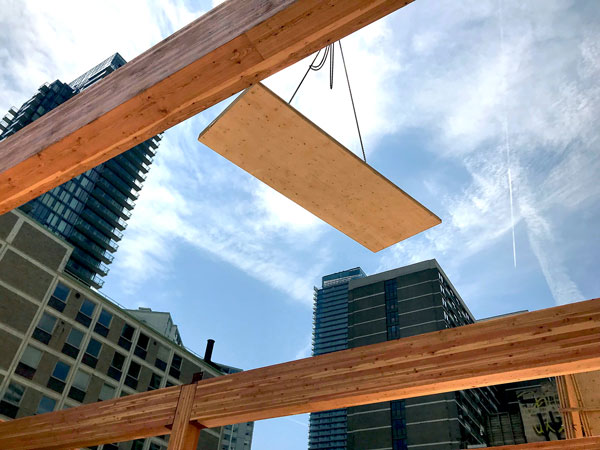 The general contractor on the project is JMC Building Developments of Concord. Heritage consultants are ERA Architects of Toronto. Civil engineers are Cole Engineering of Markham. Mechanical engineers are M & E Engineering Ltd. of Vaughan.
Timber installation got underway in mid-June of this year.
From a structural engineering perspective, dealing with existing masonry in buildings "is always a challenge," said Matthew van Riesen, a structural engineer at Blackwell.
"A building may not necessarily have been well maintained over the years," he said, noting significant attention needs to be paid to any degradation in the masonry.
With mass timber projects in general, van Riesen said, one of the major challenges is dealing with connections, whether that be timber-to-timber, timber to concrete or timber to steel.
"Designing connections that account for the different tolerances for the different building materials and provide the required strength and rigidity is challenging and a continual learning process," he said.
The project has posed its share of challenges from a construction perspective as well and not just as a result of the necessity to retain and restore the building's heritage facade.
Williams, a civil engineer by training who founded Timber Systems in 1980, said installation of the timber structure was delayed almost a full year from the scheduled start while rehabilitation of the footings was completed.
"The required underpinning and stabilization of existing foundations for the maintained heritage wall and adjacent buildings was considerably more extensive than the consultants anticipated," he said.
Initially, Williams said, installation of the timber structure was complicated by the necessity of working around temporary steel towers installed within the walls prior to demolition of the existing wood floors in the building, which formerly housed a Shoppers Drug Mart store.
These towers were required because certain regulations did not permit stabilization of the heritage brick walls from the outside of the existing structure, Williams said.
"Timber installation required work around the temporary towers until the framing was anchored to the masonry shear walls and the towers removed to allow completion of the timber work in those spaces," Williams added.
Working within the confines of a constrained downtown site and the logistics of arranging material deliveries presented challenges as well.
Glulam and CLT products were marshalled at his company's Markham facility and trucks co-ordinated "on a more or less daily basis" for early morning deliveries to the site which has no set-down storage space available.
A one-lane closure on Charles Street provided space for a tower crane.
For its part, Timber Systems has worked with Brook McIlroy on several projects in the past. The firm has a three-decades-long history of working with Blackwell on a variety of wood projects.
"One of the keys to our firm's success coming from our almost 40 years of working with timber construction is our ability to call on that experience to provide design-assist support to consultants in the early stages of design work," Williams said.
"On this project, post-award collaboration with the design team permitted a very successful enhancement of the structural system to provide overall benefit and cost savings."
Construction at the former Shoppers Drug Mart site is scheduled for completion in spring of next year.
"I think the fact that they have embraced mass timber construction reflects a really progressive vision at Shoppers," said Hawes.