TORONTO — B+H Architects has unveiled design drawings for the new 22-storey Patient Support Centre (PSC), located on the Hospital for Sick Children (SickKids) campus in Toronto.
The proposed design includes a blue glass-encased staircase and interdisciplinary education and simulation spaces, said a recent release.
The PSC is the first phase of Project Horizon, the SickKids campus redevelopment plan. After the current schematic design stage for the PSC, construction drawings will follow. The PSC is scheduled for completion in late 2022 or 2023.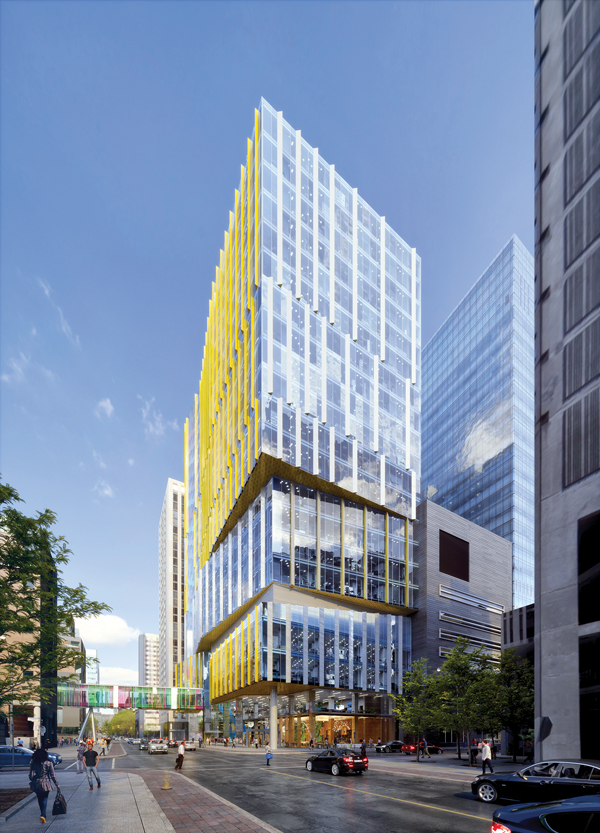 "The design of the new Patient Support Centre provides an important architectural framework for a workplace environment designed to transform the way SickKids works," says Patrick Fejer, project lead and senior design principal at B+H, in the release.
"The PSC is being designed to create an inspiring environment that supports the needs of health care providers, fosters collaboration and helps to accelerate innovation," says Fejer in the release.
The release describes "a cafe and retail atrium at the ground level (that) opens up the corner of Elizabeth and Elm streets and activates the public realm, creating a new social hub and destination for the surrounding community."
The lower floors, which will also be accessible to the public, are proposed to include educational and simulation space, a learning institute, library and conference centre.
"An enclosed pedestrian bridge establishes an integral link on the SickKids campus, connecting the Peter Gilgan Centre for Research and Learning and the hospital's main atrium," the release reads.
The PSC will be the first project to comply with Toronto's Tier 2 Building Standards and will include terraced green roofs.
"I'm really excited about this new environment, which will facilitate cross-disciplinary collaboration. It supports our mission to create an innovative workplace that will retain and attract the best talent possible," said Peter Goldthorpe, vice-president, transformation, SickKids.