Toronto-based Next Property Group is poised to break ground in June on an eight-storey office building in The Junction neighbourhood that incorporates an innovative hybrid mass-timber structure.
The structure of the building at 77 Wade Ave. is comprised of nail-laminated timber (NLT), glulam columns, steel and concrete.
It was designed by timber fabricator Structure Fusion Inc., architects Bogdan Newman Caranci Inc. (BNC) and structural engineers Blackwell.
"We've combined a number of systems from different parts of the building industry and put them together in a fairly unique fashion," said BNC partner Jonathan King.
The development is considered a prototype for a mid-rise office building of between six and 10 storeys, using a hybrid mass-timber structure.
"This is the first in a series of buildings that we are going to construct," said Next Property Group president and CEO Cary Solomon. "We are really excited about this effort."
Once complete, the building will purportedly be the tallest, modern mass timber office/commercial building in Canada.
Quebec-based Structure Fusion was awarded a "design-assist" contract in December 2017. It specializes in the design, manufacture and installation of mass timber and hybrid structures.
The firm was involved in the process of designing the building from day one in order to optimize and customize the structure, said general manager Dominique Briand.
To that end, Structure Fusion fabricated and installed a full scale mock-up of the proposed structure at its shop in Quebec City. The firm ultimately will erect the structure at the Wade Avenue site.
"We have worked on many concept buildings of between six and 10 storeys, but this will be the first that will be built," Briand said. "These heights for mass timber are still new."
That said, Structure Fusion and other members of the project team collaborated on the design of the building from the outset.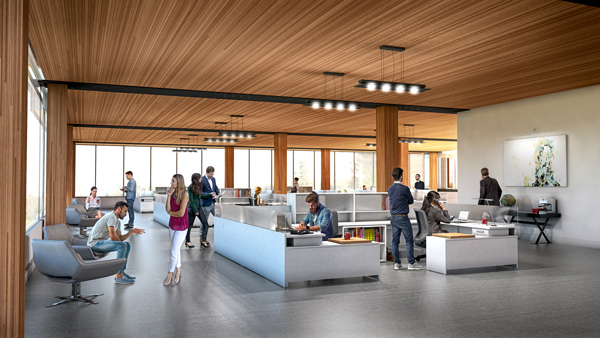 King said the team worked "hand in glove" with Next Property and the City of Toronto's building department to ensure that the methodology ultimately would be approved.
"This was not only a collaborative process among the consultants and the client but also with the city," he said. "We went in early and often to meet with them.
"They asked a great many questions. Through that process, we were ultimately able to satisfy them that this project could actually be achieved with the approach that we had taken."
The project team also includes mechanical and electrical engineering consultants Integral Group, Vortex Fire and construction manager alliance7 Construction Inc.
The building has a gross floor area of 14,000 square metres. It has been designed with tech companies in mind, with a warm and open-space environment, high ceilings and lots of natural light.
"The mandate (in part) was to ensure that everyone had access to natural light," King said. "Large expanses of glazing will provide that access.
"The other piece of that is access to real materials. Much in the same way that the original 1920s warehouse buildings were designed, the materials used for the structure are also the finish materials.
"In this particular case, the glulam columns and nail-laminated timber ceilings are exposed and part of the finishes."
In that vein, the building also features polished concrete floors.
LEED Gold is being targeted.
The building's envelope will predominately be clad in curtainwall, exposing the wood structure within.
For Next Property, site selection was a critical factor. The building will be located in a "transit-rich area" near the Lansdowne subway station in Toronto's west end.
The area is considered a prime location for IT and startup tech companies.
"This area of The Junction has the amenities and the edginess that today's digital workers are looking for," Solomon said. "They don't want to be in a slick Bay Street building."
Given that tech staff tend to work odd hours, the building has been designed as an 18-hour-a-day facility, "open at all hours of the day and evening and early mornings as well."
To accommodate tech workers who walk, take transit or bike to work, six short-term and 114 long-term sheltered bike parking spaces will be provided.
"We felt fundamentally that we didn't need as many vehicle parking spaces that typically would be found in a building of this sort," Solomon said.
Only 34 spaces will be provided, located at grade, tucked under the second floor of office space and hidden from view.
The building will be located near the planned expansion of the West Toronto Railpath, which Solomon described as a major amenity.
The building has also been designed to achieve certification under the WiredScore platform that rates the infrastructure, Internet connectivity and technological capacity of commercial buildings.
"This is now becoming a standard for most of the larger tech companies," Solomon said.
Next Property is targeting completion for early fall 2020.
"Because this is a mass-timber project, much of the work will occur offsite," said Solomon, who noted quality control was also a factor in the decision-making process.
"The NLT panels, the glulam columns and the steel beams will all be fabricated in a factory and then shipped to the site. Because of that, there will be very little construction waste on the site."