Gander made headlines in September 2001 when its airport accommodated dozens of trans-Atlantic passenger planes, not permitted to fly in American air space after the terrorist attacks on Sept. 11.
Today's headlines in the town of 11,000 residents in northeastern Newfoundland don't compare but Gander is making news in the region for the construction of its biggest project-ever — a $35 million wastewater treatment plant.
The Gander Wastewater Treatment Plant — slated for completion late this year — is being done through a tripartite agreement between the federal and provincial governments and the Town of Gander which is contributing more than a third of the total, says James Blackwood, director of engineering, Town of Gander.
"It was a challenge finding a big pot of money to facilitate a project of this magnitude for a small town like Gander," says Blackwood, noting that a decade ago the need for a new plant became clear. Loan financing will be repaid overtime largely through property taxes.
The treatment facility will replace two wastewater plants that don't meet the Federal Wastewater Systems Effluent Regulations (WSER). The two plants — Beaverwood and Magee Road — will be demolished.
The new plant is designed to accommodate the needs of Gander over the next 25 years. It is projected to grow to about 18,000 residents by 2040.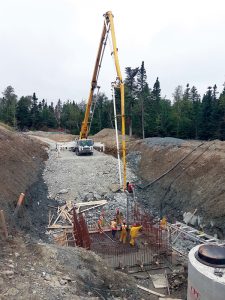 The facility is being built in two phases. The linear infrastructure which includes a lift station and a transmission main to transport sewage from two existing sewer sheds to the plant is nearing completion as part of phase one. It is a traditional design-bid build by Springdale Forest Resources Inc., based in Springdale, Nfld., says Blackwood.
One of the first challenges was how to transport sewage from the sheds to the new plant over "fairly flat topography," says Greg Sheppard, senior civil engineer, CBCL Limited, the owner's technical consultant. "It was a little tricky."
The 1.6 kilometre and 800-metre trunk sewers meet at a common sewage pumping station which will pump it to the new facility east of Gander, says Sheppard.
The second and larger phase including the main headworks building and lagoons is a design build contract by Pomerleau Inc. EXP is the design engineer.
To meet the new federal wastewater regulations, the system will have a combined sewer overflow which treats stormwater, says Sheppard. The plant will have a four-cell lagoon system covering an area of 500 by 200 metres.
Sheppard says overall the big project has gone smoothly, with only minor changes.
He doesn't expect Pomerleau to face skilled labour shortages during peak construction later this year because there is a sizable pool of workers in the area which is experiencing a sluggish economy.
The plant is scheduled for completion in November at which time there will be a one-year performance testing period.