A cold storage plant being built in an industrial park in small town New Brunswick is visible for miles.
It's no wonder — the plant is 44 metres high. That is equivalent to a 14-storey building.
The facility in Sackville, a town of 6,000 residents, is unusual for more than its height.
It sets "a number of firsts" for a cold storage plant, including its design and automation features, says David Ernst, of Lunenburg-based Terra Beata Farms, which is developing the project in joint venture with Burnbrae Farms of Ontario.
To be called Atlantic AutoCold, it is comprised of 725 tonnes of steel forming pallet racks that are clad in bolted-on six-inch insulated metal panels, says Ernst, who is the co-owner of Terra Beata Farms with his wife Evelyn.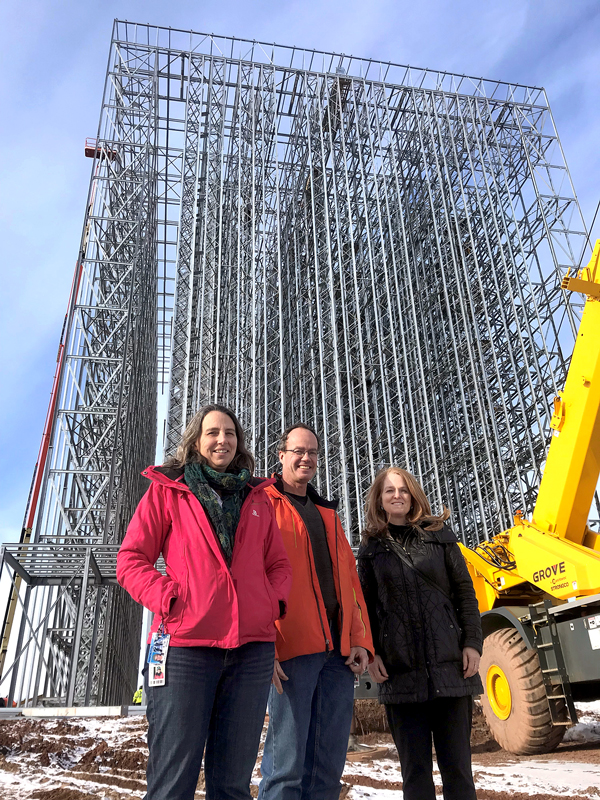 Typically, cladding panels on cold storage are applied vertically but the short spans of the racking system allows for horizontal installation.
The only fully automated cold storage facility east of Ontario, the building will be equipped with four automated rail cranes to move products inside the building, eliminating the need for human labour working in -20 C temperatures, says Ernst. SSI Schaefer is supplying and assembling the automated equipment.
It is being erected by MSE Inc., of P.E.I.
"We had to find the right people. Not everyone wanted to build something so high," Ernst says.
The plant takes many of its design cues from European models, starting with its foundation. The design of the racking and automation is German and it is comprised of a 28-inch-thick reinforced concrete slab "with 200 tonnes of rebar," Ernst says.
Below the slab is an insulation and vapour barrier system installed over a layer of sand and heated pipes that prevent the ground below the tower from freezing. A geotextile membrane and base of gravel allow for drainage under the heavy structure. The foundation engineering was by Valron Engineers Inc. of Moncton.
Ernst, who has experience with cold storage through former employment as a project engineer for High Liner Foods, says the plant will be the first in the region to use C02 for refrigeration.
Typically, ammonia is the choice refrigerant but C02 requires less capital and operational costs, plus it is safer and environmentally friendly, he adds.
To meet fire code regulations, the owners are taking "a novel approach."
Rather than specify a dry sprinkler system, as is typical in cold storage, the facility will have an oxygen-reduction system that prevents fires from starting.
While the oxygen count will be low enough to curb a fire, it won't be so low as to prevent anyone in the facility from being able to breathe.
The oxygen-reduction system is a design by Netherlands-based FX Prevent.
Evelyn Ernst says it took close to two years of planning to get the project off the ground.
Important was procuring a transportation-friendly site, close to the Trans-Canada Highway, the Nova Scotia border and the Confederation Bridge to P.E.I.
Terra Beata chose to build the facility because of a lack of available freezer space in the region for its annual cranberry crop, which needs to be stored frozen, she says, adding most of the farm's crop is exported to Europe.
Terra Beata will use only about 20 per cent of the storage space and will rent the remaining space to any company needing frozen cold storage that would like to take advantage of the automated system efficiency. This will help defray construction and equipment costs that are more than $10 million.
She says other farms in Atlantic Canada are choosing to build cold storage facilities as well.
"It is a way to keep your costs under control and make your company more vertically integrated."