For more than a decade the family-operated Cora Group has been developing and managing environmentally sustainable commercial buildings and when it began the planning for its most recent venture one of the partnering firms it "cherry-picked" was Kitchener-based Conestogo Mechanical Inc.
"We have worked with them before and knew they had the resources," says Cora chief operating officer Adrian Conrad on the selection process for delivering the evolv1.
Located in the David Johnston Research + Technology Park, in Waterloo, Ont., the evolv1 is no ordinary office building.
Designed and engineered by Stantec and built by construction manager Melloul-Blamey Construction Inc., the three-storey, 9,290-square-metre (100,000-square foot) building has the distinction of being the first-ever project to receive a Zero Carbon Building — Design certification under the Canada Green Building Council's Zero Carbon Building Standard. It's also net positive and LEED Platinum certified.
Its extensive catalogue of green features includes a 160-metre-deep (524-foot) geothermal heating and cooling system, a solar wall and a 12-metre-high (40-foot-high) living wall with approximately 4,500 plants.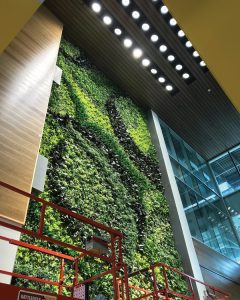 Installing the mechanical system was fairly straight forward, but Conestogo president Wes Quickfall admits he and his colleagues had to adjust their thinking and attitudes in the company's role as the design-assist mechanical contractor.
"Evolv1 was significant for many reasons over and above a traditional project/office building."
All the various pieces of mechanical equipment and components — such as a heat pump chiller imported from Italy — had to be electric rather than fueled by fossil fuels as is usually the case with many office buildings, says Quickfall.
"When designing a system conventionally you rely on fossil fuels, such as natural gas, rather than electrification for capital cost savings and ongoing energy savings.
"Natural gas is less expensive than electricity, but it emits more carbons and with this project electrical costs weren't a concern for the owner. The building generates more than it consumes," says Quickfall, citing a 72-cell rooftop solar panel and a second 1,440-panel in the parking lot.
Conestogo was among a select group of construction industry stakeholders who were invited to participate in reviews and consultations in the early stages of the project. It officially came on board in December 2016 with a mandate to review the mechanical budget and provide value engineering, he says.
It was full partner in the design discussions with the architect, the structural engineer and the other consultants, although Quickfall notes that process wasn't much different than a conventional project.
"From a design-assist perspective, the challenge we faced was trying to catch ourselves from reverting back to conventional design when providing that budget and practical assistance."
Construction of the building commenced shortly after the completion of the design in June 2017, with the installation of the mechanical systems beginning in July of that year.
One of the installation challenges, and which made this project different from many others, was blending the base building and tenant fit-ups into one package rather than separating the work into separate phases.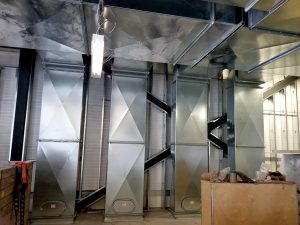 "Rather than installing all of the base building systems which may have interfered with tenants, we postponed installation (of those systems) where possible, made some early tenant assumptions and in most cases were able to accommodate tenant designs more cost effectively."
Asked to highlight some of the specific work his firm undertook, Quickfall points to the installation of a variable refrigerant flow system consisting of three units per floor with up to 18 ports in each.
"It's among the largest VRF systems we've ever done."
Other work included the installation of hydronic piping for chilled and heating water, BAS controls, plumbing of a rain water harvesting system, the installation of a reverse water system, and all sheet metal work including supply, return, exhaust and energy recovery duct work.
Conestogo was on site until the fall of 2018 and its workforce varied from approximately four to between 16 to 18 at the project's peak in the spring and summer of that year, Quickfall says.
Occupied by a mix of high-tech and professional service firms, evolv1 is about 95 per cent leased out, says Cora's Adrian Conrad.
Despite the high emphasis on environmental features and its status as Canada's first zero-carbon building, leasing rates are comparable to other Class A building in the area, he says.
In explaining the rationale and thinking behind the creation of evolv1, Conrad says the company wanted to "push the envelope" and see what more can be accomplished on the sustainability front in Canada.
Plans are already underway for evolv2 across the road from the present building, he says.