GUELPH, ONT. — The Canadian Farm Builders Association (CFBA) presented the 2018 Builder Awards at the association's annual conference held recently in Stratford, Ont., showcasing unique barn designs with equally unique features.
Each competitor was eligible to submit seven photos, a project description and a floor plan or engineered drawing for each project. A display board showcased the builds at the conference and each attendee was provided with a ballot and the opportunity to view, assess and vote. A "People's Choice" voting format was used to determine the best project submitted in each of the 10 categories.
The Project of the Year Award was presented to HFH Inc. The building, which also won in the commercial/institutional category, was engineered by Tacoma Engineers and R.M. Montgomery Engineering. The 80-foot-by-136-foot-by-18-foot insulated and lined shop with a two-storey office includes a cupola with windows that is open down to the lobby, decorative gable timbers on the front of the office, a standing seam steel roof on the front portion of the building and structural and decorative timbers throughout as well as exposed timber floor joists. The building also features an open concept office space with private executive offices, a boardroom/training room with kitchenette, a pine timber frame staircase, custom wood trims, a steel and wood railing and a custom reception desk.
The Dairy Award was also won by HFH Inc. The project was designed by HFH and engineered by Stonecrest Engineering. The 360-foot-long-by-104-foot, eight-inch-wide main dairy barn includes a milk house, parlour with holding area, an office/storage/vet room area and a pump room.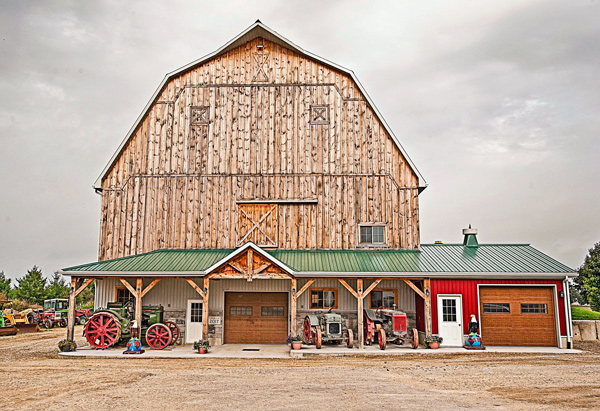 Bender Contracting Inc. won the 2018 Swine Award. The structure was designed by Wayne and Sharon Zehr of Stonecrest Engineering. The award was for a 75-foot-10-inch-by-125-foot-10-inch single storey weaner barn and utility room and connecting link to existing weaner barn. It features high insulated poured concrete sandwich wallpit walls, a 'hair pin' design for manure flow and a plastic slatted floor to protect weaner hooved feet. It also includes insulated prefabricated precast concrete exterior walls.
The Poultry Award was given to HFH Inc. for the facility it designed with Tacoma Engineers. The structure is a 65-foot-by-400-foot main barn and a 24-foot-by-18-foot office. It features an organic chicken barn with exit doors for birds to go outside and poly doors and windows to provide natural light and meet organic standards.
Post Farm Structures won the Other Livestock Award for a barn engineered by Tacoma Engineers. The structure is 40-feet-wide-by-110-feet-long and includes a custom-built five stall water buffalo parlour. It also includes a liquid manure pit; a decorative clerestory to complement existing exterior architectural elements; a flexible feed front on feed alley; and custom tilt windows to align with existing buildings.
This year there was a two-way tie for the Farm Storage Award. Both buildings were designed by HFH Inc. The first, engineered by Tacoma Engineers, is a large building mostly used for storage with some mixed agriculture use with a portion of the building used for mixed variety of birds for the cold season.
The building measures 7,108 square feet on the main level with 2,208 square feet on the second level and a 576 square foot greenhouse. It also includes in-floor heat through most rooms with concrete floors including a walkway inside a greenhouse and an automated ventilation system.
The second Farm Storage Award presented to HFH Inc. was designed by MTE Consultants and engineered by Tacoma Engineers. The building is 90-feet-wide-by-132-feet-long and 64 feet to the peak and includes nine storage bays (each capable of holding 600 tons of product); a Yargus Tripper conveyor at the top of the bays, used for filling the bays; and a Yargus fully automated horizontal blender loading directly onto a truck scale.
The Horse I Award was presented to HFH Inc. for a 10-stall horse barn with large connecting link and riding arena it designed with Tacoma Engineers. The barn houses eight full size stalls and two standing stalls for foals, a groom stall, a wash stall and barn office. The connecting link contains a bathroom, mechanical room, large feed room with laundry, tack room with custom cabinets and closets and a equipped viewing lounge with kitchenette.
Dutch Masters Design & Construction Services won the Horse II Award. The engineers on the project were Tacoma Engineers. The building features a one-of-a-kind round stable with attached arena, four oversized stalls with a bonus/interchangeable "mini" gate, custom stall hardware made to fit a unique shape and a steel-framed arena with a high vaulted ceiling.
The Hobby/Recreational Award went to HFH Inc. The 50-foot-by-80-foot gambrel roof timber barn features authentic mortise and tenon connections on the entire timber frame, with oak dowel pins and a four-by-10 timber floor joist system.