DARTMOUTH, N.S. — The former Dartmouth Sportsplex in Dartmouth, N.S. has a new name and a new look following a $28-million renovation and expansion.
The Zatzman Sportsplex, designed by Diamond Schmitt Architects and Abbott Brown Architects, includes new amenities and services designed to create a community hub.
The design objective of the revitalization was to create activity, transparency and connection, states a release issued by Diamond Schmitt Architects, adding a more open plan within the facility and new views outside to the adjacent Halifax harbour and Dartmouth Common now connect the 100,000-square-foot facility. A central triangular atrium links the levels of the facility and provides natural light.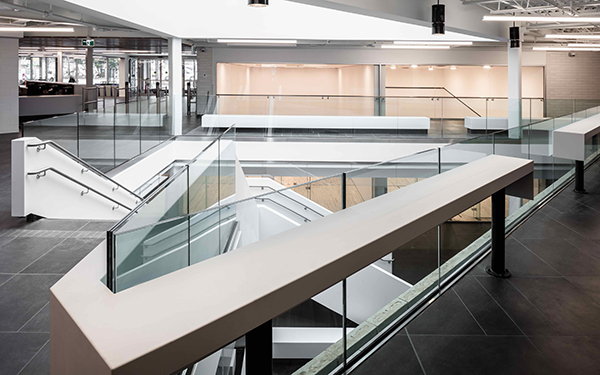 Features of the new facility include a new entry, a larger fitness and cardio area, a new double gymnasium, a central cafe adjacent the gym, a child care area with views to the common and new studios at the core of the building. The new aquatics area has a splash area for kids, new water slides, a therapy pool, universal change facilities and accessibility improvements have been made to the teaching pool.
A mural by Mi'kmaw artist Jordan Bennett incorporates various metals, traditional Mi'kmaw motifs and colours and explores the histories, traditions and contributions to sport in traditional Mi'kmaw territory. A second installation by the artist is a design across 1,500 square feet of interior glazing.
"Improvements in infrastructure make the whole facility more energy efficient and accessible, with better wayfinding and circulation and much more natural light," said Alec Brown of Abbott Brown Architects in a statement.