The design and construction community has once again taken action to help bridge the city's hunger gap at Canstruction Toronto's 20th annual design-build competition.
In all, 68,785 pounds of non-perishable food were donated to the Daily Bread Food Bank.
Canstruction co-chair Christina Facey, a senior associate at Quadrangle Architects, describes the event as "an engaging and creative way" for the industry to work together in support of the food bank.
"More importantly, this friendly competition shines a spotlight on the fact that hunger is a reality for many people, right here in our very own city."
This year, 25 teams took part in the competition, which is organized by the Society for Design Administration (SDA) Canada and hosted by Cadillac Fairview and the Design Exchange.
The competition challenges participants to design and build structures made entirely of canned goods within a 10- by 10- by 8-foot space. It recognizes a variety of factors, not just design aesthetics.
The Best Use of Labels award focuses on creative graphic possibilities; the Best Meal award considers the variety and quality of the food donated. Structural Ingenuity considers the complexity of the design.
The winning structures were announced at a May 14 reception at the Design Exchange in downtown Toronto.
"I've been doing this (acting as master of ceremonies) for so many years that I've lost count," said CityNews anchor Francis D'Souza.
"But each year I'm amazed at the designs that I see."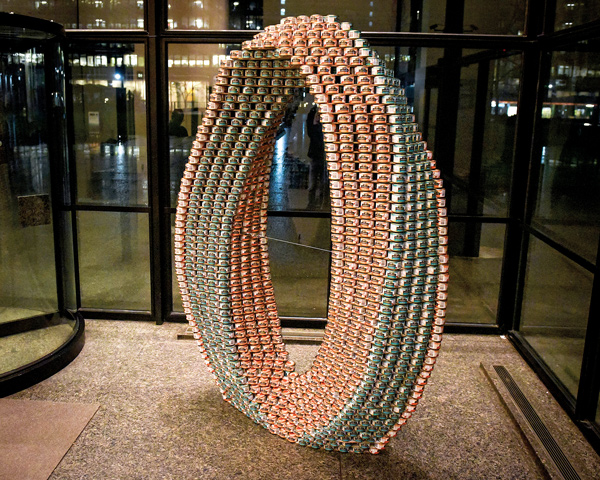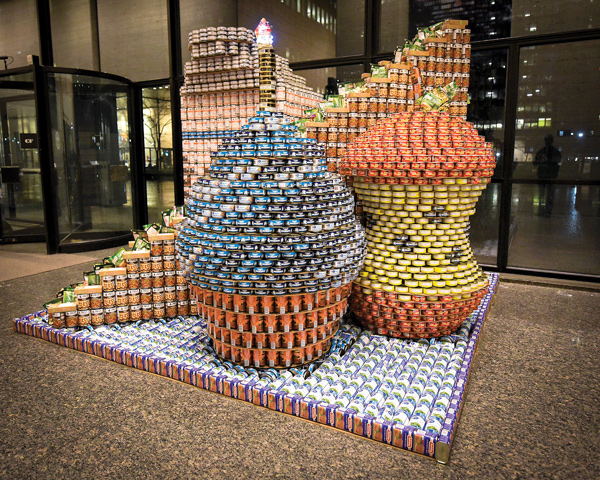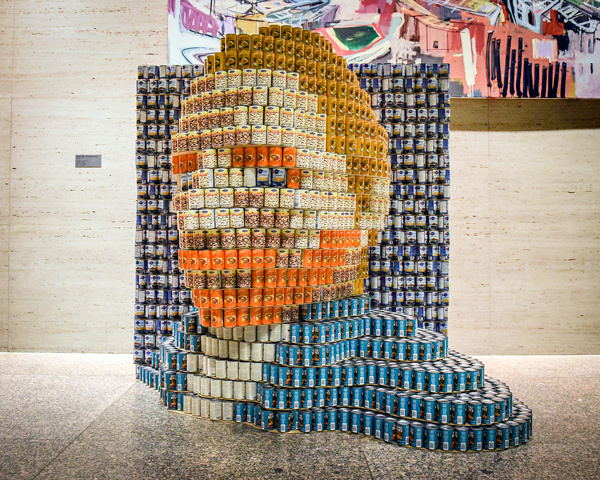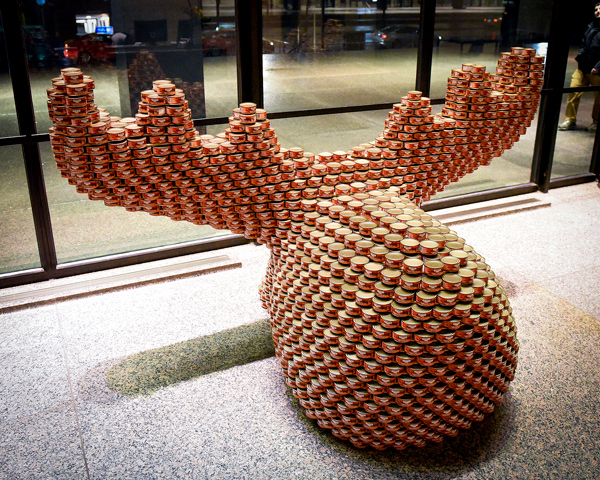 This year's winners were:
WSP and Architecture49 (Best Original Design)
The Mobius structure, which incorporated 2,779 cans of tuna, was intended to convey that ending food insecurity is not an abstract idea — particularly not as abstract as a mobius strip.
"I think what is really notable about this project is that it takes on the issue of food insecurity, the feeding of people who are less fortunate," said judge Paul Stevens, a senior principal in ZAS Architects Inc., noting that it tackled this issue in an "elegant" manner.
EllisDon and Zeidler Partnership Architects (Structural Ingenuity)
The stylized design of the CANadian Moose was inspired by a moose grazing in a lake, showing only its head and antlers above the water. A total of 2,784 cans of tuna were used to build the structure. The complex curves were modelled using computer software to generate a level-by-level layout for the careful and exact placement of each can. This was critical for maintaining balance across the broad antlers.
"Those massive antlers got my vote," said judge Luke Anderson, a licensed structural engineer and the co-founder of the StopGap Foundation, noting the innovative approach that was taken to the structural design.
RJC Engineers (Best Use of Labels)
A Balanced Lunch Tray Keeps Hunger at Bay incorporated a total of 15,630 cans of food — a wide variety of products including tuna, chicken flakes, turkey chunks, baked beans, cut green beans and carrots.
"The use of labels was beyond impressive," said judge and multidisciplinary artist Jacquie Comrie. "The vibrancy of the colours took me back to being a child and how lucky I was to have a full lunch box."
Aercoustics Engineering Ltd. (Best Meal)
The team's Many Cans Make Light Work structure made reference to a barn raising, one of rural North America's oldest rituals to help families in need. Constructed of 4,241 cans, the structure incorporated vegetables commonly grown on farms across Ontario — among them tomatoes, green beans, peas and corn.
"It was great to see the variety of healthy products that was used," said judge Peter Oliver, co-founder of Oliver & Bonacini Hospitality.
Gensler (Honourable Mention)
The Hunger CAN Gogh structure recreated artist Vincent Van Gogh's self-portrait out of 3,326 cans of food.
"This design was a strong contender in several categories," said judge Matthew Hague, a Toronto-based journalist who focuses on design and architecture.
"Although it was very closely edged out in these categories, we definitely wanted to give this design a mention as we were quite taken with it."
Since the event was inaugurated, Canstruction Toronto has donated more than one million pounds of food to The Daily Bread Food Bank.
"This event means so much to us," said Neil Hetherington, the food bank's CEO, who noted that donations tend to be at their lowest levels in the summer months.
"It is needed and appreciated."
Canstruction co-chair Steven Titus, president and CEO of Aercoustics Engineering, said "it is pretty impressive in today's day and age" for an event to reach the 20-year mark.
"What people don't realize are the challenges faced by the organizing committee," he said. "A lot of people (volunteers) work tirelessly to pull this off."
This year's Gold sponsors were Calador Communications, Carpenters & Allied Workers Local 27 and Smith — Andersen. Silver sponsors included Construction Specifications Canada, Consulting Engineers of Ontario and the Ontario Association of Architects. Bronze sponsors included the Ontario General Contractors Association.