Narrow demolition footprints are nothing new to Budget Demolition from Hamilton, Ont.
Company site supervisor James Heylink motions with his fingers how close the proximity of one job his firm did was to a neighboring house. Still, he finds working on the demolition of Windsor's old city hall building "pretty exciting."
That's because the demo, which has technically been underway for several months but didn't start to see the proverbial wrecking ball until the last week in June is in such a tight workspace.
"This one's interesting for me because it's the height and it's also how close in proximity we are to a public walkway," Heylink said. "So we've always got to keep public safety in mind."
How close is it?
There's a roughly 10-metre buffer between the building and the city's brand-new city hall, which opened a little more than a year ago.
City hall staff on their breaks, as well as members of the public doing business at city hall, often stand outside at the main entrance and watch while excavators chomp their way through the mostly concrete block, red brick, steel and aluminum former five-storey building.
Meanwhile a civic campus, including various walkways, surrounds the site and there are two historic churches, an office building and a tourist information centre, all within an easy stone's throw.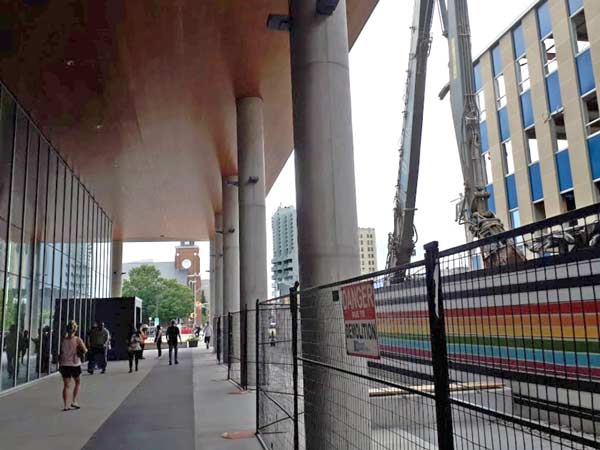 The demo process took longer than usual owing mainly to the significant amount of asbestos inside the building, constructed in 1956, and which had to be removed.
"We wanted to make sure this building was fully clean from any hazardous materials before we started knocking it down," said Wadah Al-Yassiri, the City of Windsor's project administrator. Therefore, beginning in January, roughly six-months were devoted to detailed asbestos removal.
Though not entirely surprising, "we found more asbestos than was anticipated," Al-Yassiri said. "As soon as we cut open the walls — the drywall — we found asbestos not only where it should be in the ceiling and the steel structure but also more on the block walls and the staircase walls and the elevator shafts."
Most of the asbestos-containing material was fireproofing that was historically sprayed onto ceilings, walls and structural components.
The sprayed asbestos — one to two inches thick — was "like a thick frosting adhered to all the steel and ceiling structure," Al-Yassiri said.
DST Consulting Engineers, from Ottawa, oversaw the asbestos removal as it has the entire project.
During the abatement the work areas were isolated from adjacent spaces and kept under negative pressure. Each area, upon completion, underwent air testing, ensuring removal was complete and the building safe for actual demolition.
Types 1, 2, and 3 asbestos abatement took place for both non-friable and friable asbestos. Protection for workers and the public increases significantly as the classification rises from 1 to 3.
Non-friable refers to materials containing asbestos that can't be crumbled, pulverized, or powdered by hand pressure, such as vinyl floor tiles. Friable by contrast is easily disturbed.
Some 800 square metres, or 90 per cent of the removal, required type 3 abatement.
During removal, the work areas were isolated into zones with specially configured plastic sheeting. Negative pressure was applied using exhaust units equipped with HEPA filters to prevent fibres from escaping outside.
The abatement finished, the demolition itself got underway in late June over the tight project footprint, a process that required air and vibration monitoring at the adjacent new city hall, the two churches, the office building and the Ontario tourist bureau, all on the same campus.
After demolition began the contractor worked quickly, tearing down one-third of the building in the first week.
A large concrete exterior slab from the old building was saved which had a religious inscription. It will be used in a reconfigured plaza that will be built on site, contiguous to a larger civic esplanade.
Meanwhile, in a "first for Windsor," as much as 85 per cent of demolished materials will be recycled, Al-Yassiri said.
During demolition, Budget Demolition worked with three machines — a Volvo 460 High Reach with 90-foot boom and a DRS-30 shear, a CAT 336 with mechanical grapple, and a Volvo 250 with a bucket and thumb combination, the last two to separate largely steel from concrete.
A crushing machine will be set up and the demolished concrete and masonry crushed to a Granular B (OPSS) aggregate, which will fill the excavated building's basement hole.
The demo should come in at just under $3 million, including some $900,000 — already set aside as contingency funding — for the additional asbestos abatement. The project should wrap up in September.