It was late on a Friday afternoon when Rob Long, vice-president sales at Vixman Construction Ltd., was approached by a project manager who was rounding up troops to help build an unusual, $2-million, steel-fabricated engineering building at the Sheridan College campus in Brampton, Ont.
"He said, 'What do you think about this?' and I looked at the plans and sort of said, 'Well, I wasn't that interested,' " recalls Long.
The plan was to build a structure with a variety of different steel products and three distinct finishes, essentially to showcase the versatility of steel. A good chunk of the exterior would consist of stainless-steel panels with a brushed finish that would be applied in a custom sawtooth pattern to create a unique effect.
Long, who's done his share of cladding installs, thought about the project a little more over the weekend, though, and changed his mind.
"I thought, 'You know what, somebody's got to do it.' So, me and my chief estimator put in a lot of hours into the back-and-forth of the design and sourcing out suppliers. The process went on for about three months."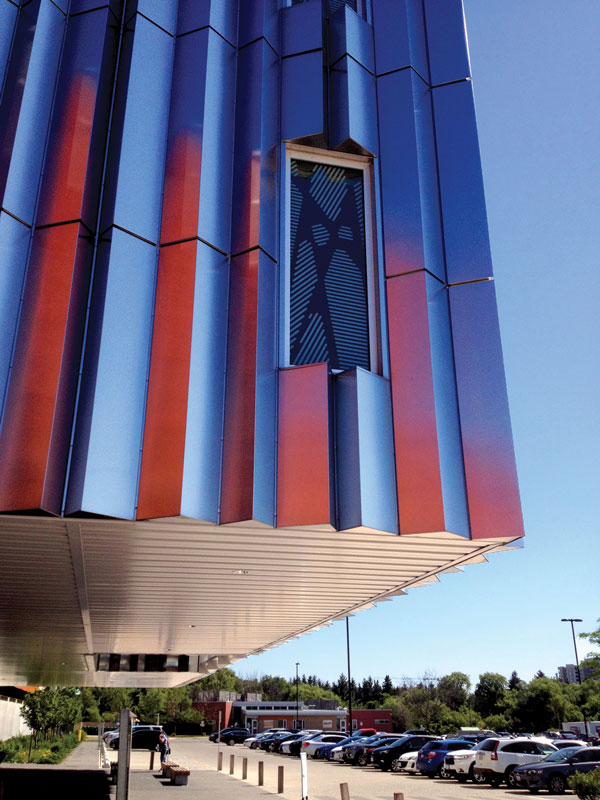 Long collaborated on the project with architect George Friedman of Toronto and the team at Giffels Westpro which later became part of Pomerleau Inc.
Although Long had done many steel cladding and deck projects before, it soon became apparent the project would be more challenging.
"It wasn't like you just bought a piece of siding and put it on, although we did have some of that. You had some generic products and you had some custom products."
The structure itself was steel-fabricated and some areas of the building used conventional horizontal and vertical pre-painted siding as well as pre-painted flashing, fascia and soffit treatments to anchor the structure with a contrasting solid appearance. The foundation and base of the structure are concrete.
All in, Vixman supplied and installed six steel products, everything from insulated metal wall and roof panels to conventional siding and flashings in stainless steel, weathering steel and pre-painted steel.
"Even the weathering steel panels were custom-designed and fabricated," says Long.
Although the architect had drawn up plans on what the stainless-steel features would look like, and determined the sizing and finishing, it all had to be modified once construction started, he says.
The designs tested the abilities — and patience — of builders, because of the number of finishes and sawtooth pattern of many of the exterior panels.
"To be honest with you, the architect decided he was going to use just about every type of finish that he could possibly think of," says Long.
Custom panel shapes using 20-gauge type 304 brushed-finish stainless steel and 18-gauge A606 weathering steel had to be developed from scratch. Pieces for the sawtooth exterior were fabricated at a shop in Mississauga, Ont. and had to be stiffened to take out surface variations in the stainless-steel finish.
It was a challenge working with so many different types of steel finishes, moving parts and materials, says Long.
"You basically had to be a MacGyver as everything was difficult," he says. "I had to go down and meet with a stainless-steel supplier because it was a special finish. They'd have to buy the stainless-steel coil and then they would finish it in their shop. A lot of time was spent on co-ordinating the details."
The sawtooth exterior of stainless steel was one of the most challenging components of the build. The idea was to create an interesting and unique effect in which light, colour and shapes are reflected to the viewer.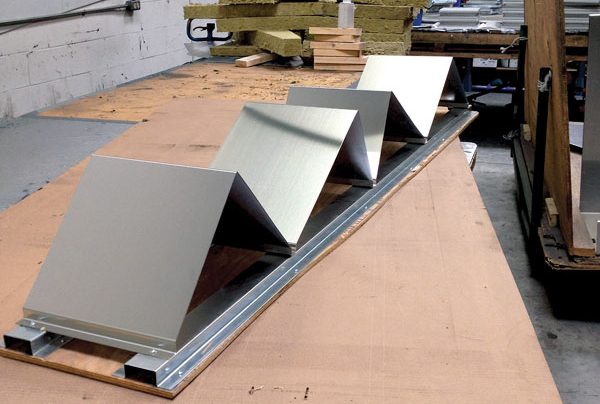 However, says Long, "if you've got a very reflective piece of material that's not actually really flat the light is going to play all over it. Plus, when the sun beats on your building aluminum and stainless steel, these products tend to expand and contract, so you're always going to get this constantly-changing appearance."
Which is exactly what happened.
"When the final product started going onto the wall, quite frankly, it didn't look very good and it looked like somebody had been beating on it with basketballs," says Long. "So, what we decided to do at that point was to add stiffening features in the backs of the panels to try to give them as much flatness as we possible could. What we had to try to do was minimize what we call oil-canning."
The experiment worked and provided the desired appearance.
Looking back, says Long, it would have been better to make the original material a lot thicker and, hence, it would've look flatter.
"That was a challenge," he says, "and we probably spent a full week putting stuff on the wall and taking it back off again to try to get the installation right."
Sloping roof areas of the building were completed using a watertight standing-seam insulated metal panel system. The visually-appealing panels have insulated foam in-between and the joints are caulked.
Though it took a lot of work due to the different treatments, lines, shapes and sawtooth panels, Long says he's satisfied with the outcome.
"We were on site for quite a while. Overall, I'm pleased with what we provided. It's an engineering building for learning so, I think with that in mind, there's a lot of different things for the students to look at."