TORONTO — The Ontario Association of Architects (OAA) has announced that the Renew+Refresh renovation project at its headquarters in Toronto's Don Mills community is close to completion, with major works wrapped up and only a few projects such as the installation of additional photovoltaics remaining.
The new panels from Morgan Solar will be installed over the second-floor terrace, noted a Sept. 26 release, adding to existing panels and other active and passive technologies intended to attain net-zero-carbon status. Other efficiency features include high-efficiency occupancy lighting, displacement ventilation, geothermal heating, enhanced insulation and dynamic glass that changes its tint with the sun.
"Once we decided to retrofit the OAA HQ, both operating and embedded energy guided our decisions to ensure the building's life cycle performance would be environmentally sustainable," said OAA president Kathleen Kurtin in the statement. "The OAA building committee worked closely with the other members of the project team to ensure our objectives were met."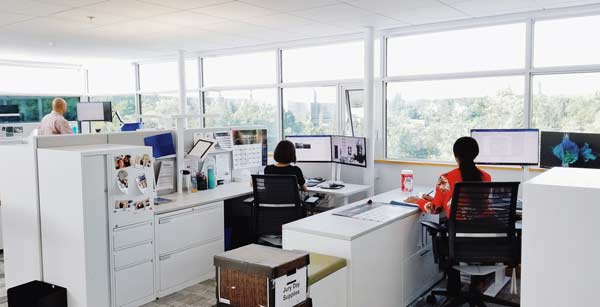 The project consultant team was led by architect David Fujiwara.
"Retrofitting existing building stock is critical to meeting global greenhouse gas reduction goals," said Sheena Sharp, architect and chair of the OAA Building Committee. "With new designs and technology, energy-efficient buildings are easy to achieve, but most of the buildings in our province are older structures that need to be addressed if we're going to meet the targets."
Another feature of the rehabilitation is space flexibility. The capacity for employees and the number of meeting rooms were doubled. Layout flexibility was included so that the spaces could expand or contract to host events.
An official public opening is planned for May to coincide with the 2020 OAA Conference as well as Doors Open.