The Baha'i Temple of South America in Santiago, Chile, designed by Toronto-based Hariri Pontarini Architects, is the winner of the Royal Architectural Institute of Canada's (RAIC) International Prize for a work of architecture that transforms society.
The inspiration for the design was light.
"I stumbled upon a beautiful passage from the Baha'i writings that speaks about prayer and that if your prayer is heard and answered your inner being becomes pillars of light," explained Siamak Hariri, founding partner of Hariri Pontarini Architects and lead design architect of the project.
"I love this idea that we could create a building that could have this concept of embodied light and at night it reverses and it emanates the light from the inside."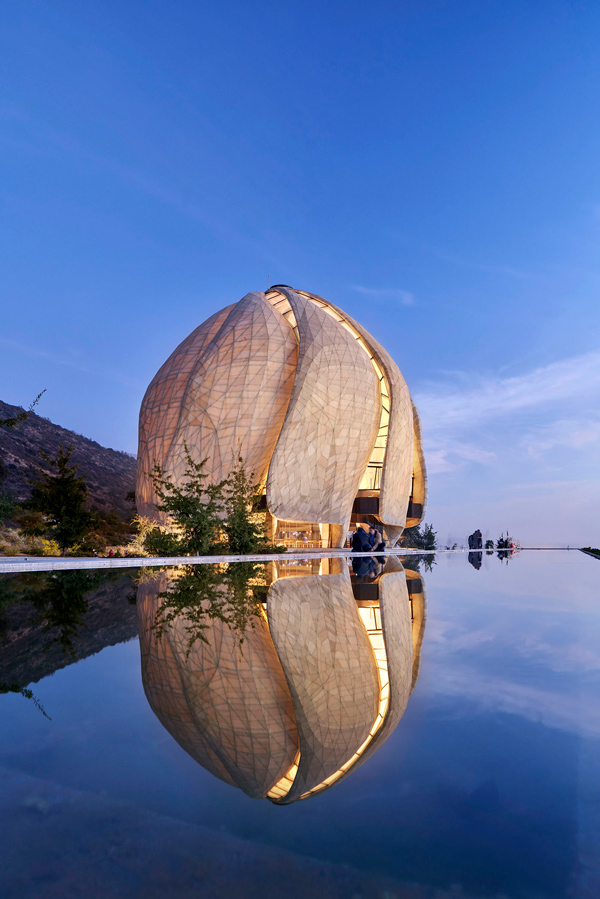 The winner of the $100,000 prize was unveiled during an awards ceremony and gala in Toronto. This year marks the third edition of the biennial prize, which was created in 2013 by RAIC, the RAIC Foundation and Canadian architect Raymond Moriyama. The jury received submissions from 12 countries across six continents.
"This prize touches me at the very deepest level because it's all about architecture having this possibility for meaningful transformation which sounds so easy but actually it's very difficult," said Hariri at a press conference hours before the announcement was made.
Hariri Pontarini won the project through an international design competition. The $36-million, 2,416-square-metre building was commissioned by the Baha'i House of Justice and is the eighth and final continental temple for the Baha'i faith.
It took 14 years to complete. It has had 1.4 million visitors since it opened in 2016 and has become a landmark in the community.
"The temple's nine gracefully torqued wings, bound to an oculus at the top, are made of an outer layer of cast-glass panels and an interior layer of translucent marble from Portugal," states a RAIC release. "The invention of this new material — cast-glass cladding — took four years of experimentation and collaboration with a Canadian glass artisan."
It was designed to be a place of welcome, community and meaning for everyone. Diversity and unity are at the heart of the faith, Hariri noted.
"The idea is that it should be a place where people from all different faiths or no faith at all would feel welcome and would feel like this is their place," said Hariri, adding that is why there are nine entrances welcoming people from all walks of life.
The temple was selected as the winner by a six-member jury after site visits to the three short-listed projects. Jury members included Anne Cerrier, Stephen Hodder, Barry Johns, Eva Matsuzaki, Diarmuid Nash and Gilles Saucier.
"All three projects are completely different and it was very hard for the jury to wrestle with how do you compare one against another…when in fact all three quite honestly deserve to win this award," said Johns, jury member and former chancellor of the College of Fellows. "We are very happy with the selection that we made."
The other two short-listed projects were Edificio E, Lecture Building, University of Piura in Piura, Peru designed by Barclay & Crousse of Lima, Peru and Thread: Artisits' Residency and Cultural Center in Sinthian, Senegal by Toshiko Mori Architect of New York.
Edificio E, a $12.2-million, 9,500-square-metre building is part of national policy set up by the government to encourage low-income rural students to attend private universities.
While the structure appears to be one building from the outside, it is actually a group of 11 buildings two and three levels high, covered by cantilevered roofs and linked by a series of ramps, alleys, courtyards and gardens. With the university located in the Peruvian desert, the design had to provide comfortable spaces for students to learn.
"The important thing we achieved here is to bring these spaces to a thermal comfort zone by producing shade and allowing a breeze to come in," explained Jean Pierre Crousse, the architect on the project. "There are very few spaces that are air conditioned, they are naturally ventilated."
Thread, the 1,048 square metre, $269,186 building is located in a remote community in Senegal. In addition to housing artists, the centre serves as a cultural and social hub. Mori explained the design inverts the traditional pitched roof and allows for the collection and storage of rainwater in cisterns so women don't have to travel so far to get water. The water has also helped the women in the community form a co-op to grow vegetables to feed their families and sell food, generating income which they can use to send their children to school. The project used local project managers and workers and the design incorporated local building techniques and materials, including bamboo and compressed earth blocks made on site.
"This one building has the potential to provide water security, the safety of women and girls and sustaining children's continuous education," said Mori. "I think the goal that organically grew out of it was to make a social cohesion within the community."
Follow Angela Gismondi on Twitter @DCN_Angela.