Kitchener-based developer IN8 Developments has announced plans to develop a 3.5-acre property in Hamilton's core with mixed uses and possibly five towers and a development price tag of around $700 million.
Sale of the site, currently serving as the Hamilton City Centre mall, is expected to go through in December, IN8 president Darryl Firsten said recently. Firsten has lined up supporters in Hamilton's economic development and urban renewal offices encouraging redevelopment.
"We love the municipality and they want it," he said of the City's support. "Both the elected officials and the city staff, they want this rebirth. They want intensification and they are doing it right, they want to stop sprawl. And our firm, that is what we do, urban intensification. We are not subdivision guys, we are downtown highrise guys."
Hamilton's director of economic development Glen Norton commented about the IN8 proposal, "It's very early days, but this kind of vision is exciting when we think about the downtown renewal of our City."
Because the use will change from commercial to mixed-use/residential, Ontario's Ministry of the Environment, Conservation and Parks will require a record of site condition, which entails a risk assessment to ensure the water table is safe for residential development among other requirements. That will take years, Firsten said, which won't be wasted time because IN8 will need to undertake a thorough market sounding to determine the types of residences that will sell.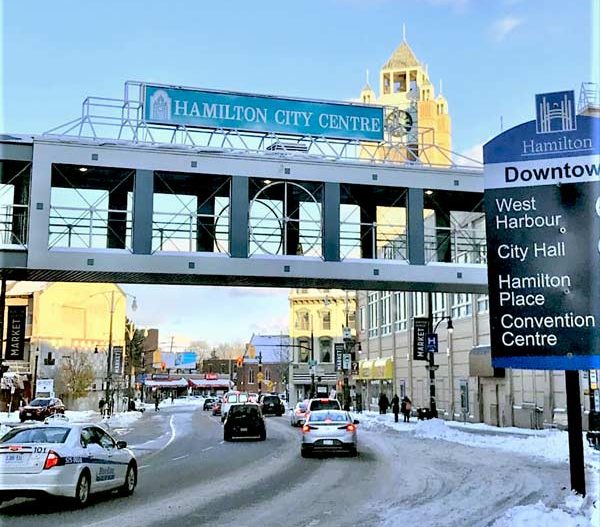 "We build for the market. What the market demands, we will build it," he said of future housing forms.
Otherwise, IN8 works quickly, Firsten said. One project in Kitchener, Ont. took eight months from site purchase to groundbreaking.
"We are paying a massive amount of money to jump in on this project," he said. "We want to get this done."
The site on James Street North is perfectly suited for the redevelopment's mixed uses, Firsten said, with a new LRT line set to go right past and the West Harbour Go station with connections to Toronto 900 metres away.
"There is a lot of amazing infrastructure that already exists there," he said. "It is a beautiful city with a real, real downtown. It's got an amazing waterfront and more opportunities to come on the waterfront.
"We are most excited about public transit. With the new LRT being built, it is really going to connect the entire city. And the increase in GO service will enable connections to the Greater GTHA."
Among mixed-use components, residential is the biggest sure thing, Firsten feels.
"We think there is a huge demand for people to live, work and play," he said. "There is demand for high-density living, which is efficient uses of space, efficient uses of energy, environmentally friendly. It's more social. You get to say hi to people, it's safer, it is an amazing way to live.
"That is not just a Hamilton trend, it is an everywhere trend."
There is currently 550,000 square feet of commercial in the mall, which was built in 1990, but with few high-end retailers. Firsten said the delay in launching the build will enable IN8 to work with the existing retailers to ensure they are accommodated in the new structures or satisfactorily relocated.
Much of the new retail component will be located on the ground floors of the towers and will tend to be higher end, he said.
"There will for sure be ground-floor, high-quality retail, with glazing, nice high ceilings," Firsten said. "It will be high-quality space that we can find great tenants for."
The downtown currently has a surfeit of older, low-rent office space, which makes the office equation "tricky," Firsten said. The answer is to build modern and high end with elite companies recruited.
"Someone who wants to come in and be a trend-setter and a trailblazer who says, 'Listen, we'll pay more in rent and we'll have the best office space. It is going to be environmentally friendly and well laid out, and the location is going to be amazing. We are a great company and we are going to hire amazing employees and that is the price we are going to pay to hire the best employees,' " he said.
IN8 has its own construction-management, development-management and property-management divisions and has built some 16 projects in the last seven years, mainly in the Kitchener-Waterloo, Ont. and Kingston, Ont. markets, Firsten said. Most of their builds in the past decade have been with the Toronto firm Harlo Capital as business partner.
Follow Don Wall on Twitter @DonWall_DCN.