The recently completed 5,000-seat Niagara Falls Entertainment Centre adjacent to Fallsview Casino in Niagara Falls, Ont. presented a number of unusual challenges to build.
The structure required the construction of a large concrete transfer slab to carry the load of the 240,000-square-foot concrete and steel building supported above an existing underground parking garage.
"It was probably one of the most difficult concrete slabs I've seen, with a series of intersecting beams, none of which could bear on the parking garage," says Curt Sinclair, a senior site superintendent with Bird Design Build Construction Inc.
Bird is part of the Niagara Falls Entertainment Partners consortium selected by OLG for the development capital and maintenance costs associated with the new theatre.
The intersecting beams each have different soffit heights, some which are only 75 millimetres above the existing parking garage slab, says Adam Dench, senior project manager with Reimar Forming and Construction of Hamilton, Ont.
"Not only did this work require atypical forming procedures but the sequence of construction needed to be meticulously planned to ensure that access was maintained for both forming and stripping activities," says Dench.
He adds the slab's underside was too low to use traditional formwork and falsework systems so Reimar's crew had to support 80 per cent of the slab on a series of hand-built knee walls, ranging from 250 to 900 millimetres high.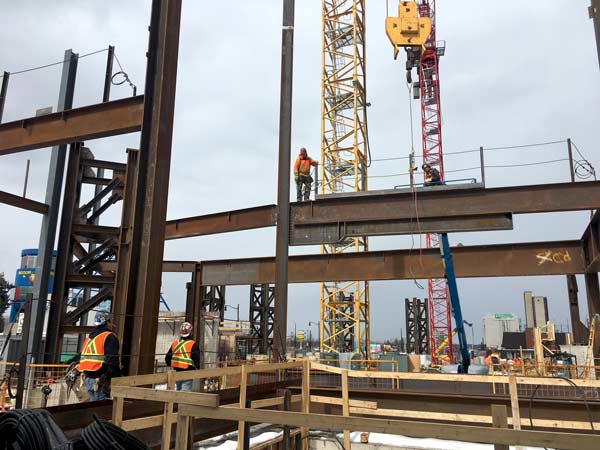 He says to sequence the construction joints for the large slab, extensive planning and co-ordination with other trades and the project's structural engineer, Toronto-based Quinn Dressel Associates of Toronto, was paramount.
Another challenge was constructing four new shearwalls as lateral braces for the parkade while keeping the site open to the public. As a "minimal amount of safety barriers" could be installed, the work had to be staged with construction activities worked out ahead of time, Dench says.
The garage's staircase extension was modified to allow uninterrupted egress pathways in the event of an emergency.
"It was difficult to do when creating a standard opening sized door bucks what must adhere to the fire code," he adds.
The challenge for Reimar's crew was exacerbated by weather. The first winter of construction, 2017, was one of the coldest and snowiest in years.
Reimar's Dench says an additional of 12 to 15 workers were needed to clear snow and ice and cover new concrete pours. With many extreme cold days, work was sequenced to use heat from previous concrete pours to help heat new concrete pours.
He says working near the falls in the winter is "always difficult" because the mist from causes ice accumulation on exposed formwork and rebar. All building elements had to be tarped and pre-heated daily.
The existing underground parking structure had been engineered to take the load of a future building. Still, structural reinforcement was required in four locations.
Dench says holes were cut into the basement and new footings were poured. The largest concrete elements, the four large "super column bases" (approximately 12 metres by 12 metres by 1.5 metres high), the crane bases, and several beams had their soffits formed with void forms, collapsible plywood forms, or even compacted sand as these elements could only bear weight onto the piers at their connection.
He says initially the two tower crane bases were poured on void forms protected by a thin layer of masonite to avoid damage during rebar installation. The area beneath the transfer slab was classified as interior building space and therefore "non-flammable construction."
Dench says the void forms and wood had to be removed prior to occupancy, which was not an easy task in some areas where there was only three to five inches of clearance of the form to the edge.
Linked to Fallsview Casino and the Hilton Hotel by an enclosed pedestrian walkway, the entertainment centre complements the 1,500-seat Avalon Ballroom at Fallsview Casino.