Many architects have seamlessly managed the transition to working in isolation during the COVID-19 crisis, says one Toronto-based designer, but it's apparent their profession will be impacted significantly in future by the pandemic.
BNKC partner Jonathan King said in a recent interview he is currently focused on three major Ontario residential projects now in the permitting stage, two in mid-town Toronto and one in Peterborough, but at the same time he and his colleagues have been endlessly chatting about the future of design post-COVID.
"We are eager to go," said King of his current projects. "We have been surprised not just these three projects but most of our projects have continued on. Maybe we have been lucky that some of our projects have been in certain stages that allow us to continue our work and collaboration unabated."
None of the three builds — the nine-storey, 93-unit East City Condos in Peterborough, a nine-storey, purpose-built rental midrise at 2720/2734 Danforth Ave. in Toronto or a 21-storey purpose-built rental highrise at 5509 Dundas St. W. in Toronto's Etobicoke community — is being reconfigured in any major way to adapt to COVID-19. The developers are the TVM Group, Katalyst Real Estate Corp. and Contessa Developments Inc. respectively.
The big challenge for the developers and their team is getting the projects to the construction starting line.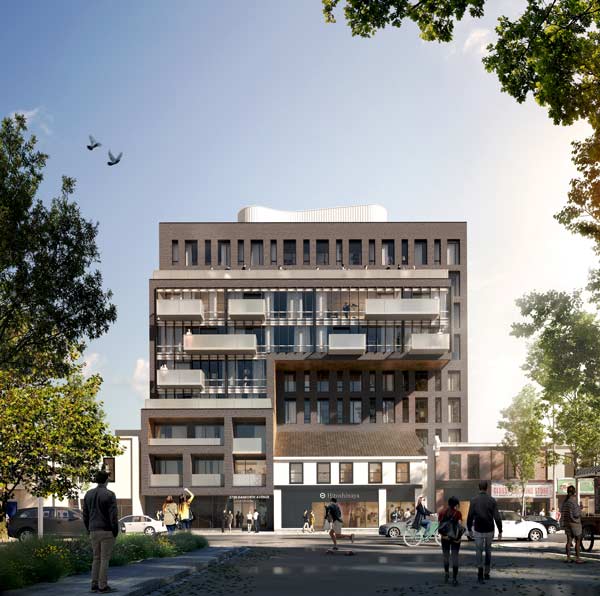 "The entire process has slowed down," he said. "That is the reality of our situation right now as everyone is attempting to navigate the new normal, and that includes the various departments within various municipalities trying to manage receipt of applications, processing and review and approval of applications."
The developers remain eager to move on the three projects because there's an unsatisfied market, said King.
"It is safe to say, before, during and after COVID-19, there continues to be a demand for new housing," he remarked. "That demand has not gone away and it won't go away."
And neither will the need to design for a future with COVID-19 or similar threats go away, King said.
"Architects are problem solvers by nature and design," he commented. "This is yet another problem to solve and I am confident we will work through it and (with) our partners and clients… we will ultimately come up with a solution.
"There is nothing that we cannot overcome if we put some time and thought into it."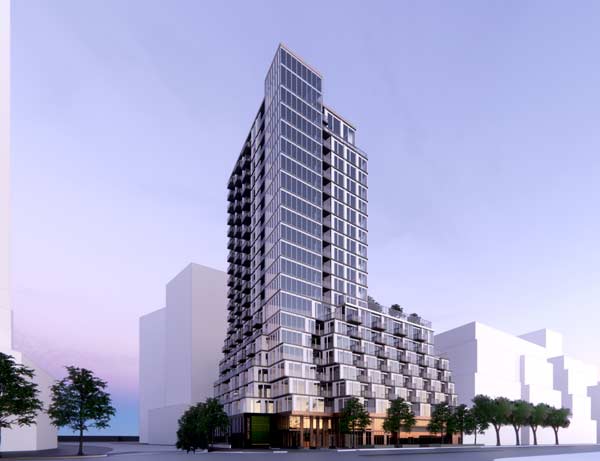 The re-analysis has already started, King said.
"We are starting to do the analysis of some of our projects to determine if there is anything we need to reconsider with our designs that will either help position projects in a post-COVID environment, or to address the potential for that project to be more flexible in response. So that is a big part of the conversations that are going on at the moment."
One team he is on did an audit of one project and analyzed such features as how people pass through a building, how doors operate, what are the surfaces where there is high traffic and whether washroom soap dispensers and faucets are touchless. Filters in mechanical systems were also re-evaluated.
"Those are small measures but important measures," said King.
Further discussions among his peers have related to residential unit design.
"There are a lot of conversations recently, what does that mean for unit design and do you need to change aspects of how those units are organized," King explained. "Do you need to create home office environments?
"I think that is a multi-layered conversation and it is complicated because within that question are economic impacts."
Amenity spaces in residential buildings might have a different look in the future as well, King said, with features such as bookable spaces being considered for home-based workers.
This is not even touching on how residences fit into communities and what types of new links there will be with transportation and greenspaces, King said. These considerations are only for new spaces, he noted.
"What do you do with existing buildings, which is the vast majority of our living environment?" King asked. "Those are the conversations which are probably going to happen with operators and condominium corporations as they navigate through this new normal."
Follow the author on Twitter @DonWall_DCN.