Construction is expected to start early 2021 on the first hub dedicated to Indigenous people in Toronto — a five-building complex including a 35,000-square-foot centre for Anishnawbe Health Toronto (AHT) on the West Don Lands east of downtown.
Set on a 2.4-acre property at Cherry and Front Streets, the complex will also contain an Indigenous employment and training agency, a family and children service with a daycare, mixed-use commercial and 400 residential condo and rental units in two separate buildings.
The masterplan, by Toronto-based architectural firm Quadrangle, defies conventional design themes.
"We know how to put concrete together with steel…but we wanted to understand the sense of place for this to really be an Indigenous hub," says Les Klein, principal and co-founder of Quadrangle, who is also the architect for all of the buildings on site except the health centre, which is a design by Stantec.
Klein, who describes the health centre as the pearl and the rest of the hub as the oyster, says the hub is a collaborative effort between all partners, including owner AHT, Indigenous consultant Two Row Architect and Dream Unlimited Corp., co-developer of the block of buildings with Kilmer Group and Tricon Capital Group.
Jason Lester, vice-chair of development for Dream Unlimited, says there were a lot of challenges and setbacks initially in the five years leading up to now.
"We had to mesh the concept of an Indigenous hub with the practical of a built design," he says.
To help finance the project, one section of the property was sold for a condominium project and another will be leased for rental housing.
Lester says the 200 rental units "allows for financial sustainability for generations."
Joe Hester, AHT's executive director, says the hub will concentrate health services from three facilities in downtown Toronto which "strained our resources and made it difficult to offer programs that should be integrated.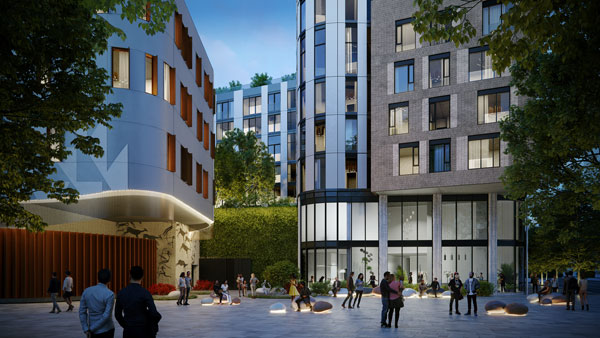 "We want to bring a representation of ourselves, culturally speaking, to the landscape," Hester adds.
About $3.5 million remains to be raised of a $10 million fundraising goal to launch the project.
COVID-19 pushed back plans to start construction, Hester says.
Matthew Hickey, a partner at Two Row Architect, says "a strong relationship to nature" is a key objective in the project's design.
He says the emphasis is on greenspace, light, views and curved rather than square walls.
Still, the architect says, the complex is an efficient design.
"We're not doing any structural gymnastics…or anything that is extremely costly," he explains.
The four-storey AHT will be clad in a perforated, reflective metal panel system. An interior second-storey garden will in time grow into a forest that covers up views of loading docks and a parking garage at the rear of the building, Hickey says.
Klein says the proposal for cladding the podium of the seven-floor housing projects is a brick laid in a woven pattern, rather than in conventional horizontal coursing, to "evoke the weaving of blankets or baskets."
Also proposed is a precast brick pattern that evokes birch trees, he says, adding that balconies on housing are being designed by to appear like clouds.
EllisDon will be the construction manager for the residential component of the hub. Construction manager for the remainder of the project has yet to be determined.
Lester says he doesn't see any "material challenges" ahead or any significant cost premiums on the project overall.
"We've been speaking with trades and suppliers to make sure that what we're asking for can be done," adds Klein.
Unlike some projects, the hub "can't be built on autopilot. They will have to be really aware of what's shown on the drawings and why we are asking for it," adds Klein, who is confident that EllisDon, the trades and suppliers to date are on the same page.
ERA Architects is the heritage consultant for the historic designated Canary Restaurant. A new restaurant will be opened with the rest of the building serving multi-purposes.
Hickey sees the dedicated health centre as one of the most important projects Two Row Architect has been involved in in Canada.
"This could be a very powerful and strong statement about how we are acknowledging truth and reconciliation and how we want to engage with Indigenous people…their traditional knowledge," he says.
The project is slated for completion late in 2024.