TORONTO — Davpart Inc. marked a construction milestone recently with a ceremony to begin the demolition of parts of the former MacLean-Hunter Publishing building on University Avenue in Toronto to enable construction of a new 55-storey mixed-use building.
The new United Building will incorporate restored components of the Maclean-Hunter Building at 481 University Ave., with commercial and retail space from the ground floor to the 10th floor and new residences above the heritage structure.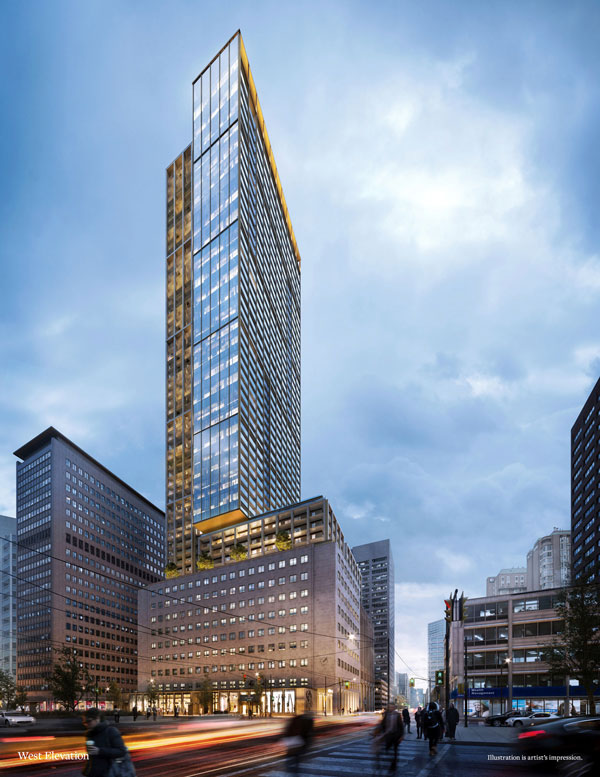 The design team includes B+H Architects as prime consultant and design architect, heritage consultants ERA Architects Inc. and Tomas Pearce Interior Design Consulting Inc.
Baker Real Estate manages sales activities.
The new building will include 31,392 square feet of retail space at ground level, 182,457 square feet of commercial office space from floors two to nine and 709 residences which begin from the 10th floor. The front door to 481 University leads to the offices and retail and the residential condominium entrance will be at 88 Centre Ave., offering access to the TTC's St. Patrick station from inside the building.
The United will include studio to one-bedroom, two-bedroom and three-bedroom designs, some with a den, flex or media room, and some have two-storey plans. Suite sizes start at 300 square feet to 1,400 square feet.
"The United is a realization of our vision," said Davpart president and CEO David Hofstedter in a statement. "It's a massive undertaking which started within the context of preserving and restoring the existing building. The complexities are enormous and it has taken lots of teamwork and patience to make it happen.
"The existing structure is an example of a commercial building from the interwar era and is the result of many bold design influences, from Beaux-Arts to Modern Classical. While restoring the exterior, we will complete the interior to the highest standard of contemporary office and retail available today, so their current uses can continue."
ERA Architects principal Graeme Stewart explained the heritage work includes retaining, restoring and enhancing two large and significant buildings.
The first is a 1930s collegiate gothic building by Toronto architect Murray Brown, designed with New York's Schultze & Weaver.
The second, designed by Marani & Morris architects, "is a midcentury example of modern stone office towers that contribute to the distinctive character of University Avenue," said Stewart.