Montrealers spilled back into their beloved Biodome Aug. 29 after two years of a significant redesign.
What's greeting them is not only a dramatic reimagining of a space that has attracted 22 million visitors since it opened in 1992 but also a full re-embracing of the original velodrome ceiling that was designed by French architect Roger Taillibert for the 1976 Olympic Games.
The project, called the Biodome Migration, was the subject of an international architectural competition launched in 2014.
Rami Bebawi, partner and co-founder of Kanva, part of the winning team, said recently his firm wanted to pay tribute to the original Taillibert vision and also wanted to advance the perception of the Biodome as a living, breathing organism, given its oval shape and role as habitat to a multitude of plants and animals.
"It clearly is a life-changing project, it is unique," said Bebawi. "It also is an icon in the city. It is one of the most visited institutions, so it becomes a whole responsibility with regards to that.
"And obviously there is the mission of the Biodome which is bringing humans closer to other living species."
Bebawi said he sees the original velodrome structure as cell-shaped.
"We approached it as a living entity. What we were trying to do was an intracellular transformation and trying to find different points, spaces, we can open up to reinvent this beautiful architectural feature."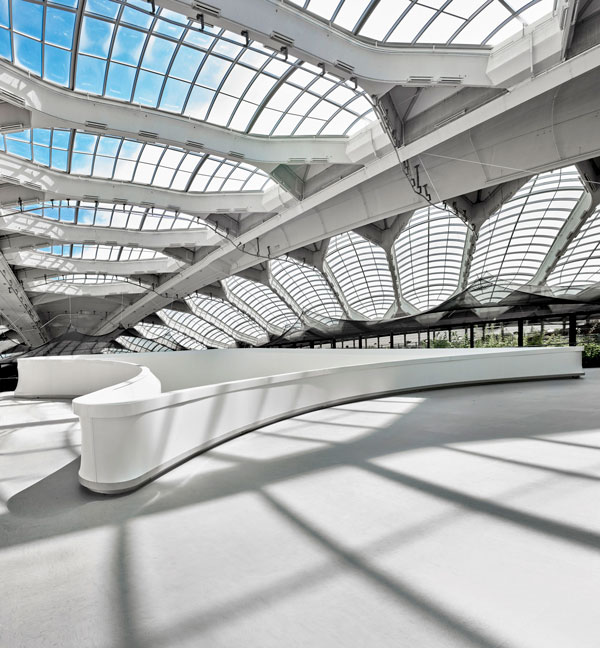 One key to showcasing Taillibert's work, with its spectacular skylights, was expanding the entrance hall, Bebawi said. Previously, the Biodome was low-ceilinged and visitors were never given an opportunity to admire the shell. Installation of a new top floor further showcased the vault.
"The big gesture was to add another floor at the top, because no one had ever been that close to the skylight, the glorious roof. To bring another level upstairs, it allowed us to include within two of the ecosystems the sort of walkways, the path that takes you up to the top and it offers a whole new view of the ecosystems."
While the new Biodome offers visitors multiple new access points to view the five Biodome ecosystems, Bebawi said he was not prioritizing humans as his team created a new vision.
"Now we have a user that is new, all sorts of users," he said of the animals housed at the Biodome. "So you have to understand everything about how the user utilizes the space but also how they use it up. You also have to take into account you could be building an ice tunnel, and five metres away you have a tropical rain forest.
"So you realize that mechanical systems have to allow for all of these different conditions."
The creation of the "living wall" was a signature "biophilic architectural gesture" of the project, explained Bebawi. The special textile, attached to its own elaborate structural supports, wends its way through the Biodome.
Restoring access to Taillibert's vaulted roof fits in with Bebawi's conviction that buildings should be permitted to evolve.
"To be able to re-give it a certain dignity and celebrate it, I think that was very important. It's quite magical…Buildings are elements of life that evolve. I don't consider buildings to be finished products. Buildings are always changing and transforming."
The design and engineering team members consisted of Kanva performing senior designer and co-ordinator as well as other functions in collaboration with NEUF architect(e)s; Bouthillette Parizeau, responsible for electromechanical engineering; and NCK Inc., tasked with structural engineering.
The total cost of the project was $37 million but Bebawi said only $24 million of that went to construction and the rest was spent on other aspects of the project including housing the animals for two years.
Bebawi said he has never before worked with such a diverse team, given the unique biological and mechanical requirements of the project. Their contributions added to the inspiration his firm felt as it developed ideas.
"I know everybody says that jobs are a collective effort, but this is the most collective effort I have ever seen…The amount of work with teams in place, with biologists and technical services, you really had to bring a lot of knowledge to get there."
Follow the author on Twitter @DonWall_DCN.