A unique vegetated wall system is proving to be more than just esthetics.
The Flex MSE Vegetated Wall System is being used by developers, contractors, engineers, architects, governments and homeowners as an alternative to concrete and other wall systems for a variety of projects including slope stabilization, erosion control, retention, detention and waterway installations, said Mike Callewaert, CEO and president of Trexiana, the manufacturer of Flex MSE.
The geomodular system was discussed at a recent webinar hosted by the Ontario Good Roads Association.
Manufactured in the Traditional Territory of the Coast Salish People, the system uses the same principles of Mechanically Stabilized Earth (MSE) that builders rely on for making large retaining walls, Callewaert explained. The company has completed over 7,500 projects worldwide because it's a cost effective, sustainable and permanent solution, he added.
"The system can really help with a lot of your projects to keep you on budget, on time and hit those environmental targets," Callewaert said.
The two-component system often takes less time to install than concrete block walls and there is no specialized equipment or labour required. It's also green and natural and lasts almost twice as long as concrete, he stated.
"The system uses 97 per cent less greenhouse gas than similar sized concrete blocks and 98.5 per cent less than steel, so if you're trying to reduce the carbon footprint or get to carbon neutral or reduce greenhouse gas Flex MSE should be part of that conversation," said Callewaert. "We use 50 per cent recycled content and are 100 per cent recyclable."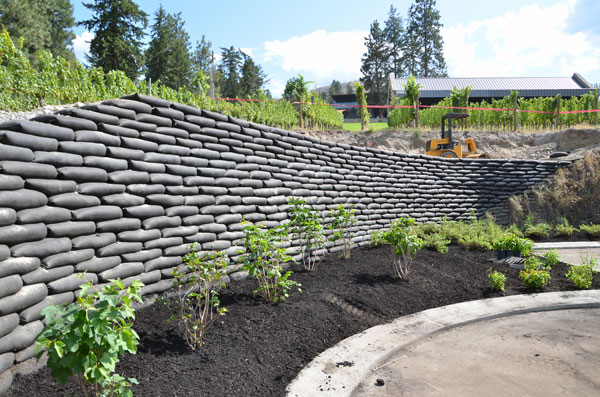 The system is unique, he noted.
"The system is comprised of two main components, a geotextile bag and interlocking plate," said Callewaert. "It's actually closer to concrete than it is to a sandbag. Like concrete, you stack it in offsetting patterns so you create a running bond up your wall. The interlocking plate bridges the joint between two bags so that when your subsequent row comes in, it centres over plate and locks it into place creating a mechanical connection."
The bags can be filled onsite or can be pre-filled and delivered. The bags are filled with 66 per cent sand and 34 per cent compost. Installers are encouraged to take a free online certification.
"Even if you're not going to be installing Flex MSE, if you're just going to be overseeing it, that knowledge is really going to help with quality assurance," Callewaert said. "I always joke that if you've built a wall before you are overqualified for this system. We see a lot of professional wall builders screw this up because they try and overthink it."
In addition to retaining walls, the system is also used for ditch remediation, road work, culvert headwall, wetland projects, shoreline repair and restoration, supporting walls, transition walls to separate areas and creek realignment.
In terms of sustainability, the wall system requires minimal initial levelling or subgrade embedment; is flexible and adjusts to trees and bedrock; is a recycled, non-toxic product that conforms to LEED qualifications; and is graffiti proof, the product's website explains.
To make the wall green the system needs to be vegetated with grasses and flowers.
"Our specification calls for the system to be vegetated within six months," Callewaert said, adding hydroseeding is the most popular. "Shortly after installation we want folks thinking about the vegetation piece."
It is able to withstand weather and conditions that might ruin other wall systems.
"It's great for seismic zones," said Callewaert. "It's also great for areas where you might have less than ideal soil so marshes, bogs…anywhere land meets water."
Follow the author on Twitter @DCN_Angela.