HALIFAX — KPMB Architects with Omar Gandhi Architect, Jordan Bennett Studio, Elder Lorraine Whitman (NWAC), Public Work and Transsolar have been selected as the winning team of the international design competition for the new Art Gallery of Nova Scotia and Waterfront Arts District.
The new Gallery and Arts District will be located on the Salter Block of the Halifax Waterfront. A Nov. 18 release noted that a jury of seven experts met over two days to evaluate the design competition submissions and provide a recommendation for the winning submission.
"We proposed a sinuous building surrounded by regenerative gardens that will signal a radical new beginning for the AGNS, the waterfront, Nova Scotians and the world of art," said Bruce.
Kuwabara, founding partner of KPMB Architects, in a statement. "We want people to experience art in a great setting. We want people to feel welcome and at home. We believe we have created a place for everyone."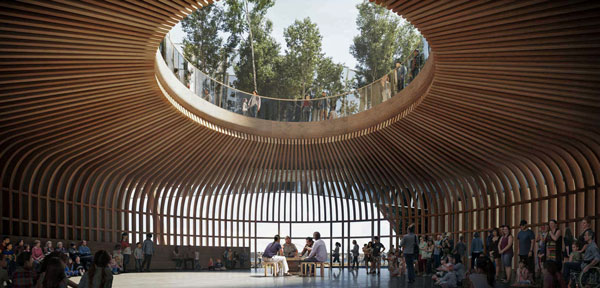 The jury wrote, "It is the DNA of the proposed design, its sensitivity to people, public space, and its incredible ambition to deliver on the brief's many aspirations and criteria for the project, which lead to a unanimous recommendation by this jury.
"The design used beautiful forms and materiality to create a seamless integration from building to landscape…(it) answers the request to be local, even though shape may well change."
The jury described the scale, use of wood and the light as compelling.
"It has a rapport with the street that is open and on cue with the landscape, while finding its place in the urban setting. This design has the most potential for people to engage with it in a compelling way. The forms are free-flowing, organic, where the space outside of the art spaces has no start and stop."
The gallery and the province will work with the team and the public to develop a final design. Formal public engagement will begin in early 2021.