The University of Toronto's massive King's College Circle Geothermal Project passed a milestone recently with a contract award to GeoSource Energy Inc. of Caledonia, Ont.
The project will see several hundred boreholes drilled 200 to 300 metres deep to enable the storage and retrieval of energy from bedrock underground at King's College Circle on the school's St. George campus in central Toronto. The retrieved energy will be piped to century-old campus buildings including the Terrence Donnelly Centre and the Leslie L. Dan Pharmacy Building.
The project is expected to yield annual greenhouse gas (GHG) reductions of 15,000 tonnes of carbon dioxide equivalent, making it a key component of the university's Low Carbon Action Plan, which has a target of net zero energy for the whole campus by 2050.
"We find it is exciting for a couple of reasons," said Ron Saporta, the university's chief operating officer of property services and sustainability. "First, it is slated to be the largest urban system in Canada, and it is right in the heart of the historic core of campus. It is going to be serving energy to those historic buildings."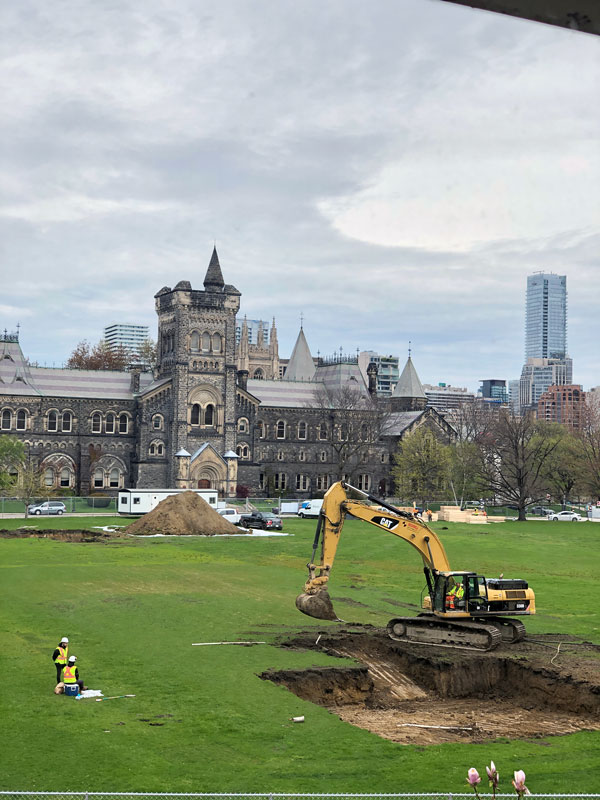 Typically, geoexchange is undertaken for new buildings, Saporta explained, so this project will serve as a demonstration that the technologies used can be adapted to some of the oldest buildings in the city.
"Then we can start to incorporate geoexchange into those older assets and really start to tackle the carbon challenges that we have.
"If there is any challenge on this one, besides regular project risk and time schedules, we are looking to tie this into existing buildings, and sometimes doing those types of retrofits can be challenging. It is easier to do it to a new building on paper than it is to a 100-year-old one and seeing where those pipes come in and how to utilize that energy."
Geoexchange harvests energy from sources such as boilers and a campus cogeneration plant and stores it hundreds of metres below the surface. There is some energy lost, but it is only about 25 per cent of the amount piped into the bedrock, Saporta said.
"The ground is a phenomenal insulator," said Saporta. "Once you get down several metres below the ground level it is quite stable, especially past 10 or 20 metres."
The GHG savings associated with the project represent about 15 per cent of the reductions that are required in the university's Low Carbon Action Plan, Saporta noted. Multiple building retrofits are another component, he said, acknowledging that the federal government's recent commitment to fund $2 billion in building retrofits through the Canada Infrastructure Bank's Growth Plan could be a source of funding for some of that work.
The geoexchange project will become part of the area's existing district energy system, which Saporta noted is 120 years old. The university is aiming for project payback in 12 to 15 years, he said.
The geoexchange project will be undertaken in conjunction with another major St. George's campus plan, the Landmark Project, which targets broader climate action goals including transforming the Front Campus at King's College Circle into a large pedestrian-only area. The geoexchange boreholes will descend from a new underground parking garage to be built as part of the project.
Crews have already begun early works on the Landmark Project. Saporta said the timing of the geoexchange project is aligned with the Landmark works, with a finish of the energy component targeted for two or three years. He said the university will be able to develop a more precise timetable, and determine a final cost estimate, after it has hired a construction manager to oversee the project.
Firms involved in the Landmark Project include KPMB Architects, Michael Van Valkenburgh Associates and Urban Strategies.
Meanwhile, profs in the engineering and business departments are eager to expose their students to a unique "living lab." Saporta noted the project's mechanical room has been designed larger than needed to accommodate students in an onsite classroom setting.
"We have had about three different classes of students who have looked at it and learned from it, anything from thermodynamics modelling to borehole drilling technology," he said. "And students from the business school are modelling paybacks."
Follow the author on Twitter @DonWall_DCN.