As the mass timber building movement grows in Canada, so does the construction industry's confidence in working with it.
One reason is builders see the benefits of prefabrication, Jana Foit, architect at the Vancouver office of Perkins&Will, told a webinar audience recently at the Wood Wellness Summit 2021.
"It's a shorter construction schedule and products are built in a controlled environment," Foit said.
Hosted by the Canadian Wood Council, Foit and colleague Andrew Frontini presented views on the future of mass timber. Their architectural firm is no stranger to mass timber, having designed a number of public and institutional buildings in wood since the early 2000s.
Foit said the construction industry has been "a huge proponent" of the shift to mass timber.
She noted construction worker satisfaction is higher than on other construction sites because mass timber projects are quieter, cleaner and less congested with tradespeople.
Furthermore, because timber fabricators act in a design-assist role, builders get a better picture of the approach to delivery and assembly.
"We actually get tighter pricing on heavy timber structures because of the degree of the prefabrication happening in the plant," Foit said. "With a steel fabricator there are many more gaps in the process that we tend to find."
Site air quality is better as well because there is minimal welding (associated with steel buildings) and less dust typical of concrete construction, Frontini, an architect based in the Toronto office of Perkins&Will, told the audience.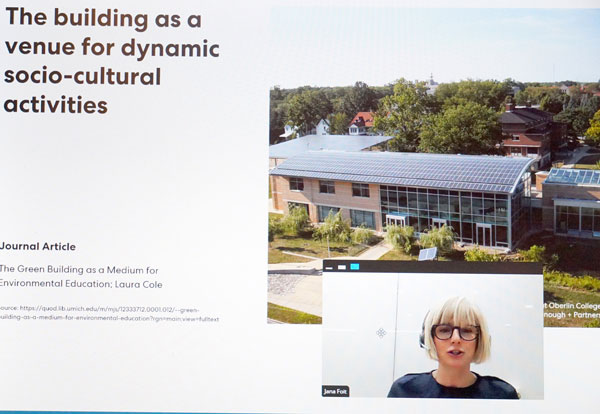 "In terms of wellness on site it (wood) definitely has an advantage," he said.
For architects, one of the challenges of exposed timber designs is how to integrate mechanical, electrical and information systems into a building.
On one Alberta project, Perkins&Will "ganged" all of these systems in an "infrastructure raceway suspended from the timber ceiling."
The "lowered ceiling" helped demarcate the public wayfinding system and dampen the acoustics, Frontini pointed out.
The architectural firm started designing timber institutional buildings more than 15 years ago, pushing the comfort level boundaries of its clients and the construction industry because it saw wood's growth coming fast.
"We called it our healthy intuition, a sense that wood was going to make people feel good," Frontini told the webinar.
As its client list grew, the architectural practice "discovered technical advantages" to wood in many building types. In aquatic centres, for example, mass timber, unlike steel, does not corrode in the moist environment.
Exposed structural timber also "dampens" noise reverberation in large spaces such as swimming pools and other recreational facilities and wood is a humidity buffer, diminishing the need for mechanical controls, he added.
Foit said a few years ago research done by Perkins&Will into tall wood buildings found that a draw for architects and engineers was sustainability — the embodied and operational carbon benefits, for example.
That might be no surprise but the firm's research, done for the B.C. government's Forestry Innovation Investment and the Binational Softwood Lumber Council, also found a number of business drivers at play.
Foit said the study's participants indicated the precision "cut and fit" of prefabricated elements contributed to a "higher quality of construction," resulting in a better building envelope.
"This reduced capital and operational costs for the owners and occupants."
Market leadership, innovation "and having a product they could really sell" were also incentives for those surveyed to build tall, the firm concluded.
Foit added through occupant education behaviours are changing which support "a robust maintenance plan" for the building's best performance.