The Canadian design and development world can see the future if it looks to Asia where urban design and development trends in major cities there have yet to establish ground in cities like Toronto and Vancouver.
"There is a lot to learn from what is happening in larger Asian cities," Karen Cvornyek, president, Asia with B+H Architects, said recently at a webinar on Lessons from Asia, presented by the Urban Land Institute.
Cvornyek, who has lived in Shanghai and Singapore, said since B+H started working out of Shanghai in 1992, the development community has evolved.
Design drivers for mixed-use projects in Asia today are sustainability, a diverse program of uses and "a clear and tailored response to the context.
"This is all wrapped up to embrace current and future technologies in smart infrastructure, transportation models," she told the webinar audience.
In 28 years, B+H Architects has built 86 million square feet in more than 50 commercial developments throughout Asia.
She said while smart technology may be under scrutiny in Canadian cities, in Shanghai and Singapore it is embraced.
While data must be carefully managed for privacy concerns, she said the demand for smart tech in Asia stems from the "convenience" it adds to urban lifestyles and the opportunities it provides for business to grow "exponentially."
Cvornyek said the pandemic has accelerated trends in the design/development world both in North America and Asia.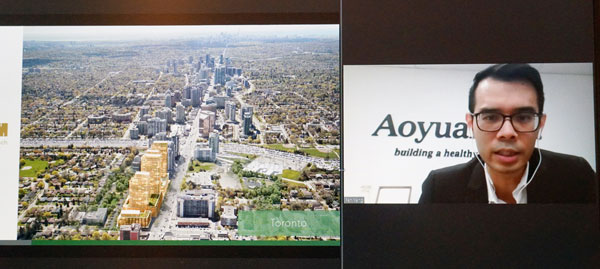 The coronavirus has shifted the development emphasis from enviro/economic to a "social focus" in many urban cities in Asia, said Yee Ean Pang, CEO, Surbana Jurong Capital (Singapore).
Many large Asian cities are seeing growth in "family-focussed community" developments, he said.
"I think it will become a market trend in the future."
At the same time, the pandemic has spurred development in health care and affordable housing in Asia, while cutting business in such sectors as aviation and hospitality, Pang added.
He said Asia has huge potential to urbanize as only 51 per cent of its population live in cities, compared to 56 per cent in the rest of the world and 82 per cent in North America.
While 60 per cent of China's population live in cities, he said annual urbanization is growing at a rate of about 12 million people which is less than one per cent of the country's population.
He pointed out that infrastructure spending to support emerging Asian cities is tabulated at $40 trillion over the next 20 years, with China representing about $5 trillion of that number.
While smart city concepts have taken off in much of Asia, the definition of "smart" varies from nation to nation.
In India toilets are a top priority while there is emphasis on commercial security cameras (CCDs) in China and technological "integration" of city infrastructure in Singapore, Pang said.
"I think smart cities must cater to the needs of the people…governance and the growth of the city."
Among Asian cities Singapore ranks high on many infrastructure renewal fronts and is praised for its sustainability initiatives, Pang said.
Twenty-five-year-old Chinese developer Aoyuan International established offices in Vancouver and Toronto in 2017 and currently has six projects on the go, including two masterplan mixed-use communities, a common development model in China, said Fan Yang, general manager of Aoyuan's Toronto office.
Challenging Canadian stereotypes that high-density condo living is solely the domain of singles and young people, the developer is building highrise units with up to three bedrooms and amenities focused on family lifestyles, he told the webinar.
"We want to make sure that people can live in these units comfortably and that they are affordable."
He said in many big Asian cities multi-generational families are living happily in high-density communities.