Development partners Daniels and Choice Properties knew they had an opportunity to significantly transform the Golden Mile district in east Toronto when they first sat down to map out a redevelopment plan for the Golden Mile Shopping Centre 18 months ago.
But as The Daniels Corporation CEO and president Mitchell Cohen explains it, the pandemic with its disruptions and tendency to disconnect people really brought home the importance of spurring educational, entrepreneurial and social development in addition to merely building homes.
The hardscrabble Golden Mile area of Scarborough was ripe for revitalization and that's what Daniels and Choice along with collaborators such as the University of Toronto Scarborough, Centennial College, Carpenters' Local 27 and LIUNA Local 183 are eager to bring. The developers recently announced a plan for phase one redevelopment of the 19-acre Golden Mile Shopping Centre at 1880 Eglinton Ave. E. that will include two condominium towers, a purpose-built market rental building, ground floor retail uses, institutional uses including a new "communiversity" and office spaces.
"It's an approach to development that puts local community voices at the heart of the conversation and leveraging investment to build community capacity," said Cohen.
"The bricks and mortar are there, and this adds a whole layer of significance in terms of how the development industry can positively impact the community, not just by having big buildings, not just by building condos, but truly building communities, that's the difference."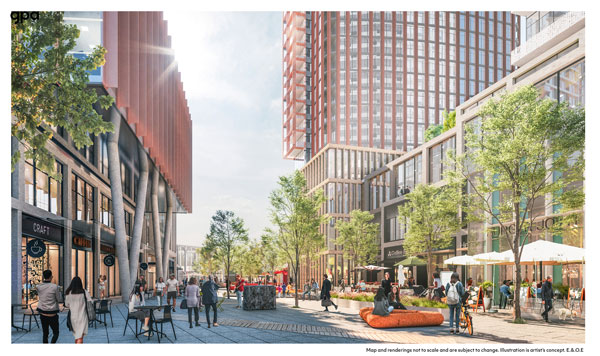 The first phase with its Community Innovation District will form part of a broad makeover of the 280-acre Greater Golden Mile area, with seven or eight developers, Cohen explained, creating spaces for 40,000 new residents over the next 20 years. At the heart will be the new Eglinton Crosstown LRT, providing mobility and accessibility for the new community.
The housing in phase one will include a range of configurations with units of one to possibly four bedrooms, Cohen said, suitable for multiple generations.
"We're going to create what we refer to as a complete community, so that right there within that community there's owners, there's tenants, there's commercial opportunities.
"We're really going to focus on local entrepreneurship incubating in the new businesses. And I think these are the things that people want when they're thinking about where they want to live."
Explaining the communiversity concept, Prof. Wisdom Tettey, vice-president and principal at University of Toronto Scarborough, stated, "The University of Toronto Scarborough is excited about this dynamic opportunity to co-design and co-inhabit a mutually supportive community for the 21st century, right here in the Golden Mile. As an educational partner we are committed to doing our part to support cultural and socioeconomic innovations and transformations that are truly inclusive, resilient and sustainable, thereby enabling all members of our communities to thrive."
Cohen said the Carpenters' and Labourers' unions are on board to provide training opportunities for local residents. He said Daniels has learned a lot about community-building, with homebuilding serving as a springboard to social development, during the last 15 years it has helped rebuild Regent Park.
Cohen said the pandemic along with increasing awareness of systemic racial inequality has spurred new thinking among corporations.
"The pandemic has touched a nerve within corporations that by being intentional, they can actually make a significant impact on the communities in which they are working, be it in banking, be it in construction or development," he said. "In all the different institutions and corporations, people are saying, 'how do I make an impact. How do I bring value to a neighbourhood?' "
Almost a generation ago, Daniels learned how important good transit can be to a community as it developed properties around the Sheppard subway, Cohen explained.
"We probably built 3,600 units right at Bayview and Sheppard around the subway, and we recognize the importance of that kind of investment and how we as the developer can build a community around it.
"People want that, people want the ability to use transit and not being in their automobile."
Permitting is proceeding smoothly, Cohen said, and Daniels expects to break ground in 2023.
Follow the author on Twitter @DonWall_DCN.