Toronto's Kohn Partnership Architects is in the enviable position of being able to make a significant contribution to the revitalization of an important Toronto thoroughfare while helping to deliver thousands of much-needed "missing middle" affordable housing units.
Kohn currently has 16 projects on the go, all 12 storeys or under, on redevelopment sites along the Kingston Road corridor and out to Pickering, with a dozen or so in Scarborough east of Port Union.
Kohn partners Sean Lawrence and Andrew Muffitt recently explained that each project requires a balancing of interests including collaborating with city planners who need to meet goals such as intensification and community revitalization, and placating residents who are fearful that traditional single-family neighbourhoods will be disrupted by higher-order housing.
"We're trying to design and bring to completion, to construction, good quality homes…as the population of the city grows, as the city intensifies and there's a number of things that play into that, it's affordability and there's sustainability," said Lawrence. "There's just the way in which you fit within the neighbourhood."
The latest project coming to market is Mutual Developments' East Pointe, an 11-storey mid-rise at 4569 Kingston Rd. There will be 104 units starting from the $400,000s and the architects note that the property is located close to the University of Toronto Scarborough campus, making it a possible first home purchase for grads hoping to continue to live in the community.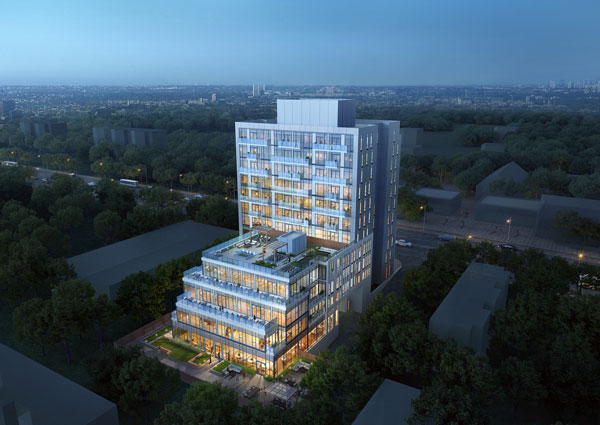 Lawrence noted he was surprised to have two delegations of seniors show support at a public meeting, indicating they would welcome new housing that would enable them to downsize and stay in the community.
"The Brits have this thing they refer to as the housing ladder," said Lawrence. "Buildings like this give people an opportunity to get into a home of their own where they can be affordable, they can be in good neighbourhoods.
"Everybody has a slightly different definition of what the missing middle actually is, but to my mind, this fits right into it."
Among other Kohn projects along the Kingston Road corridor and beyond, from the east, there are two in Pickering; a group in Highland Creek village including Highland Commons, an Altree project; a group near East Pointe including the site across the road, for Old Orchard; others at Danforth and Kingston Road; a site at 1615 Kingston Rd.; and others over to Victoria Park Avenue.
Contextually, several years ago the city approved a community revitalization plan for a section of Kingston Road from Victoria Park east to Glen Everest Road. Kingston Road fits within the city's avenues policy with primarily mid-rise housing encouraged on designated wide streets.
Lawrence anticipates the Kingston Road projects could follow a pattern he has seen with similar residences. Younger buyers "were putting their bikes on the balconies and then about a year later, going back to do the 12-month review, instead of just bicycles, there were bicycles and baby carriages."
Each project requires delicate negotiations over massing and height to obtain approval, Lawrence said.
"The idea of bringing a mid-rise building into what's a low-rise residential neighbourhood, obviously there's some friction," Lawrence said. "I think part of our role has been to try to find a way to fit these buildings into existing neighbourhoods."
Not all projects have been smooth in terms of public acceptance, but it helps that the buildings are generally 100-plus units rather than the 500 units of a highrise tower, Lawrence said. There is ample evidence of continued demand, he noted, with Toronto still an economic magnet and immigration set to resume its pre-COVID pace.
Each property is different. With East Pointe, Kohn was able to use shadow research to convince the planners that a step-up silhouette would result in less of a shadow impact than the eight storeys allowed by the bylaw.
"It's not a one size fits all solution," he said.
Muffitt said his firm works to convince developers that early consultation beyond what the Planning Act requires is of major benefit.
"The key element here is engagement," he said. "We always encourage our clients to be out in front of…what's coming down the pipe."
Kohn finds it's advantageous to be working on multiple projects in the district when it is time to consult with planners on a new build — there's a "shorthand," Lawrence said — and that efficiency is a bonus for the developer.
"We find that the city understands what they're getting from us," he said.
Lawrence said the planners ask them to consider the impact of each project on the broader neighbourhood, assessing for example what the streetscape will look like if a redevelopment project were to start next door. Often, street-level facades are broken up by different design features instead of creating a street-level monolith.
Follow the author on Twitter @DonWall_DCN.