Eight years after the tragic freight train derailment, explosion and fire that killed 47 people and destroyed half of its downtown, Lac-Megantic, Que. has become a showcase for the latest Hydro-Quebec clean-energy technology thanks to a large microgrid project.
The municipal council wanted to put the legacy of fossil fuels behind it and in 2018 approached Hydro-Quebec with the idea of creating a clean-energy microgrid. The utility has devised a system that consists of solar panels, a containerized energy storage system, transformers and converters, grid-control technology and smart monitoring systems.
As Hydro-Quebec microgrid project engineer Julien Choisnard explained, the utility will now fine-tune the engineering in preparation for installing similar microgrids in some of the 22 remote Quebec communities identified for transition from diesel.
"It's really a demonstration project and kind of a research project, because it's easier for Hydro-Quebec to do it in Lac-Megantic than go further north trying such technology," said Choisnard. "So we expect this project will evolve in the next few years…as we try to optimize the project."
Hydro-Quebec has the stated goals of gaining expertise on employing renewable energy management and generation technologies near a load centre; mastering the concept of islanding, which is a microgrid operating independent of the main grid; managing demand during peak winter periods; and preparing to transpose the whole system to other settings.
Lac-Megantic becomes a test site for Hydro-Quebec's new-generation EVLO power storage technology. The utility launched a new subsidiary, EVLO Energy Storage Inc., in December with hopes that the technology will provide a boost to its solar and wind power projects as well as helping to manage consumption peaks on the existing power grid.
"The main difficulty to the engineering phase is to get all of these devices together and working properly," said Choisnard. "When we went to different conferences worldwide, it's clear that sometimes when you try to do a microgrid for the first time you fail, so you have to redo the engineering.
"It not easy because there's a lot of things to do, and there is no on-the-shelf package."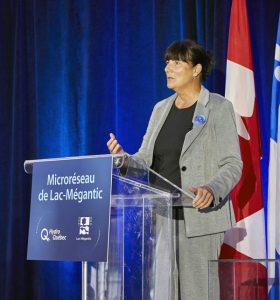 The microgrid encompasses 30 buildings and is linked to Hydro-Quebec's main grid. A total of 2,200 solar panels have been installed on six buildings and connected to storage batteries, including the EVLO large-capacity unit.
Other elements of the project include a 20-volt fast-charge station for electric vehicles and a technology showcase currently housed in the train station that includes an indoor exhibition and interactive station. There is also an outdoor interpretive path and a special pavilion to house the showcase will be built.
The smart building components were installed in a number of the downtown's residential, commercial and institutional buildings. A small substation collects the power collected from the solar panels and serves as a support and command centre. Hydro-Quebec technicians are able to observe in real time, for example, what the battery charge percentage is at any moment – and in fact Choisnard is able to monitor the system right from his work laptop, as he demonstrated during a screen-sharing session while being interviewed.
Hydro-Quebec communications counsellor Cendrix Bouchard commented, "We were there a couple of days ago and on that specific day the solar panels were even outperforming what we're expecting, so there are some good surprises there as well."
Choisnard noted managing of the microgrid requires a new approach for Hydro-Quebec, which usually oversees large regions from a large command centre. The microgrid team is closer to the customer, he said.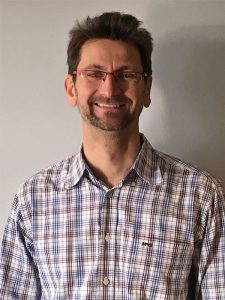 "It's more decentralized, so it's challenging for people inside Hydro-Quebec to get used to this new way of thinking," he said.
In a statement, Lac-Megantic Mayor Julie Morin said her town was proud to contribute to Quebec's energy transition.
"We suffered an unprecedented environmental tragedy caused by factors including fossil fuel use. We had to rebuild better and rebound further. We looked to renewable energies, and innovation quickly emerged as a structuring and inspiring vision for our recovery," said Morin.