Given the ambitious goals contained in its Climate Change Plan launched in 2020, Ontario Power Generation (OPG) has no option but to aim high as it moves toward construction of its new low-carbon Ontario headquarters.
The new Clarington Corporate Campus building is slated for groundbreaking in 2022 with a 2024 target for completion. The campus is being designed as a low-slung mass timber structure with contractor Bird Construction given the mandate to optimize building performance and energy conservation.
The campus will consolidate non-station staff from existing OPG offices in the Toronto region at the Clarington site adjacent to the Darlington Nuclear Station.
OPG project manager Matt Sikstrom noted the energy giant's carbon plan explicitly called for its new headquarters to be low-carbon from both a construction and operations point of view. It was soon decided that neither concrete nor steel construction were an option.
"The only way to get to low-carbon construction is mass timber construction," said Sikstrom. "The carbon remains embodied within the mass timber elements that are used throughout the building. Plus, it looks fantastic.
"So it was really a win-win for us because it highlights our new headquarters as a showcase piece on climate change."
Bird is currently working with Stantec and Indigenous firm Two Row Architect on detailed design. OPG is asking for extensive Indigenous consultation and emphasizing diversity, in addition to requiring the new workspace to be open concept.
The team is going with a geothermal energy system.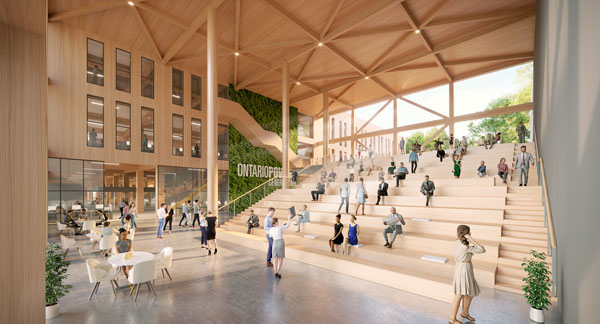 "We are progressing from those conceptual designs into more detailed design, kind of figuring out, for example, how many mass timber beams are we going to need specifically, how many geothermal wells are we going to need to really meet the heating and cooling requirements of the building," Sikstrom explained.
The open workspaces will bring staff together to foster innovation and employee engagement, OPG believes.
"It's easier for people to collaborate," Sikstrom said. "It breaks down silos, you get a better sense of what everyone's doing. That really just helps promote that innovation."
The environment created by mass timber adds to the culture, he added, besides streamlining and expediting the build.
"One of the big benefits of mass timber from the esthetic point of view is, I don't really have to cover it up," said Sikstrom.
"So I can keep it exposed, adding to the beauty of the workplace itself. From a cost point of view, that's fantastic, because it means you don't need the needless drywall and paint and all that kind of thing."
OPG and Bird are still exploring how possible supply chain issues will affect the project — to the extent that there are still discussions ongoing with various suppliers of mass timber.
"We are looking at what would make the most sense from an engineering point of view, but also weighing supply chain points of view as well to figure out what makes the most sense for the project," said Sikstrom.
Two Row Architect senior architect Matthew Hickey said mass timber emphasizes a structure's connection with nature besides creating efficiencies in construction and simply being "a fantastic building material."
Hickey noted OPG has a strong record of consulting with Indigenous people on its power projects around the province and that his firm's participation will also ensure that the needs and wishes of the regional Williams Treaties First Nations are addressed. A third level of consultation for Two Row will focus on the project's relationship with its surroundings.
"Every time we do work, we really think about the place that we're building, not necessarily from a human point of view, but from a geological, a natural-history point of view," said Hickey.
"What was there before…including water, land, winds, the plants and animals and how we reduce the impact on them when building."
The idea is not simply to incorporate Indigenous iconography, Hickey said, but to ensure Indigenous values are respected as the project proceeds.
The landscape around the new headquarters can offer a connection to the building architecture with users feeling comfortable taking a quick walk outside to recharge themselves.
The open-office concept aligns closely with Indigenous values of strengthening bonds between people, Hickey said.
"The Haudenosaunee and Six Nations were very much consensus building in a non-hierarchical sense, where conversations can be had and everyone's working towards a common answer for an issue."
Follow the author on Twitter @DonWall_DCN.