Toronto has a major opportunity to enhance its existing communities through attractive mid-rise residential designs that create a much-desired stream of new infill housing, suggests acclaimed local architect Heather Rolleston.
Rolleston, principal and design director of BDP Quadrangle and a member of the Toronto Design Review Panel, says the new homes don't necessarily have to be showstoppers. But for this next era of community-building to be considered a success, designers will need to focus on place-making and creating an inventory of residences that have the potential to be beloved.
"We are really going to be seeing a lot of mid-rise projects with the intensification of the avenues in Toronto," said Rolleston.
"It could be the next big thing and I think there's a nice fit with respect to the post-pandemic thinking that I think people have, just wanting to be in sort of smaller-scale buildings."
Rolleston's firm has a history of working with boutique developer Gairloch Developments on mid-rises that are successfully integrated into their communities.
The latest project, the eight-storey, 86-suite Craft Residences set to rise on Dundas Street West in the Junction, has been designed as an extension of the Little Malta community.
"The buildings that we're working on are simple and powerful and I think they will cause people to take a second look, and that's what I see as a win," said Rolleston of her collaboration with Gairloch. "It's like a kind of quiet building, but then you go, 'hey, wait a minute, there is something about that building that wasn't typical' or somehow captures your attention."
After initial meetings with Gairloch founder Bill Gairdner, Rolleston's team looked into the history of Toronto's Little Malta with its signature bakery and distinct artisan culture and also researched the Maltese homeland in the Mediterranean.'
"Malta has a couple of really great new modern buildings," said Rolleston.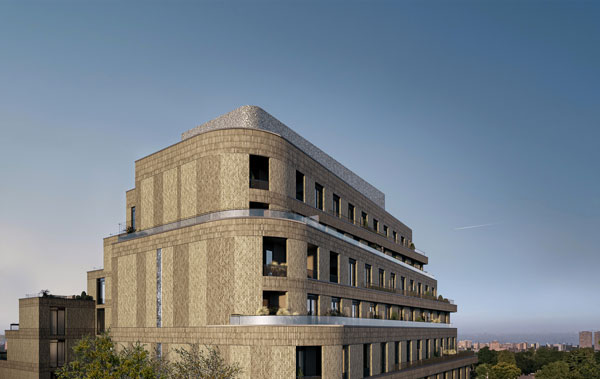 "What struck us was the kind of colour and texture and light of Malta seemed to be very inspirational, with aspects that we felt we could draw from."
At an information meeting, Rolleston said, they presented images of Malta and spoke about using light-coloured masonry, very textured and light but also monolithic in a way that much of the architecture in Malta is.
The designers cast about and found masonry with a mosaic/glass mix of recycled porcelain, concrete and other construction debris that would create a soft pistachio-green building face. The manufacturer of the 60-per-cent recycled bricks is StoneCycling of Amsterdam – surprisingly, there is nothing like it manufactured in Canada, Rolleston said.
"We're all really excited about the materials that we've chosen, sustainability-wise and looks-wise, they're really beautiful," she remarked.
Aluminum soffits made from repurposed recycled cans will line the underside of the building's roof, and Craft will also be one of the first buildings in the city to use linear glass brick accents.
"These kinds of fabric buildings, especially mid-rise, are huge contributors to communities and they're really well-loved projects," said Rolleston.
"They're neighbourhood buildings that people end up loving."
The project is currently at the site plan stage. The building was designed with terraces, almost each one different, and there will be over 80 different suite layouts.
Local industrial and furniture designers were tapped to customize the building's lobby and amenity spaces and further link to the Junction community.
Craft offers studios to three-bedroom and penthouse suites at a starting price of $600,000.
Amenities include family spaces and a fitness centre overlooking a pedestrian connection, a co-working lounge outfitted with a social kitchen, and a theatre projector.
Gairloch has its headquarters in the community and further cemented its ties to the Junction when its project Junction Point received BILD Project of the Year in 2021.
Rolleston said mid-block pedestrian access and back laneways add to the organic feel of the residence.
"Bill really likes very bespoke solutions. He really likes brick to bring down the scale of development by using hand-laid masonry and elements that really speak to people when they're walking by the building, not just glass hitting the ground," said Rolleston.
And for her, it is an interesting place-making opportunity.
"That's why I don't ever want to stop doing mid-rise projects, even though they're very, very challenging for everybody," said Rolleston.
Follow the author on Twitter @DonWall_DCN.