A new purpose-built rental building in downtown Toronto is looking to be the tallest mass timber building in Canada and is also proposing over 80 per cent affordable units, a green design and retaining and integrating the existing heritage buildings on the property.
Four fundamental elements have guided the design of the proposed development: preservation of important heritage resources; provision of meaningful affordable rental housing; the establishment of a landmark wood tower building; and achievement of greater levels of sustainability.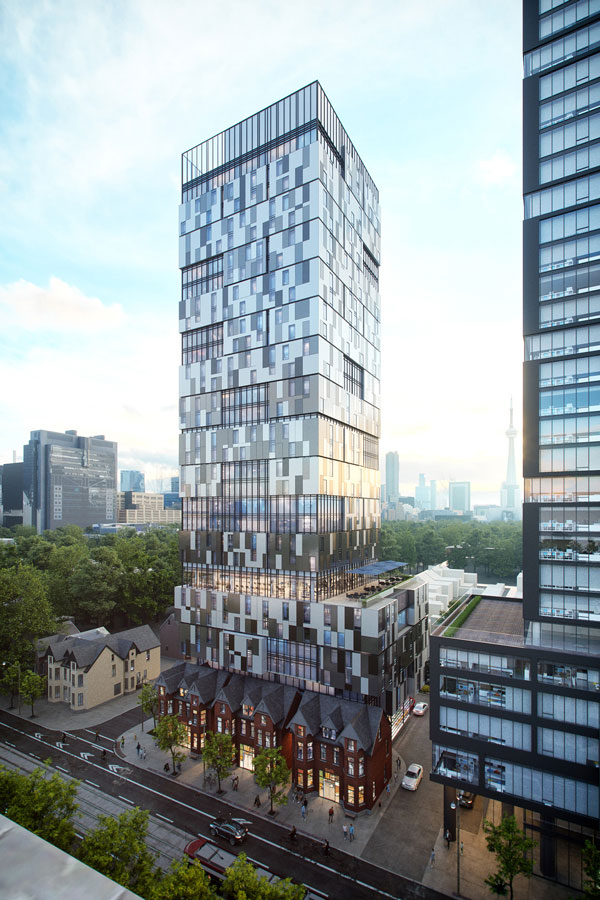 "We're using cross laminated timber (CLT) construction in this project," said Reza Eslami of ICON Architects, which is designing the building.
"Currently the tallest mass timber building in Canada is Brock Commons in British Columbia which is 18 storeys. There is a 28-storey building constructed in Norway…the height is 85 metres. Our proposal is a 31-storey building with a height of 90 metres. If this goes ahead, it would be the tallest of its kind in the world for now."
The developer on the project is Unix and consultants include The Planning Partnership (planner and landscape); Vortex Fire (code); ERA Architects (heritage); Blackwell (structural); WSP (civil); and BA Group (traffic).
An official plan and rezoning application for the mixed-use building was submitted to the City of Toronto recently.
All 494 units will be rentals and 408 are proposed to be secured as affordable units for a minimum period of 40 years, supported by non-capital incentives through the city's 2021 Open Door program.
"We started this project two years ago," said Eslami. "The designing stage took a long time because we were just exploring feasibilities of different variations of what we wanted to do. At the same time, because our client wanted this building to be a purpose-built rental, we started the conversation with different authorities…that helps when the project or land developer is thinking about having affordable housing. It's in early stages, nothing is set yet, but we are proposing about 80 per cent of the units in this purpose-built rental building as affordable housing."
The site includes 191, 193, 195 and 197-199 College St. and 74 and 76 Henry St. in Toronto, which is located at the southwest corner of College Street and Henry Street. It is currently occupied by three commercial, house-form buildings along College Street, which are listed on the city's Heritage Register and a semi-detached house along Henry Street.
"It's not just the façade of those buildings we are keeping about one metre past the roof ridge of these buildings. We will try to restore it to its original condition.
"The ground floor and second floor of this building is going to be commercial units," he added. "Part of the ground floor is going to be designated for the residential lobby and every other activity or function that is related to that, but the majority stays as commercial. The whole second floor is going to be commercial and the residential starts above that."
The use of CLT for the proposed development is expected to reduce greenhouse gas emissions by over 3,300 metric tonnes. To make the project more green, the team is proposing to incorporate a geothermal heating/cooling system.
"The way we designed it, it's comprised of punch windows and metal panels in most parts and there are some voids that are going to be window walls or curtain walls," explained Eslami.
"We are proposing two levels of underground which is going to be housing only bicycles and other mechanical/electrical rooms that we need underground.
"We are only proposing six parking spots for this whole project."
The architects have been speaking with the Canadian Wood Council about the project.
"This building is a hybrid building CLT and steel," Eslami said. "The story behind the design of the building was that because due to building code limitations we cannot have exposed wood, at least not yet. As it stands right now the wood cannot be left exposed in such a building so we needed to find a way to celebrate wood.
"The whole idea behind the design is Jenga blocks. The cladding is aluminum but the building itself looks like wood blocks…those holes are where the blocks have been removed and those areas are all dark glazed curtain walls."
In terms of incorporating the heritage buildings into the development, Eslami said Icon tries not to mimic what was there before.
"We always design the building behind the heritage building in a way that creates a very neutral backdrop to accentuate the importance of the heritage building to bring it forward and stay quietly behind it," he said.
"We are stepping back and showcasing the heritage that is there and has been for more than 100 years."
Follow the author on Twitter @DCN_Angela.