LIUNA continues to do its part to change the skyline of downtown Hamilton with two highrise residential projects currently underway in the King/James neighbourhood 200 metres apart.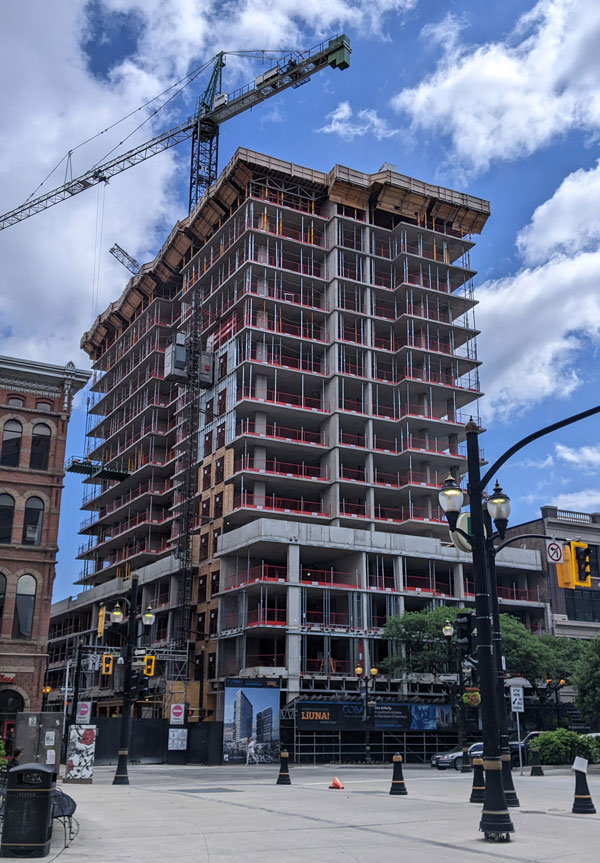 A two-tower rental project at 45 King St. E., christened the Cobalt Luxury Residences, is now two years from completion under the management of Matt Stainton of contractor SG Construction. Both towers will be 30 storeys.
According to LIUNA's Joe Mancinelli, thanks in part to shrewd negotiations with subcontractors back in 2019 that locked in labour costs, the project remains on budget and ahead of schedule.
Three blocks away, at 75 James St., excavations for a 34-storey, multi-tiered, multi-use LIUNA condo project are reaching five storeys underground.
A feature component of 75 James will be the preservation and extension of the red-brick former Bell Telephone Building on 44 Hughson St. S. at the project's east end. The building, Canada's very first telephone switch station back in the 1880s, until recently housed LIUNA regional offices including Mancinelli's own suite for 18 years.
The project has a 2025 completion target.
The two projects follow on a series of downtown projects, many involving restorations, dating back to two key property purchases in the mid-1990s when the Hamilton core was suffering.
"I think we were a catalyst for a lot of this work to begin, but there's so many new developers now," said Mancinelli of the recent boom. "We've never seen so many cranes in Hamilton like we're seeing now. It's an opportunity for folks as well as for developers, because land values in Toronto are still much more expensive than Hamilton."
Other notable LIUNA projects in or near the downtown core have included LIUNA Station, a redevelopment of the CN station at James and Murray Street; the Lister Block project and the Lister Block Annex project in the James Street community, both notable downtown heritage redevelopment projects; a 12-storey rental project on Hunter Street that is being developed by LIUNA Hamilton; and the William Thomas Student Housing Complex, a 400-bed residential student building on Rebecca Street that also incorporated features of an iconic downtown building.
There are others in the pipeline, said Mancinelli, an international vice-president and regional manager with the union.
LIUNA's projects in Hamilton are funded either by the LIUNA Pension Fund of Central and Eastern Canada or by the Hamilton LIUNA local. The drive to keep building is simple, Mancinelli explained – the demand for good housing in insatiable.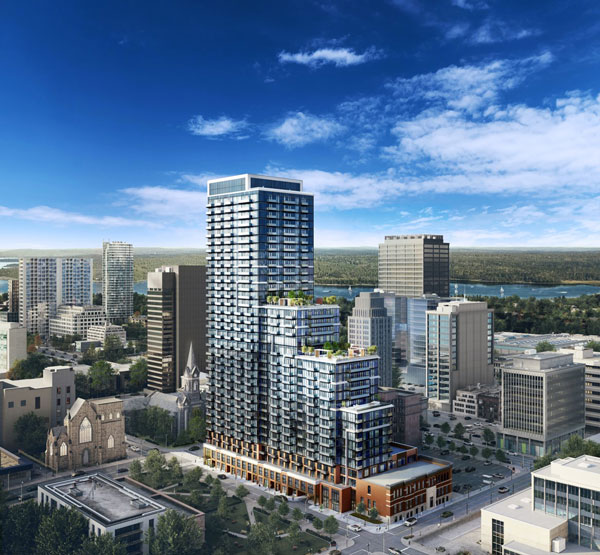 "All of these projects are giving us great returns, because there is an absolute desperate need for housing in the downtown," said Mancinelli. "There's a desperate need for housing everywhere actually in not just Hamilton but all over the country."
The 75 James Condos by LIUNA along with its developer partner Fengate and Hi Rise Group will feature 616 residential units ranging from studios to three-bedroom suites with 16,000 square feet of outdoor and indoor amenities space.
The LIUNA Local 837 space will expand with Mancinelli saying union services including optical care, physiotherapy and similar services will be included.
During the past 18 years 44 Hughson has been through a mechanical retrofit but it became apparent that it required improved accessibility, given there were only stairs.
"And so we thought, since we're going to build this building here, let's do a complete renovation and retrofit of the building," said Mancinelli.
"This is a big, big project, not only the residential portion of it, but also for the Hughson historical building. It's going to go through a dramatic interior change.
"The building itself is absolutely stunning. I mean, you can see from the architecture on the outside, it's beautiful, the stonework, and the masonry work is absolutely outstanding."
The bricks on 44 Hughson were manufactured at a local brickyard from the era, located in the Lawrence and Gage neighbourhood.
"It's hard to replicate that level of craftsmanship nowadays, because in the 1880s there was an abundance of stone masons, bricklayers, and now we have a shortage of stone masons and bricklayers."
The two projects, 45 King and 75 James, will be located within a block or two of the LRT project that was resurrected after an initial cancellation by the Doug Ford government.
"We're just basically scratching the surface," he said of the transit-oriented developments that are planned. "I think a lot of other developers are following suit.
"A $4-billion LRT will have a lot of residential intensification all along the route. And so LIUNA's projects are very close to the LRT."
Follow the author on Twitter @DonWall_DCN.