An alliance of developers, architects, builders and planners has joined forces to map out a vision for revitalizing the 2.3-square-kilometre Bridge-Bonaventure and Pointe-du-Moulin areas near old Montreal.
Their ambitious blueprint proposes a plan to build more than 1,400 units for families and more than 7,500 new housing units, retail businesses and offices by introducing taller buildings to free up public space and also establish an innovation zone for tech-oriented companies to conduct research and development.
"We strongly believe in the family housing. We also strongly believe that we need employment for that area," says Brian Fahey, a spokesperson for the alliance and president of planning, landscape architecture and urban design firm Fahey & Associates.
"What we're proposing is to add high-tech industrial development because we're next to the downtown area and we're next to the university campus. We want to bring job creation but into an environment that is also compatible with residential."
The area is one of Montreal's most visible and attractive sectors. It straddles the Sud-Ouest and VilleMarie boroughs, is near Old Montreal and lies along the St. Lawrence River.
It is the southern gateway to the downtown and comprises the subsectors of Pointe-du-Moulin, Cité du Havre, the Peel and Wellington basins, and Pointe Saint-Charles Triangle.
The city had put out a vision for future development in the area but the alliance of urban development professionals felt it needed work.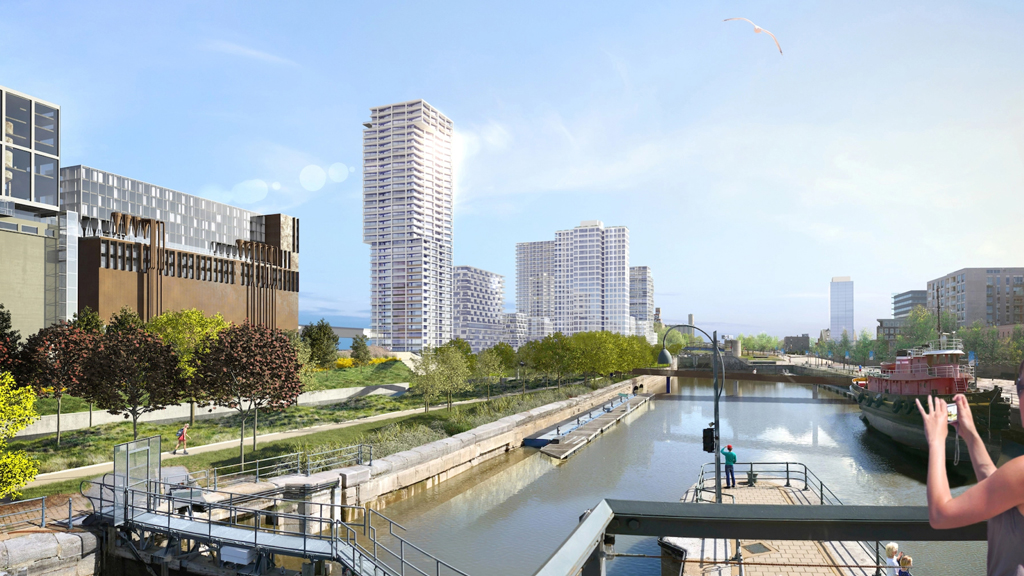 Their blueprint maps out an inclusive and environmentally responsible vision aimed at deploying every available means to tackle the housing shortage, combat climate change by deterring urban sprawl, and permit Montrealers to return to the city to live.
The alliance includes Provencher Roy, Fahey & Associates, Lemay, ACDF, Neuf Architects, Cycle Capital, Groupe Devimco, Broccolini, Groupe Mach and COPRIM. They hope to fuel discussion ahead of public consultation on the master plan for the sector that will be held this fall and are talking to community and business groups as well as citizens.
Their vision attempts to balance housing needs and job creation and encompasses community spaces and facilities, local retail and service offerings, a REM light-rail station and transit hub. Developers have based their vision for taller buildings on what has been done in Europe and the U.S.
They believe taller buildings can be designed to complement the skyline and shape a more sustainable neighbourhood.
Specifically, the alliance wants to do everything possible to bring more residents to the city centre. In addition to the housing and new units, their vision includes the creation of a civic hub to house a public school, community, educational and sports services, and attractive, inclusive and comprehensive districts.
According to their plan, residents in the area would have access to a diverse supply of active transportation and mass transit. The plan also includes major redevelopment in the vicinity of the docks.
Fahey says a lot of soil in the area is contaminated because it was industrial land and there will be heavy costs associated with reclaiming brownfields and rehabilitating heritage buildings and properly servicing the sector to absorb future development, so the land needs to be rezoned to allow taller buildings. That will allow developers certainty to build residential towers and free up ground space for parks.
"The height allows us to have more open space at grade level because you have a smaller floorplate," he says. "You're going higher, and you can have more private space next to public space, and at the end of the day you bring more to the community. It's a way to bring more human-scale by having more open space."
The goal of the alliance is to contribute to the thinking and constructive dialogue for the future of the one-of-a-kind sector. The professionals believe input from a variety of stakeholders is needed to ensure an integrated and environmentally responsible vision to chart the course of future projects in the area. The alliance is hoping to have zoning for the area in place prior to the 2024 municipal election.
"Right now the city is looking at our vision," says Fahey. "They're going to be coming back to us sometime in August. Nevertheless, what we've decided to do is keep in contact with all the community groups, all the major groups in the downtown area and in the southwest to get their vision."
The alliance is proposing that the city put in place a new bylaw and amend the city's master plan so redevelopment of the area can begin.
"We have to bring services, we have to bring schools, we have to bring an REM station," explains Fahey. "There's a lot of investment to be done and in order to be able to do those investments, we need zoning in place. If zoning is not in place, it's going to be a real challenge to get financing. We're asking the city to put firm zoning in place.
"We're ready to sit down with them to start discussing the development agreement. The promoters are ready to invest. They need to know on what they are going to be investing."