A residential development proposed for St. Thomas, Ont., is an example of what can be done in a small package.
All 40 of the tiny homes will be geared to low-income families while the development/design team sets ambitious net-zero-ready goals.
Owned by the YWCA and developed by Doug Tarry Homes, Project Tiny Hope will consist of one to three bedroom homes contained in 400 to 800 square feet. Among the objectives is to use climate-resilient construction methods while keeping a watchful eye on budget.
"Maybe they are tiny homes, but they are a giant in challenges," explains Stefanie Coleman, sustainability officer of Doug Tarry Homes, noting issues like air tightness and domestic water management are hurdles facing the builder.
Coleman, who said Project Tiny Hope is working through a development approvals process in St. Thomas, sees it as one affordable solution in a city where waiting lists for low-income housing are up to 10 years long.
Still in the design stage, the development has evolved to meet a tight budget by paring construction costs through simplified finishes and smaller footprints, Coleman told a seminar audience recently at the Green Building Festival in Toronto.
While costs for the latest designs have not been finalized, Coleman said she expects it will be less than $18 million tabulated for the original project design.
She said initial data shows a tiny home's energy needs can appear to be similar to a larger conventional home.
"Even though it is a one-bedroom (for example) probably with only one person, the way (energy) labelling programs are designed you have to account for more occupants, so you end up with exaggerated gigajoules and usage numbers."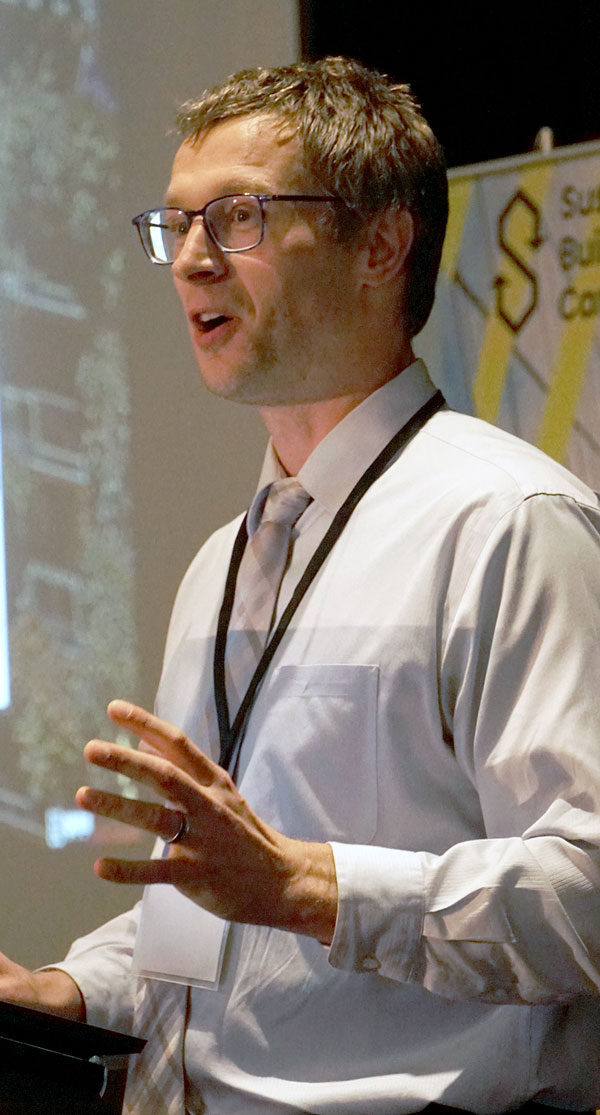 Scott Bucking said while critics may not see tiny homes as an affordable housing solution, he believes they can meet that goal and also achieve construction resiliency standards and sequestration.
An associate professor in building information modelling at Carleton University's department of civil and environmental engineering, Bucking gave a presentation at the Green Building Festival on the Northern Nomad, a tiny home designed and constructed by 17 engineering students in an eight-month Capstone project at Carleton.
Emphasizing building resilience, not just emissions mitigation, is a key to designing tiny homes for future climate unknowns, Bucking said.
The tiny house was designed from the top down, starting with Canadian-made solar panels covering the entire roof.
A two-inch air gap under the panels allows for heat to be transferred to the domestic water supply stored under the property, he said.
To meet an R-37 insulation rating in the two-by-four walls, the team has employed a combination of spray foam, rigid insulation and vacuum-insulated panels.
Built on a mobile trailer carriage, the house has a 12-inch step up from grade to allow for water storage underneath the property.
The house was instrumented with about 150 sensors to measure energy performance, he said.
While the team is optimistic about the findings, he said the performance of ERVs (energy recovery ventilation) in a cold climate like Ottawa has been disappointing.
The tiny house is currently being used as a sales centre for a residential development in London but will be returned to Carleton University for further research.
Bucking said his department is also looking at a project to build a 12-unit complex with many features of the tiny home for Gull Bay First Nations, the first remote community in Canada to use renewable energy. It is 200 kilometres north of Thunder Bay.
As of 2021, tiny homes are required to meet Tarion's new home warranty program and they also must meet building code.