Kevin MacLean, partner at RJC Engineers, is excited about the challenges posed by one of his firm's current projects, the redevelopment of Cambridge Suites Hotel in Toronto's financial district.
"As an engineer, this (type of project) is what gets you out of bed in the morning," he says.
The post-modern building at 15 Richmond St., completed in 1990, was the first all-suites hotel in Canada.
Its adaptive reuse will include stripping the original 21-storey building to its concrete core and shell and adding 50 new storeys on top to create a 71-storey mixed-used development with 565 residential units.
It's intended to demonstrate how existing aging buildings can be repurposed to provide a sustainable, environmentally friendly alternative to new builds.
Its location is in the downtown York East neighbourhood that has been undergoing intensification. It has a direct connection to the PATH system and is within walking distance of six subway stations.
"The previous generation at our firm developed the original Cambridge Suites and the owners came back to us and asked what we can to with this to redesign it," says architect Len Abelman with WZMH Architects.
"It happens a lot with buildings designed in the '60s, but what's unique for me, is this is the first time someone has asked us to add 50 floors."
"We started seeing other cities around the world and across Canada where they are doing this," says Alan Vihant, president of Elan DEV, development consultant to the owner, Centennial Hotels Ltd.
He says "the easy sites are gone."
The proposal fits with provincial and municipal policies promoting intensification of underutilized sites within urban areas served by higher-order transit.
MacLean is no stranger to tall towers and dealing with the challenges they pose.
He is principal-in-charge of Canada's tallest building, 1 Bloor West (The ONE), under construction, and is also involved with several other supertall towers, with extensive experience in the analysis and design of towers in the range of 260 to 320 metres tall. Most of them don't involve putting a tower on top of another building, but he relishes the creativity involved.
"These projects push engineers and builders to innovate more. That's the fun part of being in this profession is the ability to unlock the developability of an existing asset," he says.
Consideration was given to tearing down the original hotel and building from scratch, but integrating the original structure greatly reduces carbon emissions by preventing a massive amount of concrete from going to landfill and cuts down on the amount of new concrete required. The hotel was not constructed to accommodate another building on top, but RJC Engineers has found it a good candidate for the planned addition of a pencil tower.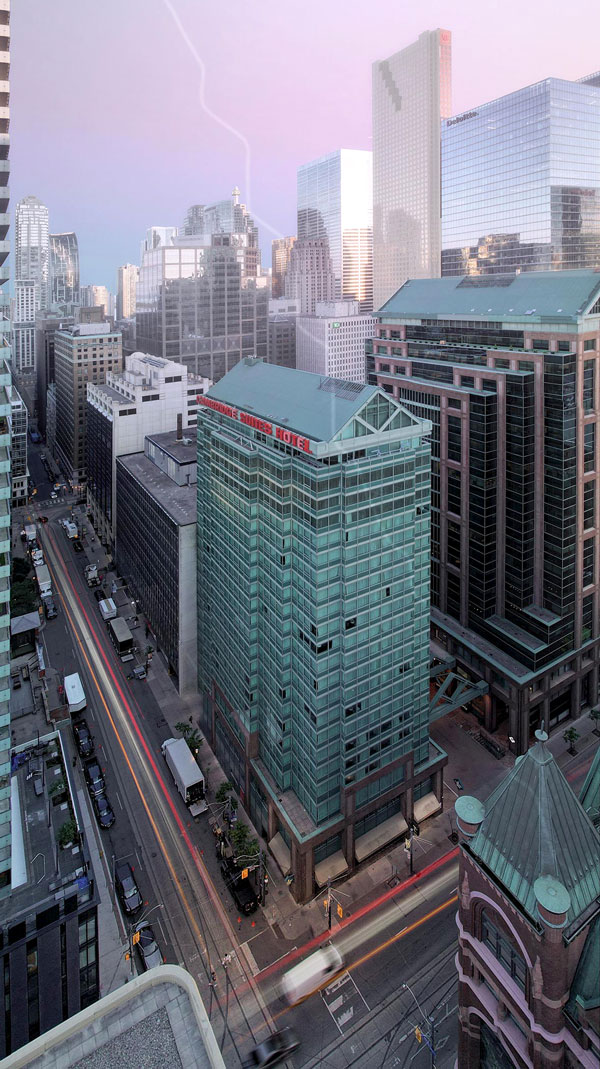 The first step, says MacLean, was determine how much space is available — and having existing buildings in the mix "drives you to more novel and less typical structural systems" than in residential projects on virgin sites, with a higher level of complexity and less of a precedent in terms of execution.
Consideration has to be given to how cranes and hoists will be positioned, how materials will be moved, how to minimize disruptions to traffic, pedestrians, etc.
One thing that "leapt out" about this site, says MacLean, was a series of staircases that go down through the building that have fewer and less sizeable walls than typically found. By removing the stairs, they'll be able to push new structure down and through the existing structure to provide support. As well, there are no structural walls between the hotel suites, which provides the perfect opportunity to reconfigure them.
The new design will take up the existing building core and increase the width of the core walls, with columns added at each corner.
"It has stepping walls and a stone base and we had to get the base squared up," says Abelman.
The taller building will need more elevators, so the elevator core will be enlarged and will be upgraded so it handles the additional load to better withstand earthquakes.

The new columns at each corner will provide support for a big table top or transfer slab on top of the existing building.
"It will allow us to build a grid to plunk the new construction on top. It works well for the building team as a platform for logistics and to structurally to construct what's above," says MacLean.
A two-storey frame with mechanical floors and amenity space will be created on top of the existing building along with 48 residential floors. A huge steel frame will be built inside the existing building, the old green glass façade removed and a new façade will be installed with bird-friendly glass.
A new residential lobby with access from Victoria Street is proposed, connecting to a driveway shared by the adjacent GWL office building. The redevelopment will follow the Toronto Green Building standard and the new façade will create higher thermal resistance and prevent heat loss.
The new floors will add to the city skyline character with tall, vertical aluminum columns and spandrel glass panels hiding the mechanical aspects from view while creating a distinctive tower top. The floor plate of the development is only 540 metres, so it lends itself to a tall, slender tower.
The lowest transitional floors in the new tower and its west side will be recessed to sculpt the tower and balconies will be added. There will be approximately 41 square metres of green roof and 571 underground bicycle parking spaces and a bicycle parking elevator in the underground garage.
The old hotel at the base of the tower will be transformed to condo or rental units, says Vihant.
Ceilings in the old building are eight-feet tall, thus no longer desirable as hotel rooms. As they were designed as suites that are larger than typical hotel rooms, with separate living, dining and sleeping areas, they are well suited for residential use.
New retail will be added.
Adding a tall tower in a downtown and transit-oriented location is a wise decision, says Abelman.
"When you look at Victoria Street a lot of existing buildings are 20-plus storeys, but you have to build a lot taller to make it feasible now, given the cost of land and the current housing crisis," says Abelman. "Why not put these taller buildings downtown where you have subway stations and connection to the PATH system to create a place where people don't need cars? It makes a lot of sense to put density here."