Does the hybrid workplace represent the new status quo and, if so, how does that impact the physical spaces of the pre-pandemic office world?
It is the kind of question that has interior designers like Susan Jefferson on their toes as they try to unravel directions of the future workplace.
The answer depends on such factors as office space size, number of employees, hybrid model, location, industry sector and leadership vision, said Jefferson, an interior designer at Smith Grimley Harris Design Partners, a Canadian interior designer with a focus on workplace design.
A recent report by Aviva, a multinational insurance company with offices in Canada, indicated while 25 per cent of employees in Canada have adopted a hybrid work model, 28 per cent are permanently working from home. In Ontario, the latter number is even higher at 32 per cent.
Those stats suggest traditional design planning agendas built around "bums in seats and square footage per person," is gone with the pandemic, said Jefferson, who gave a seminar on the topic recently at the Buildings Show in Toronto.
A starting point for employers to understand how their office space might best evolve can be a pre-design program conducted months in advance of deploying any physical changes.
It is an opportunity for leadership workshops along with engagement directly with employees to work out any "misalignments" between the two.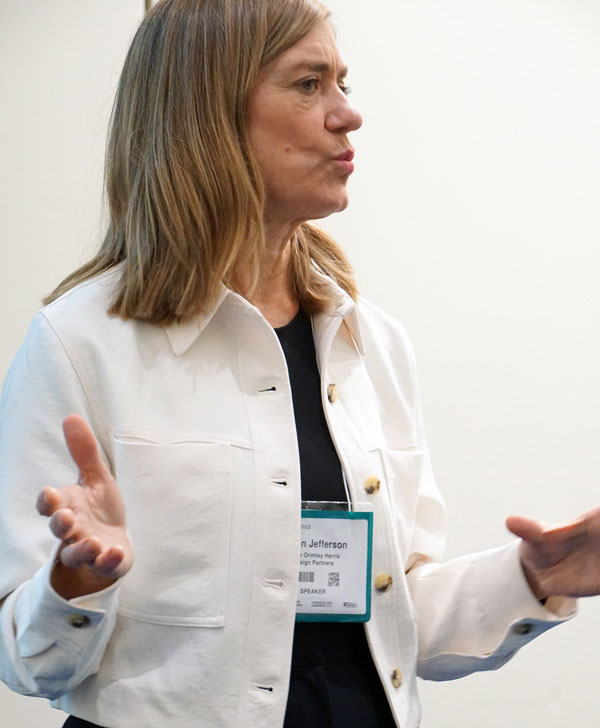 "We don't assume (anything) and we are not applying a design application on the project," Jefferson told her audience at the conference held at the Metro Toronto Convention Centre. "This is an informed process."
An alternative strategy is for an employer to create a schematic design and then retain a design consultant to do space planning.
Jefferson said strategy, however, can leave employees with fears and more questions than answers. Their concerns are less often about the office design and more frequently about "a shift put upon them. More communication is needed for buy in with this strategy."
The interior designer said through her many years of experience in the field common ground between employers and employees is often about privacy and confidentiality.
"My personal opinion is that is why working from home is so successful. It is our private space."
Sometimes design solutions aren't as complicated as employers think.
A case in point is a client of Smith Grimley Harris in Guelph, Ont. who, during the pandemic, wanted to relocate and upgrade its office designed for 28 people 30 years ago.
With a number of staff working remotely or under a hybrid model, the existing office layout was seen as awkward.
Jefferson said after "test-fitting" several locations, the design team came full circle and "completely reimagined" the existing space as the best solution.
The reworked office includes the removal of divided office spaces and the creation of larger areas that "contract and expand" to meet a flexible work model.
"We have focus space (free from disruption) and collaboration space."
To add to employee well-being, the retrofitted office space features skylights and clerestory windows for increased natural light and an outdoor patio.
While the makeup of the office may have never been in more flux than it is now, Jefferson sees a few trends happening.
One is the design of "casual" or relaxed office spaces aptly called "resimercial."
She said according to a Colliers France study (Odyssey 2030) one possible future over the next seven years is a "slow transition from the old office."
Sixty-per cent of large companies are still asking for dedicated or assigned desks, the study indicated.
A "tangible strategy" is to make those dedicated spaces flexible to become "a shared environment" in years to come, Jefferson suggested.
"It says, 'This space will seat 200 people (for example). Use it the way you want to use it.'"
The impact of the pandemic and climate change pressures on the design and building world leads Jefferson to suggest the future office will continue to morph.
One of the common threads, however, is that humans are imprinted with a need to share ideas.
"We will forever need spaces to collaborate."
Billed as the largest show of its kind in North America, the annual Buildings Show in Toronto featured a multitude of educational seminars and a floor for about 400 exhibitors of products and services.