As the pandemic raged through its early days, the City of Toronto went modular to help the city's most vulnerable citizens.
Three key team members who deployed several modular housing projects for those experiencing homelessness, starting in March 2020 as COVID-19 withered away options for shelter, spoke at a session at the Buildings Show titled Urgent Response: Toronto's Modular Housing Initiative.
The participants for the session were City of Toronto housing secretariat program manager Matt Hilder, strategic initiatives senior planner Matt Armstrong and Montgomery Sisam Architects Inc. associate Kevin Hutchinson.
In September 2020 the City of Toronto launched a COVID-19 Housing Response Plan to create 3,000 permanent housing opportunities over the next 24 months, with 1,000 units deployed as modular homes.
"We've secured capital financing of $450 million for a 24-month plan to develop supportive housing. It takes a whole of government and whole of community approach to ensure everyone in Toronto has a safe, affordable place to call home," Hilder said.
All of the developments are on city-owned land, streamlining the approval process and lowering costs.
Two modular sites at 11 Macy Ave. and 321 Dovercourt Rd. are already complete providing 100 homes.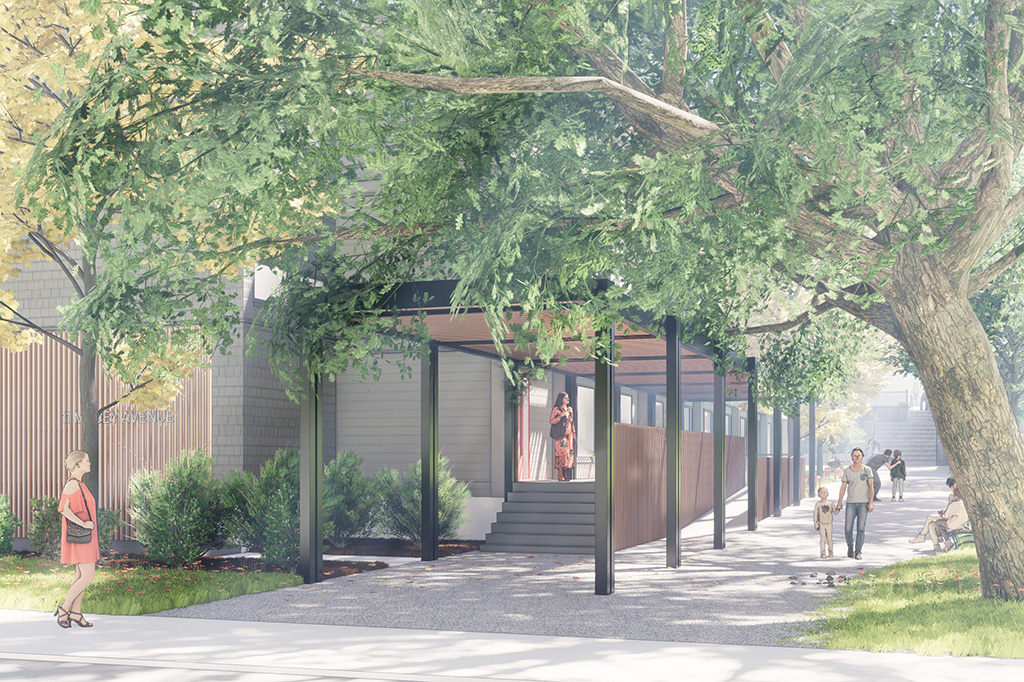 Hutchinson said while the modular housing program was partly based on a similar initiative in Vancouver, in Toronto's case instead of temporary modular homes the homes are wood-based and permanent structures.
"The B.C. projects used a lot of Triodetic foundations which required less invasive site work because they were temporary (structures)," he said. "In this case we went with traditional footings, so from the footings up it's a different system."
Wood was also employed because of the ease of sourcing material, and everything but the tie-ins between suites was built beforehand, including the interior and most fixtures.
"In a factory setting it's actually very easy to do. You've got all your tradespeople there doing the work in a controlled environment instead of having it onsite, so they can be co-ordinated like you would a vehicle assembly line. There's huge advantages there in terms of scheduling and making their time be really effective and efficient," Hutchinson said.
Given the pressing need to get the sites up and running, he added, modular was the best option.
"When done the units sit in the yard until shipped to site and installation takes 10 days, which is remarkably quick," he said. "Traditional timelines are from 24 to 36 months."
Due to the increased unreliability of pandemic timelines it was necessary to make early commitments on materials, he said.
"It added layers of risk that needed to be managed very carefully. Before we've even finished construction documents, we're building. Panels, floors, walls and plumbing are being assembled," Hutchinson said.
The compressed timeline combined with the modular structures meant a faster learning curve and ability to adapt, he added.
"Phase one we built and got feedback right away just in several months, so we could iterate and solve problems or things we weren't satisfied with," he said.
Armstrong said the move to create housing for those experiencing homelessness was "about a systemic change from a system of shelters to a system of homes," and as such Toronto City Council directed staff to prioritize proposals for modular housing.
Hilder added modular housing is actually a more affordable solution than the current shelter system.
"Shelter support is $3,000 per month per bed before COVID-19 and the costs doubled during the pandemic. Supportive housing is $2,000 a month for a studio apartment," he said.
Follow the author on Twitter @JOCFrey.