Forge & Foster's 190,000-square-foot adaptive reuse project at the site of a former twine factory in Brantford, Ont. is another example of how the firm sizes up a heritage property that's past its prime, assesses its redevelopment value and makes a final investment decision with something akin to love in its heart.
The firm's director of strategy and research Alex Manojlovich and director of asset management Jess Malta frequently use the word "beautiful" when describing the 120-year-old Cordage Heritage District property at 111 Sherwood Dr.
The original twine factory, Brantford Cordage, at one time employed 900 people with rail cars that would be loaded for export. It was the largest rope manufacturer in Canada before its demise in 1968. A rope and twine-making operation is still present on the property.
Enter Forge & Foster, which is redeveloping the four existing brick buildings into a mixed-use commercial community. The project boasts a growing and eclectic list of tenants including a church, cycle shop, event space, bridal centre, craft brewery, poutine shop and pottery space.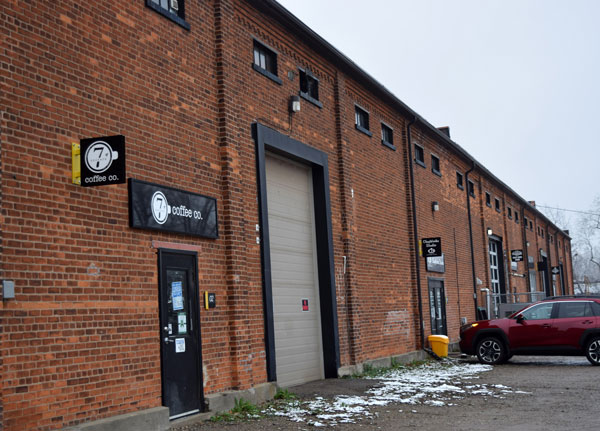 They were all of like mind when Forge & Foster launched its redevelopment said Manojlovich.
"It's exceeding our expectations," he said. "It's fantastic that other people are viewing this in the same way. We really cherish these types of assets and we're just ecstatic to have this property in our portfolio."
Forge & Foster was established in 2016 by brothers Mark and Joe Accardi, targeting the heritage market of Hamilton and region. The firm currently has $300 million in real estate assets under management.
Manojlovich said Hamilton and Brantford are perfect for the firm's niche business model with an industrial past that has left old structures in need of TLC. Forge & Foster is bullish on those sorts of properties, he said, while other potential competitors are hesitant because there might be environmental mitigation required or surprises as the breakdown takes place.
As usual, that has been the case with the Cordage property. Malta said they were prepared to upgrade the power infrastructure but in the end, to support upgrades to Building A and improved function to Buildings B, C and D, it was decided to install a new 2500 kVA electrical service to the entire site.
"We always know there's going to be surprises," she said. "The electrical has been an interesting discovery process of just how things are connected, you know, cutting up a floor slab and there was an electrical line.
"When you start putting the rooftop units on or higher-demand items, especially electrical, we didn't have enough for future fit-outs. We wanted to make sure we could properly accommodate what people wanted to do in their spaces."
And then a roof or two is found to be failing.
"All of a sudden, we find out a roof is leaking in a certain spot and that requires further investigation to figure out, OK, we need to do a bigger scope," said Malta.
The supply chain has also been a challenge, Malta said, with delivery of rooftop units delayed by months.
But that's the nature of the business, said Manojlovich.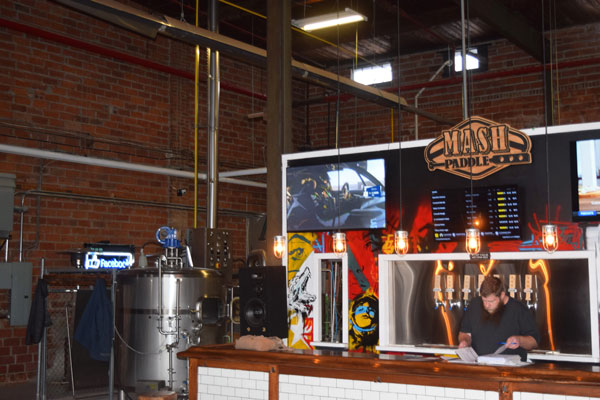 "There are some challenges, but that type of building, this age and size, that's something we're well aware of," he said.
Building A, measured at 58,000 square feet, most recently hosted the 36,000-square-foot rope factory with eight commercial units; it is being redeveloped into a 14-unit plaza. Forge & Foster has completed demising walls and cold-water distribution, and installed 14 new commercial rooftop power units, supporting infrastructure, fire alarms and sprinkler work.
The largest Building A unit, at just under 21,000 square feet, received sandblasted ceilings and has high-bay windows as well as double-height functional glass garage doors.
The main tenant, Celebration Church, was aiming for a Christmas opening but just missed the deadline.
Buildings B and C are smaller standalone buildings at just under 3,500 square feet.
Building D includes 58,000 square feet of warehouse space as well as an additional 63,000 square feet of commercial and common space spread across 17 units including restaurants, offices and gyms. Retrofits have focused on infrastructure design to improve sanitary and storm water management, roofs and landscaping.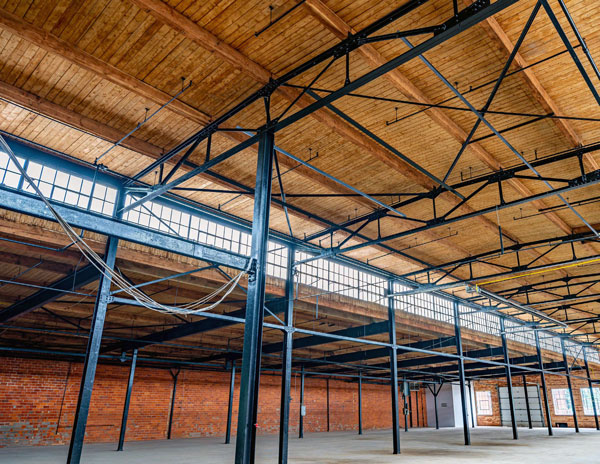 "I really love adaptive reuse," said Malta. "It's really beautiful. You don't quite get the same atmosphere with new construction."
Future steps for the site include underground civil works for storm, sanitary and water supply, site-wide landscaping and paving, creating welcome openings for new units, the addition of a pavilion and individual tenant fit-outs. 
"It will be ongoing, a number of years really for all of the upgrades," said Malta. "I think the church will be a big milestone."
Follow the author on Twitter @DonWall_DCN.