TORONTO — You could say Architecture49 broke through the rest of the competition, taking the top spot in the best original design and structural ingenuity categories for their creation Get Crackin! in this year's CANstruction competition.
The 21st annual competition challenges architectural and engineering firms to create structures from full cans of food that are then donated to the Daily Bread Food Bank in Toronto.
In all, 57,527 pounds of donated non-perishable food were sculpted into 19 edible structures in an effort to support Toronto's hunger gap.
CANstruction Toronto is one of the largest private donors to the Daily Bread Food Bank. Since the event started in Toronto in 1999, the architecture, engineering, construction and design industry in Toronto has raised over one million pounds of food donations.
The event was put on hold in 2020 due to the COVID-19 pandemic but returned this year. In 2019, CANstruction teams donated 68,785 pounds of shelf-stable food to Daily Bread, which was distributed to its member agencies' meal programs and community-based food banks.
The CANstruction Toronto build took place on May 15. The completed "Canstructures" were then judged by a jury and winners were announced at an evening reception on May 16.
The competition recognizes a variety of factors, not just design esthetics, indicates a release.
For example, the Best Use of Labels award focuses on creative graphic possibilities; the Best Meal award considers the variety and quality of the food donated; and the Structural Ingenuity considers the complexity of the design.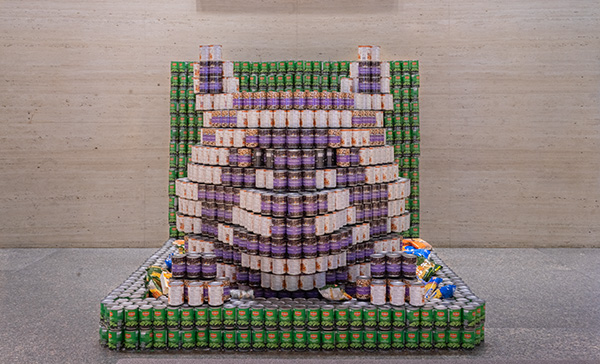 The winning canstructures included:
Best Original Design: Architecture49 Inc. Get Crackin!
Structural Ingenuity: Architecture49 Inc. Get Crackin!
Best Use of Labels: KPMB Architects Nature vs. Nurture
Best Meal: Diamond Schmitt Architects Be Kind and Feed your Neighbours
Honourable Mention: BDP Quadrangle Healthy Meal
The donations will help local food banks as they struggle to keep up with unprecedented demand from a record number of Canadians needing help in the face of rising prices.
Pre-pandemic, the Daily Bread Food Bank saw about 65,000 client visits each month. That number has now quadrupled with a record high of nearly 270,000 client visits in March.
The canned food structures will be on display in Toronto's financial district until today (May 19). CANstruction Toronto also has a People's Choice Award, encouraging those passing through the TD Towers and others online to vote by liking a picture of their favourite sculpture on Instagram through the CANstruction Toronto page.
The contest closes on Sunday, May 21 at noon and can be found here.
"We were excited for the design and construction community to be able to come together again to use our skills to fight hunger in our city," said Christina Facey, co-chair of CANstruction Toronto, in a statement. "This friendly competition not only shines a light on the incredible creativity in our industry, it also casts a spotlight on the fact that hunger is a reality for many people right now."