TORONTO — The York University School of Continuing Studies recently opened the doors to its new home, designed to meet the post-pandemic needs of students with an inclusive, accessible and sustainable design that will foster learning and help fill Canada's labour market gaps.
The six-storey, 120,000-square-foot, 50-classroom building is located at 68 The Pond Road on York's Keele Campus in Toronto. It took nine years of planning and will unite the School of Continuing Studies' programs, students, instructors and staff under one roof.
In 2018, the architecture firm Perkins&Wills was selected to design the building, led by architects Safdar Abidi and Andrew Frontini. The twisted architecture symbolizes the school's twist on the traditional mission of continuing studies to solve Canada's most pressing labour market gaps by connecting employers and the talent pool through its programs, states a release.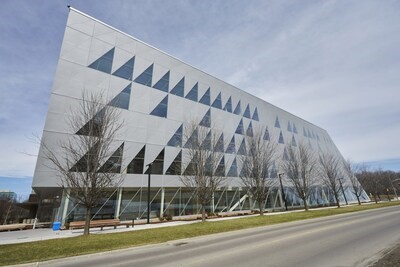 The structure is built to ensure complete adherence to sustainability in design. The building is designed to LEED Gold and meets the City of Toronto Green Standards. It includes a high-performing façade system, direct outside air system with heat recovery ventilation and daylight harvesting. The building is well-positioned to achieve net-zero in the future due to its low energy consumption. Additionally, the building is designed with the principles of diversity, equity, inclusion and sustainability.
"Students, instructors and staff were included in both the scoping and design phases of the project. To ensure the building is meeting the needs of students of different ages, religions and cultural backgrounds we designed the structure with the highest accessibility standards," said Christine Brooks Cappadocia, interim vice-president of continuing studies at York University, in a statement.
"From having guide rails for students with sight impairment to touch-free surfaces to the lactation room for nursing mothers and a prayer and meditation room."
Other key accessibility features include automated doors, standing desks in all classrooms, screens for the visually impaired, elevators and large hallways spaces for those requiring wheelchair access.