Therme Canada and its lead designer Diamond Schmitt will be judged as being on the right side of history once their avant-garde spa targeted for Ontario Place is operational and capable of being fully appreciated, says Donald Schmitt, principal with the Toronto-based firm.
But until that day comes, Schmitt said recently, the firm is fully willing to engage with critics, explain the vision and make adjustments as the project goes from plan to reality.
"We think this is honestly an exciting game-changer for Toronto and really is in the spirit of what Ontario Place originally was conceived of back in the kind of late '60s," Schmitt said. "This is really part of bringing it back to life in a more accessible and exciting way."
Therme's proposal for the West Island of Ontario Place includes an entry pavilion, a bridge that connects the mainland to the West Island, a main building that rises as high as nine storeys and public outdoor spaces.
The Austrian firm's investment will also support a 12-acre public park, a new beach, bike paths, walking trails, a rebuilt shoreline and other facilities. Its facilities will cost some $350 million, according to statements, with another $100 million to be spent on public projects.
Critics of the private nature of the project have included new Toronto Mayor Olivia Chow, Toronto city planning staff, respondents to a recent City of Toronto survey and a group called Ontario Place for All, whose co-founder, Norman Di Pasquale, recently said their momentum is "staggering" with hundreds of new supporters every day.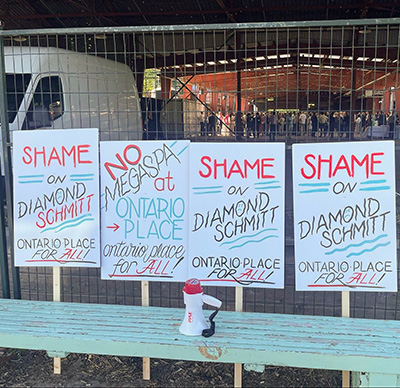 "People all across Ontario are waking up to what a terrible idea this is for taxpayers, for Ontario, for Ontario Place," said Di Pasquale.
A recent blog reported on social media targeted Diamond Schmitt directly, calling into question the firm's ethics for siding with the Ontario government of Premier Doug Ford on the "mega spa" proposal. Ontario Place for All posted a photo of a sign that said, "Shame on Diamond Schmitt."
"The Province of Ontario plans to turn close to half of the park land over to an Austrian spa franchise which will cut down over 800 trees and level the internationally recognized landscape to accommodate its enormous 13-storey (half the size of Rogers Centre) pay-to-play glass spa facility," the Ontario Place for All website stated.
That type of rhetoric is mean-spirited and just wrong, Schmitt said. He and fellow Diamond Schmitt principal Gary McCluskie characterized many of the jabs as uninformed, fabricated and parochial but suggested it goes with the territory of working as an architect designing an important new public building.
There has been very little direct dialogue with many of the critics, they said, and they are open to further discussions with all critics, including the new mayor.
"These kinds of social media situations, we do see them as a fact of our times and it does seem to exist mostly on that realm," said McCluskie. "Whenever we can actually engage with folks and just kind of talk about the project, we appreciate the opportunity. What we tend to respond with is to try and get the facts about the project to be a bit more central to the conversations that are happening."
Di Pasquale, however, said the spa proposal is "completely unfixable.
"There is no way to correct that. It is a large cottage on a little island…There's just so many problems with this thing, and there's simply no way to mitigate it."
In truth, McCluskie said, the Therme property will occupy only 13 per cent of the land mass of Ontario Place. Combined with the expansion of the Live Nation stage and other projects, the space devoted to private enterprise is only 25 per cent, he said.
"The rest of that land will be public park, completely rebuilt to be resilient for the next 200 years."
What's also missing from the discussion, Schmitt said, is understanding the project reflects growing international trends in wellness, nutrition, sustainability and therapies.
There will be family-friendly, all-season aquatic recreation, indoor and outdoor pools, waterslides and mineral pools, with Therme bringing to Canada a European appreciation for democratic water experiences.
"We had no hesitation taking on this commission," said Schmitt.
"This is the kind of remarkable company that really combines the leading edge thinking of health and wellness, based on recreation, nutrition. They have a remarkably developed art program. They're deeply committed to sustainability. This will be at minimum LEED Platinum certified.
"The accusation that it's from Austria, I mean, is that a problem?"
Schmitt suggested Ontario will benefit from a cross-fertilization of ideas and experience that Therme has developed elsewhere.
"Then they're interpreting it in a way that's appropriate to Toronto, Ontario. It's going to be new ideas, new excitement."
Therme has said it will be submitting revisions to its proposal as the project proceeds through the official plan amendment and rezoning stage.
Therme and the Ontario government both sent statements supporting Diamond Schmitt's role in the project.
Follow the author on Twitter @DonWall_DCN.