Freeport Ltd., a modular manufacturer based in Westbank, Kelowna, is carving a deep niche in supplying smaller but traditional looking homes to master plan retirement communities as baby-boomers downsize but snub multi-unit residential buildings or condos. 
"This is a market that we feel has been underserved," said Chris Inkster, president of Freeport, which developed its expertise serving as the exclusive builders for Retire West Communities, Western Canada's largest privately held developer of land-lease modular homes.
Retire West has been developing large retirement communities on Vancouver Island, the Interior and also in the U.S. for the past 35 years. It currently has in development The Vintage, a 99-home development in the Interior. Sage Creek is complete and features 287 homes. It is a 45- years-plus gated community for single families with rancher-style modular homes in West Kelowna.    
Freeport is currently undertaking its own 55-years-plus housing project.
Prince George's Aspenwood will be a Freeport master planned community consisting of 261 modular homes ranging from 1,100 to 1,500-square-feet at build-out, with 26 units in the first phase.  
The modular homes will be built in two components and shipped north for assembly and finishing onsite. They sell for $499,000 to $649,000.
The project continues the proven formula of offering a range of floor plans that can accommodate overnight stays or a home office as well as a garage, community environment, onsite manager and a clubhouse for activities. Aspenwood will also provide the city with its first gated community.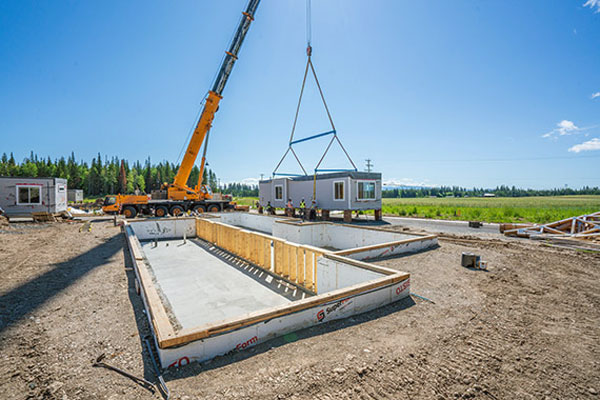 Inkster said this Freeport community of modular homes will be constructed to meet a Step Four standard in the B.C. Energy Code, a rating just below the net-zero standard the provincial government wants in new construction by 2032.  
As of May 2023, new construction in northern B.C. areas must meet a Step 3 standard of energy efficiency, which yields a 20 per cent improvement over the 2018 B.C. Building Code. Step Four is expected to yield a 40 per cent gain in energy efficiency.
"It results in lower operating costs to the homeowner and that helps with the monthly budget," said Inkster.
The reason behind the growth in these communities is best explained by an April 2023 article in the Washington Post that found 70 per cent of baby-boomers want to age in their traditional home in a community they know with friends and family.
The other 30 per cent were a mixed bag, but the trend was to either move to a sun destination, a rural destination or city, but this group often searched for smaller homes.
The group had ready cash and cash buyers last year were the highest in the U.S. real estate market since 2015.  Those down-sizing often end up bidding against the first-time homebuyers looking for the same smaller house. But, the preference by most within the survey groups was living in a detached traditional home during retirement.
Age-restricted, master plan communities in B.C. – with smaller homes near family and friends – are making the transition easier while keeping a sense of independence.    
Freeport offers 10 different floorplans available at its 75-employee operation as well as interior finishing options. The modular factory has the ability to add features such as crown molding, nine-foot ceilings, and wider doors for individuals in a wheelchair with even an aging-in-place design available. 
Inkster said Freeport employees manage the finishing and installation of the units to ensure they integrate smoothly into the overall community. The company works with the municipality to ensure the foundations, permits and local restrictions are met.  
While the buyer owns the home, the land is retained by the developer and a monthly lease fee is paid which also covers the cost of the onsite manager and common facilities. Inkster said the buy-in price allows retirees to free up capital from the larger family home sale.
"They have the ability to use money for other things such as travel. A lot of buyers are snowbirds and in the winter they are not there," he said, as they value a 'lock-and-leave' environment.
Prince George is also becoming more diversified economically, said Inkster.
"The retirees are not moving away and they want to stay in town to be close to their kids and grandkids. They (children) are staying because there are lots of megaprojects and lots of work," he said.
"We are really building communities within a community."