The 2018 report concerning buildings issued by the Intergovernmental Panel on Climate Change (IPCC) makes it very clear that buildings and their construction processes have enormous roles to play in reducing the GHG emissions causing climate change.
"In 2010 buildings accounted for 32 per cent of total global final energy use, 19 per cent of energy-related GHG emissions (including electricity-related), approximately one-third of black carbon emissions, and an eighth to a third of F-gases."
The IPCC notes increased and improved housing for millions around the world is destined to continue, coupled with ongoing migration to cities. Should construction processes not change, this would indicate continued growth of overall energy use by the building industry.
Yet there is optimism within the report.
"In contrast to a doubling or tripling, final energy use may stay constant or even decline by mid-century, as compared to today's levels, if today's cost-effective best practices and technologies are broadly diffused."
However, this will require top to bottom adoption of new design outlooks and new technologies by a traditionally hesitant industry. In fact, the pathways leading to transformative changes within the construction industry are available today for all to read and understand.
From a construction management perspective, Eliot Jones of Trimble's Center of Excellence in Program and Project Management (PPM) admits, "making projects more sustainable is a complex undertaking." However, he sets out three specific sustainability goals for top-down guidance for construction project partners: Reusing existing building assets through increased building retrofits; reducing energy requirements in building operations through smarter building operation choices; and embracing low-carbon construction methods.
Jones acknowledges while these objectives might seem overwhelming, there are ways the construction industry can reach the desired improved outcomes. He describes 11 steps, starting with RFPs, procurement and funding through to actions during the entire construction process itself, including use of the latest in BIM and prefabricated methodologies.
Some breakthrough advancements in construction processes are already available while others are in the development stage. It simply requires willingness from the industry to step forward and use them.
Take concrete for example, the foundational material used for all types of buildings and infrastructure.
Acceptance of Canada's own CarbonCure Technologies has grown rapidly since its inception 10 years ago. The company's patented manufacturing processes remove, utilize and then inject captured carbon dioxide into concrete. This actually makes the concrete mix stronger, potentially reducing the amount needed to meet prescribed strength requirements.
But what about a complete rethinking of how concrete is used?
Research conducted by U.K. universities in Bath, Dundee and Cambridge under the project name ACORN (Automating Concrete Construction) began in 2019 with an ambitious and audacious goal.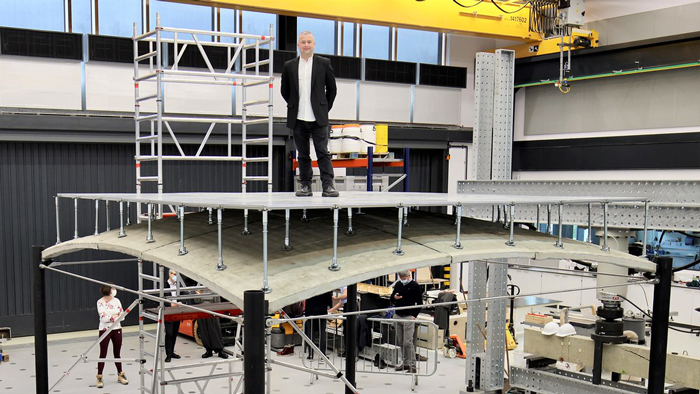 ACORN "aims to dramatically improve whole-life construction sector sustainability and productivity by defining a holistic approach to the manufacture, assembly, reuse and deconstruction of concrete buildings.
"Currently, up to half of the concrete used in buildings is unnecessary, and is only there because it is shaped using planar formwork, used since Roman times. This leads to inefficient prismatic shapes for the beams, columns and floor slabs, which is wasteful, architecturally constraining and a major driver of embodied emissions in construction. This need not be the case."
One demonstration of ACORN's research could replace the ubiquitous concrete slab floors seen in almost all buildings. ACORN's team of structural engineers, mathematicians and manufacturing experts have developed a "curved vault-shaped structure (that) is covered by standard raised floor panels to create a level surface."
Since concrete works well in compression, the ACORN design uses the material only where needed. The result is far less concrete altogether, in fact 75 per cent less concrete than traditional thick, flat floor slabs.
In contrast to traditional temporary formwork used for slab floors, the ACORN team has, in parallel, developed an off-site automated adaptable mould and a robotic concrete spraying system. The individual fabricated pieces are then transported to the building site for assembly.
If adopted by industry, exciting ideas like this make the IPCC's GHG-reduction goals appear achievable.
John Bleasby is a Coldwater, Ont.-based freelance writer. Send comments and Climate and Construction column ideas to editor@dailycommercialnews.com.