It was from trips to the North with her father Dale, a builder, that the young Eladia Smoke realized she wanted to become an architect.
"He would come back completely dejected because the quality of the housing was so poor and he knew the buildings he participated in would probably fail soon because the materials and designs were poor and the budgets weren't there," she recalls.
Today Smoke, principal and founder of Hamilton, Ont.-based Smoke Architecture, is hopeful the worst of architectural times are in the past, not only for residents of the North but in Canada as a whole.
"Our built environment has to step up its game," she says, noting that carbon neutral, sustainability and net-zero themes are more in keeping with Indigenous design thinking but good architecture goes deeper than that.
"It is not just about lessening the impact of buildings/construction on the environment but also regenerating what has been lost.
"We have had a parasitic relationship with our supporting life systems and we have to shift that back to a regenerative approach to design," says Smoke, an optimist and the first licenced First Nations woman architect in Ontario, Quebec and Manitoba.
Founded in 2014, Smoke Architecture is noted for its Indigenous design influences on big and small projects.
A good relationship between a design and its surroundings, including "the land and the water," is essential.
But also integral to design success is how to recycle materials or "return them back to the land in a fluid way," Smoke says.
While some design firms are starting to acknowledge these principles and philosophies, Smoke says only a decade ago "it was totally fine to design a glass box. You put in mechanical systems and called it a day.
"That is just not acceptable any longer."
Smoke is proud of her firm's work at the Mukwa Waakaa'igan Indigenous Centre of Excellence at Algoma University in Sault Ste. Marie and the Dawes branch of the Toronto Public Library.
On a larger scale, Scarborough's Centennial College, a mass timber project Smoke is doing in partnership with architect DIALOG, has been a challenging collaborative effort netting positive results.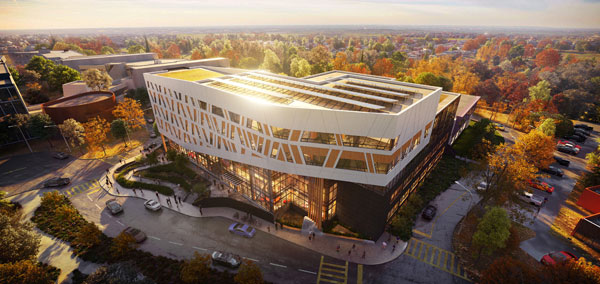 Even though the college has a diverse student population, the stakeholders wanted "the Indigenous perspective imbedded into the bones of the building. More secondary institutions are seeing that and following suit."
Smoke praises DIALOG, the college and consultants for their roles in the Indigenous-influenced project. She also applauds Centennial's developer EllisDon.
"They really left the door open for us to think through the design, even after the award which doesn't always happen with a design-build approach."
Not all of Smoke's design collaborations are as successful as the college.
Some architects and developers only want "a marginal Indigenous stamp on their project," she says.
To improve designs in Indigenous communities, Smoke believes a systematic approach overseen by provincial and municipal agencies would offer Indigenous communities oversight on such issues as resource management and land-use planning.
"We have to involve Indigenous nations in the decision-making process…if we want to reverse centuries and centuries of environmental degradation."
A proponent of mass timber, Smoke says government funding of sawmill development in northern Indigenous communities would improve product supply for new and expanding engineered lumber manufacturing plants.
"I think every architect I've spoken with would be building 100 per cent mass timber on 90 per cent of the jobs we do, if we had the option (supply)."
She says Indigenous communities will responsibly manage the forests with an eye to sustainability "because we view our stewardship role very seriously. It shouldn't be put in the hands of for-profit capitalists."
Looking ahead, Smoke says a key challenge is making the building and design industry accessible to Indigenous youth through training, education and mentorship that result in viable business opportunities.
Currently, there are only about 15 Indigenous architects in Canada and most of them are men.
"It can't be just me and a handful of others in the province working in the field. We need to see a lot more."