Over 300 decision-makers representing the full range of industry and government attended Passive House Canada's Prefabrication Virtual Symposium last month.
Over three days and 40 sessions, 80 expert presenters from North America and Europe offered participants an extraordinary opportunity to learn how prefab construction in all its iterations can effectively blend with achieving Passive House energy standards.
Passive House Canada CEO Chris Ballard told the Daily Commercial News the objective of its "On the Rise" symposium was to share the knowledge available within the Passive House community.
"Prefabrication is rapidly becoming one of the pre-eminent strategies that saves project time, cuts waste and drives down environmental impact. Prefab will be key for new construction and deep energy retrofits."
Prefabrication can include several off-site methodologies, from wood or precast panelized interior and exterior assemblies to full volumetric units that are delivered to the site in near-finished condition.
Although prefab processes can trace their origins to residential construction, there is growing acceptance for their use in more complex undertakings.
Major projects such as George Brown College's Limberlost building on Toronto's waterfront were highlighted, demonstrating that larger buildings simply have more specific project criteria that include logistical aspects such as assembly sequencing and exterior panelling specifications.
Symposium participants learned that, new or retrofit, large or small, all factory-built projects follow similar step-by-step processes: design and engineering, off site manufacturing, delivery to the site, assembly at the site and finishing.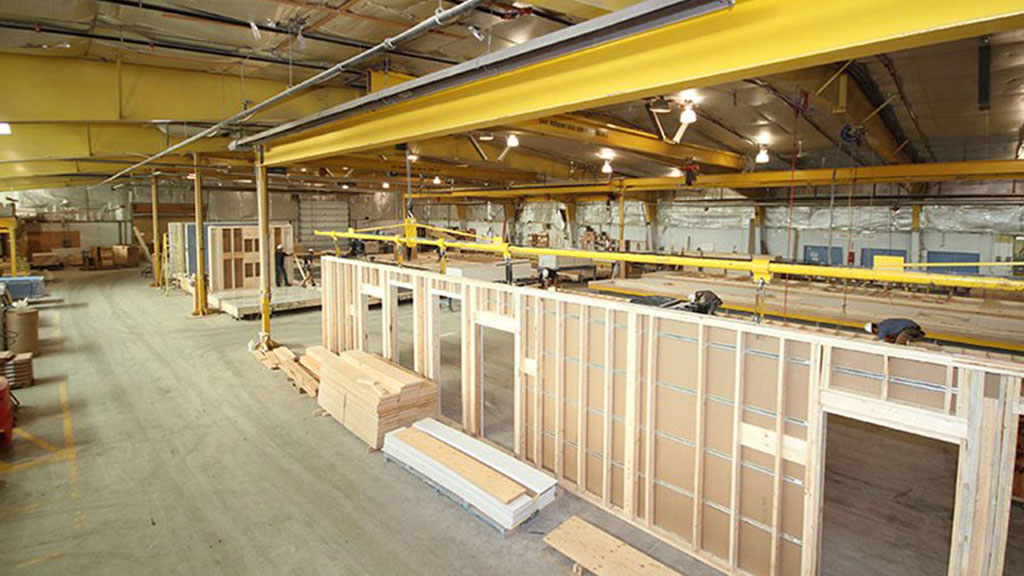 A recurring theme was the importance for all parties, including prefabrication manufacturers, to be at the table with the design team early, no matter the size or complexity of the project.
Designers need to consider the prefab option from the start, said Jeremy Smith of Simple Life Homes. By sitting at the same table at the outset, designers can work within the prefab system rather than hoping the prefab system can adapt to the design.
"The difference is a truly collaborative process where the manufacturer is engaged with the project, providing detailed product and system information at the beginning to inform and empower the design team."
At the same time, prefab is flexible, something project developers of all sizes need to understand, said Raymond Chow of qh3 Inc. in Toronto.
The importance of understanding pre-project lead times and the need for extensive project scope outlines issued at the time of tender could come as a surprise to some first-time prefab project developers.
In fact, the majority of project time is devoted to design and planning as opposed to the actual build, said Sam Pidubny of real estate developer Collecdev. He explained the importance of understanding timing and milestones. Given material supply chain issues over the past few years, the benefit of advanced planning means items with long deliveries can be ordered in time.
Certain preconceptions surround prefabrication, reinforced by the entrenched views of many within the industry itself. However, if nothing else, time is money. Therefore schedule predictability, time savings and ability to quickly capture the project's ROI should be compelling to project owners.
As Andreas Lueth, construction design manager at Sto Canada Ltd. suggested, owners might better understand the significance of those savings if they are asked, "What would it mean to complete the construction in one-third the time in terms of finance and speed of occupancy?"
Despite the preconceptions, prefab understanding is improving, said Chow. It comes down to education and learning what is available, which will lead to wider acceptance. The need to improve productivity will also drive acceptance of prefab, whether measured in time efficiencies, overall project cost savings or energy efficiency standards requiring increased precision.
Putting the symposium in a Passive House perspective, Ballard said in his closing remarks, "We are really on the cusp of something exciting here in Canada. This is a way to build that minimizes disruption in our communities. We know that prefab is an ideal way to build to Passive House standards and make Passive House buildings feasible for everyone."
John Bleasby is a Coldwater, Ont.-based freelance writer. Send comments and Climate and Construction column ideas to editor@dailycommercialnews.com.