Sizes matters. And there's no question that North American pick-up trucks are getting bigger, taller and heavier.
Pick-up trucks were conceived for farmers and working people needing a flexible form of transport for their goods. They've come a long way. Over the past 10 years or so, they have grown into enormous vehicles that often outstrip their original purpose.
In fact, pick-up trucks have become personal vanity vehicles, similar to muscle cars back in the 1960s and '70s. It seems everyone is buying pick-ups these days, particularly outside major metropolitan areas. A Ford F-150 was sold every 49 seconds in the United States last year.
The problem is, the bigger the pickup, the bigger the safety risks. Along with declining fuel economy, pick-ups are also becoming increasingly dangerous to others sharing the road and pedestrians who stray in their path.
The size and weight of pickups, including EV versions, has drawn the attention of transportation authorities.
"I'm concerned about the increased risk of severe injury and death for all road users from heavier curb weights and increasing size, power and performance of vehicles on our roads, including electric vehicles," Jennifer Homendy, U.S. National Transportation Safety Board chair said in a speech to the Transportation Research Board in January.
Homendy supports the transportation sector's initiatives to reduce carbon emissions and other GHGs, but is concerned about the unintended consequences of EVs, specifically more deaths on the road.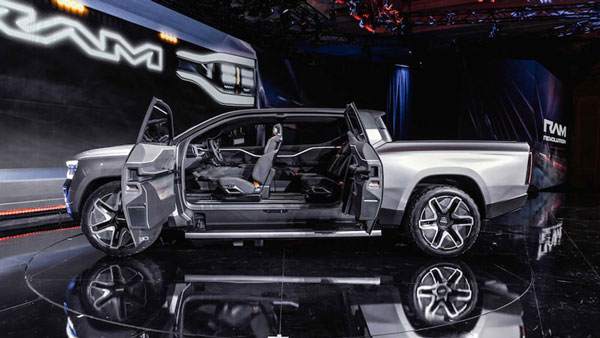 "The Ford F-150 Lightning is between 2,000 and 3,000 pounds heavier than the non-electric version. That has a significant impact on safety for all road users."
While boasting their environmental benefits, EV pick-ups are not getting any smaller or more modest. Take the 2024 Dodge RAM 1500 Revolution battery-electric pick-up, for example. Ram calls the vehicle "strikingly brutiful."
Driver and passengers enter through enormous grand salon-styled double doors and ride on 24-inch wheels with centre caps that light up. Power is supplied by a 700hp single-speed, four-wheel drivetrain. Although no specific numbers have been released, it is expected the RAM 1500 Evolution will weigh substantially more than its ICE counterpart. How do such features benefit the planet?
The actual environmental benefit derived from a battery-electric version of an already over-sized vehicle can be debated by experts. The impact of mining for battery minerals, plus manufacturing the metal, rubber and plastic involved in manufacturing, requires detailed analysis.
There's also the question of whether the electricity used to charge the vehicle is generated by fossil fuels or renewables. It leads some to conclude the vehicle kindest to the planet is one you already own.
The construction industry can play an important role in weaning North Americans off their desire to own giant pick-up trucks, particularly as they develop their ESG policies. EV pick-ups, of course, have performance issues. Their reduced range in cold weather has been well discussed, including here in a recent column.
Construction company owners can better match their fleet needs to vehicles currently available. Bigger may not be better. Is an 11,000-pound towing capacity really necessary? They can also encourage employees to think twice about their personal choices too. Often, personal pick-up trucks sit idle in company lots all day while workers are out driving corporate vehicles.
North America's lack of energy sobriety is now gaining the attention of the EPA in the United States. Under the Clean Air Act, the agency is proposing to limit tailpipe emissions generated across the breadth of each manufacturer lineup. Specific to medium-duty trucks like pickups, it hopes 46 per cent of these new vehicles will be EVs instead of ICE by 2032.
However, as Pierre-Olivier Pineau, author of the book Energy Balance, said in an interview with La Presse recently, market forces often drive actions counterproductive to the advances made by engineers.
"Engines burn less gas, so we built bigger models, which negate the gain."
Progress has to start somewhere, and the choice of vehicles is a good place to begin.
John Bleasby is a Coldwater, Ont.-based freelance writer. Send comments and Climate and Construction column ideas to editor@dailycommercialnews.com.