PCL Constructors Canada recently hosted a delegation of 120 Chartered Institute of Building (CIOB) members at its Agile modular construction facility in Etobicoke, Ont. to showcase how they are taking construction off site and moving it into a manufacturing facility.
PCL's off site modular construction services combines design for manufacture and assembly, self-perform work and strategic procurement and purchasing, Troy Galvin, manager of PCL Agile's manufacturing operations, told the crowd during the tour.
"It helps overcome the logistical challenges that come with traditional construction approaches," he explained.
"The biggest opportunity is the time that we can save for a project because you are running activities in parallel. While you are doing work at the site, you are also fabricating and assembling these units off site so you're automatically shrinking down your overall schedule. If you're not shrinking down your schedule, you are reducing the amount of labour onsite to a more controlled environment where you are building more efficiently and safely. As you work in a controlled factory environment you see higher degrees of quality assurance and control, less stops and starts and it's not impacted by the weather. It is also inherently more 'green' and produces less waste."
The facility consists of a 65,000-square-foot plant, 120,000 square feet outdoors, which stores equipment and tools going to job sites in Toronto, a 4,000-square-foot office environment overlooking the plant and 12,000 square feet in the main office.
Clint Kissoon, chair of the Angelo DelZotto School of Construction Management Centre at George Brown College, who is also a CIOB member, was instrumental in facilitating the group visit.
The CIOB is the world's largest professional body for construction management and leadership with a Royal Charter to promote the science and practice of building and construction since 1834.
Kissoon shared his views of the facility during the CIOB members' visit.
"As an international organization, you want the sharing of best practices and ideas and to be able to benchmark major projects to see how things are done," he said.
"This is a very global thing. It's an answer to not only increasing quality but also addressing the skills shortages. There are so many risks associated with building onsite that we think that prefabrication of major material components, major assemblies, will certainly help in that process."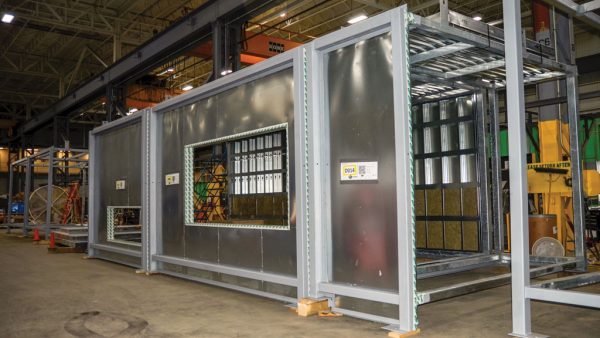 Galvin provided an overview of some of the projects that have utilized fabricated components originating from the facility. Typically there are anywhere from four to five projects being fabricated in the shop at any given time.
The team is currently working on 300 fully finished washroom pods for the Mackenzie Vaughan Hospital in Vaughan, Ont. and modular plenums which take air in and out of the building.
They have also completed access egress stairs and temporary gates for airports, exterior wall panels, building envelopes, data centres, operations maintenance buildings for solar farms and training and education facilities.
"It starts by identifying all of the constraints and looking at how you can overcome those constraints to take that product off site," explained Galvin, adding it could be design, cost or structural constraints.
"Work through those with all the right players, that includes your architect, engineers, the trades that are involved with the building of it to make sure you have really thought about all the elements that have to be constructed in that unit and how that is going to get installed at site. If the constraints cannot be overcome, that part of the project cannot be fabricated off site."
Once viable options for off site fabrication are identified, early modelling efforts begin to look at how it might fit in with the model of the building and if there are any clashes there that need to be resolved.
"Once that is all resolved we get right into, there is the overall building model; here is the element we're plucking off, let's take that model and develop all our parts and piece drawings, all the intimate details of how this item is going to get built," explained Galvin. "For example, we have these washroom pods we're going to create, here are your drawings, list of materials, here are your assembly instructions and then we would start fabricating on the floor."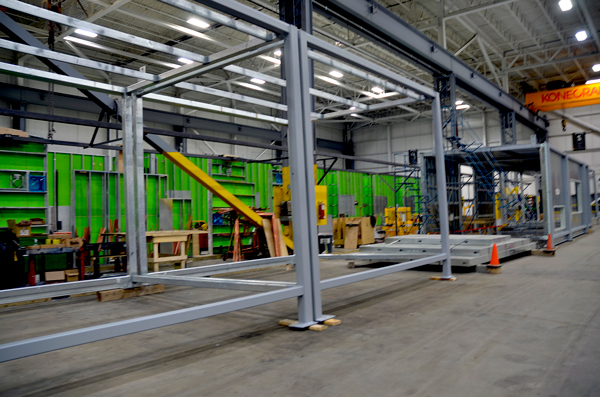 Prefabricated buildings go through a bit of a different process. He used the data centre project as an example.
"It's made of 16 different modules to create a 9,000-square-foot building, so as much as you are just dropping those modules in, you also have to enclose your building, your building envelope, and connect any services that go across those modules," he said.
Finished products undergo quality control inspections and are prepped for shipping to either a storage facility or direct to a site if the opportunity exists. Work on the installation, final connections and testing is all done onsite, Galvin explained.
Some of the biggest constraints are space in the facility, which impacts the size of projects the team can take on and logistics of getting the finished product from the factory to where it needs to be installed.
"The biggest challenges are design, logistics, space and general knowledge of what we can do off site and the benefits of it," said Galvin, adding although it is picking up traction in Canada it has not yet taken off and Europe is 10 to 15 years further ahead with more experience and demand.
"Sometimes it's just education and experience in knowing that this solution works, it exists, it's been done by many across the world. Entering into this marketplace people still don't feel like the concept is proven because it's still new and it's changing traditional construction."