Construction is one of the few remaining major industries that have not been "completely disrupted by technology."
But that might be about to change and builders like Hans Klohn don't want to be on the sidelines when it does.
Klohn is president of OSCO Construction Group, a construction contractor/manufacturer based in Saint John, N.B. His company recently invested $2 million for a centre to research off-site construction possibilities.
The centre will be integrated into the civil engineering department of the University of New Brunswick Fredericton (UNB).
"With the technology out there now — the digitization that has taken place — the potential is huge to revisit how things are built," says Klohn, noting prefabricated components can be "plug and play in the field.
"I think owners want better utilization of their capital and more sustainable and environmentally sensitive building solutions."
OSCO's president says forward-thinking builders see a big picture where prefabrication is "a production system rather than a project-based approach."
An example might be a prefabricated wall panel that meets fire code, incorporates an air barrier, plumbing and electrical and is finished on the exterior and interior.
He stresses the idea is to make "multi-functional" assemblies, not single trade components such a structural steel assembly.
"We're trying to see if we can make them smart, using the Internet of Things technology so they can adapt to their surroundings," he says.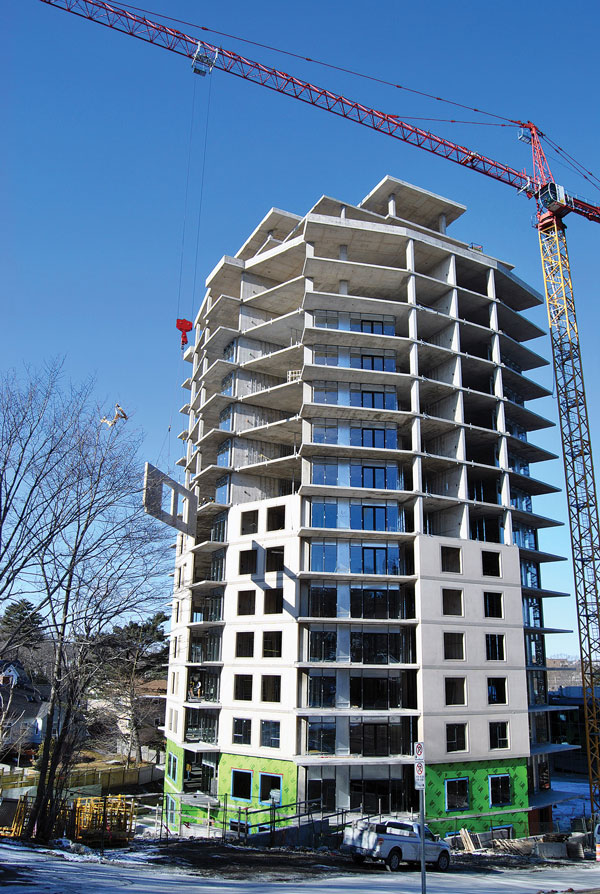 While the prefab model will require new skillsets, it will also eliminate skilled labour needs in the field.
"I'm not sure you will be necessarily eliminating skilled workers, I think you will be redeploying them into a different environment off-site," he explains. "It should be steadier work, safer work."
He says currently 50 to 75 per cent of the person-hours to construct most Canadian buildings are done onsite.
Canada is lagging behind a number of countries that have taken off-site construction seriously.
In the U.K., the development of digital and off-site manufacturing technology is being fast tracked with expectations that construction schedules can be reduced by 50 per cent and building costs by a third by 2025.
China, Singapore and countries in Scandinavia are also developing a prefabrication hub industry.
"They are all using different approaches but the concept is the same: to make manufactured construction," he says.
Much can be learned from a European prefabrication model called Design for Manufacturing and Assembly, he says, adding that the new industry is achievable in Canada.
"There is quite a bit of work to do but there are big savings possible."
Klohn adds the objective is to standardize components without sacrificing design freedom, "so they are not boxy looking and ugly buildings."
"There is a wide range of ways and sizes and configurations that you can develop building elements off-site."
Klohn, who sits on the UNB's board of governors, says the impetus to fund the research centre came when the university announced plans to create a cluster of research and innovation facilities with industry partners.
He says the university is recruiting key people to kickstart the new facility.
"We want to attract more public and private partners (including other Canadian universities) and grow this into a significant centre," he says.
He is optimistic that in five years sophisticated prefabrication models will be commonplace in the building industry.
"I think a lot of the larger national contractors are looking at their own off-site initiatives," he adds.
He states advancements on the prefabrication front through the UNB research centre could lead to a new manufacturing base in New Brunswick.
The prefabrication movement has "caught the attention of Silicon Valley venture capital companies," he adds. "I think we are about to be transformed.
"It's a very exciting time for young people to come into the construction industry. It is not the blue collar, muddy industry that people have associated it with."