Architect Marco VanderMaas is used to working in an office for a large architectural firm in suburban Toronto but these days he plies his profession from a desk in his east end Toronto home's "cleaned up" attic.
VanderMaas, like all of his colleagues at Petroff Partnership Architects, was sent home to work in mid-March as part of the coronavirus emergency measures.
The experience has been enlightening.
"We are constantly discovering new creative ways of collaboration," says VanderMaas, who is becoming comfortable with a number of software apps that bring him close to his team.
Working from home, however, is "not exactly business as usual," he says. While software programs such as AutoCAD, REVIT and Sketchup are "go-to programs for draft and draw" scale mockups, they are not tailored to share work in progress, especially from home.
That's why VanderMaas and his colleagues met on Google Hangout for the first two or so weeks at home. Petroff's IT manager then set them up on Microsoft Teams and colleague Yawar Siddiqui steered the group to InVision, which allows each architect to post design ideas on a digital whiteboard.
"You can put a drawing on it and someone can do a markup on top of it from their home," he explains. "It's really like a whiteboard."
With InVision and other communication platforms, VanderMaas recently participated in a virtual design charrette with 16 people, including colleagues, a client's representatives and consultants.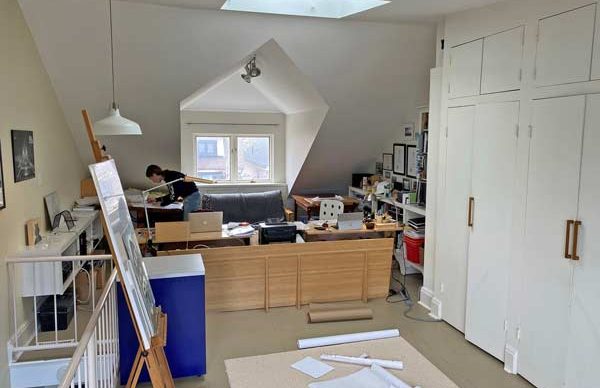 "As people were asking questions and voicing opinions we marked up (the whiteboard) so everyone could see it. We gave them an insight into our design process.
"In a real office, you don't get to collect people's doodles or people's thoughts like this," he says, adding the experience could be the start of something new at Petroff after the pandemic.
Ironically, just before the virus outbreak VanderMaas had been advocating for "a physical think-tank space that included whiteboards and tackable surfaces" for interactive design sessions.
"Together we found a virtual alternative that we will now be able to integrate into our workflow," he adds.
Sharing the screens on personal computers has allowed everyone to work more closely.
That makes for a transparent design process, not only for the architects, he states, but also for client groups and consultants.
A typical day for VanderMaas starts with working on design ideas in the morning, free of the interruptions associated with a busy office environment.
"As much as you want to collaborate, you have to work things out in your head before you share your design ideas," he says. "I like that you can do that alone at home."
His afternoons are check-in time with colleagues — an opportunity for each to show their work and get feedback.
While bouncing ideas off others through a digital space has its merits, there are things he misses about in-person meetings.
"You can hear what people think about something and you can discuss with them, but technology can't give you their body language," he explains. "You need to mix in-person time with tech time."
VanderMaas says the pandemic might help to break barriers between older architects and younger, tech-savvy ones at offices like Petroff.
"I'd like to think the generations have found a common ground on how to communicate with these fairly intuitive tools because they have had to learn to embrace them," he says.
Until things get back to normal, or move to a "new normal," VanderMaas's attic will continue to serve as his office.
He's not alone there. His wife Heather is also an architect who has found her place in the space and the couple's two daughters use the attic to practice dance.
"For many years I had been hoping to turn the attic into a studio for my wife and kids to use as a creative outlet, I guess my wish has come true, but unfortunately it took a pandemic to make it happen," he says.