There are five key steps to building more mad scientists and innovators to transform your organization from the inside out, said James Benham, CEO of JBKnowledge, who was one of the speakers at the CanaData 2020 virtual economic forecasts conference.
"If you were to go look for a job posting for mad scientist or innovator or disruptor it's really doubtful you're going to be thrilled with the candidate pool because those people are often hidden jewels inside your organization," said Benham. "People tend to forget where innovation comes from. They think it comes from a government lab or a university somewhere. While sometimes it does, more often than not it's private companies that have chosen to be innovative and chosen not to just wait on innovation to happen to them."
Opening day of the 35th edition of the three-day conference, held virtually due to COVID-19, kicked off Sept. 29. Hosted by ConstructConnect, this year's theme is The Perfect Storm and day one focused on technology.
The five steps, Benham said, include: set an audacious goal for technology and process; have dedicated staff, space and budgets for technology; have a process and a purpose; spend time studying the problem; and focus on adoption.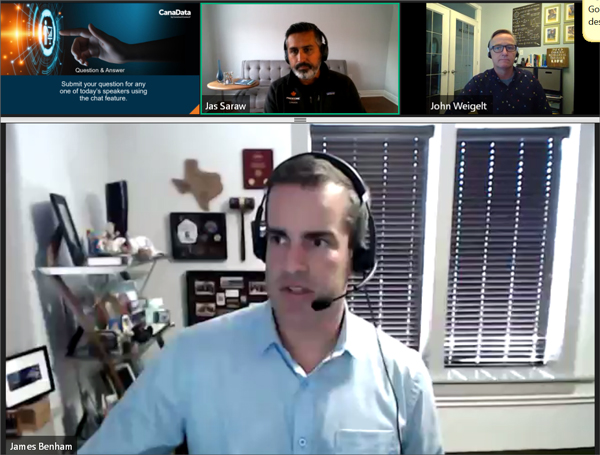 "Many times we fail to set bold audacious goals because deep down inside they scare the hell out of us," Benham stated. "We don't want to drive technology and innovation because it pushes us out of our comfort zone and we get really afraid that we're not going to be profitable or it's not going to work out and we're going to lose our job. So it keeps us from setting those transformative goals that people tend to rise up to."
While bringing technology and innovation to a company is great, a system is needed to make it effective, he added.
"You can apply the best technology possible to a company and if your systems are terrible, it really doesn't help you," said Benham. "You want to be really conscientious to implement systems alongside technology and educate your people so that people, process and technology can drive a better company, better work environment and obviously more profit."
Studying the problem before deploying a solution is also key, he said.
"One of the most common reasons for project failure is that people bring in beautiful, fantastic technology solutions for problems they do not have and the big problems they do have, they did not spend enough time studying and those remain unsolved."
Weathering the storm by riding "the wave of innovation"
John Weigelt, national technology officer with Microsoft Canada, told the virtual audience about weathering the storm through the digital transformation and how companies can "ride the wave of innovation" moving forward.
"Canadian business was a little reluctant to seize the opportunity of digital transformation," said Weigelt, adding perhaps it was because Canada did not experience the banking crisis that was experienced in the U.S. "This crisis has really kicked things into high gear."
He discussed smart cities and connected communities.
"One of the things we tried to do is really encourage this thinking broad, thinking in a global sense around smart cities," said Weigelt. "When we looked around the world a number of these master planned cities, these megaprojects…when we tried to land them here in Canada we had one or two premier-type projects but really what we saw was rather germane, growing organically. We have small smart cities projects in Nova Scotia, Regina, Brampton, Surrey, building these tools organically."
The rise of data and the future of construction
Jas Saraw, vice-president of Procore Canada, talked about the Rise of Data and the Future of Construction in his presentation, exploring analytical tools and the potential of project data to help with construction processes.
"When things are uncertain, when you're in the midst of a pandemic, among other things the desire for predictability is paramount," said Saraw. "A lot hinges on how we process data and how we digest data in order to make informed decisions going forward."
Modern construction is inefficient and a laggard when it comes to digitization which impacts the budget and schedule of projects, he noted.
"Long before the events of recent months, the construction industry was already in the midst of a digital revolution that has been producing massive quantities of project data," said Saraw. "That data in itself is a tool, maybe our most important tool moving forward, for helping us all adapt our businesses to a shifting landscape. In order for us to harness the value of the data, however, we're going to need more sophisticated tools to help create, consume and distribute those insights."
Making the data can be done in four steps: collect the data, organize that data into information, analyze the information to generate knowledge and apply the knowledge to gain understanding, he said.
Then comes the journey to transform data into insights.
"Ensure the tools that you choose help you retrieve information from unstructured data more easily saving your people time; secondly, find technology that helps you automate repetitive or time intensive tasks making your team more productive using artificial intelligence and machine learning; and ask your technology supplier how to deliver more predictive insights for better data driven decision making in your business," he explained.
Follow the author on Twitter @DCN_Angela.